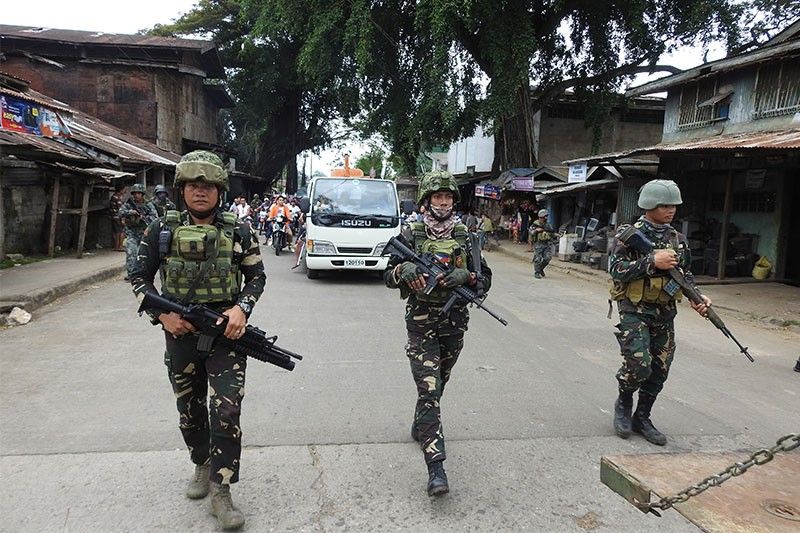 Philippine soldiers escort a hearse during the funeral procession of a victim killed in the January 27 cathedral bombing in Jolo, Sulu province on the southern island of Mindanao, on Jan. 30, 2019. Investigators probing the Catholic cathedral bombing that killed 21 people in the Philippines' restive south said January 29 a group tied to notorious Islamists Abu Sayyaf is the prime suspect.
AFP/Nickee Butlangan
AFP 'not ruling out' suicide bombers in Jolo cathedral blasts
(Philstar.com) - February 2, 2019 - 11:20am
MANILA, Philippines — The Armed Forces of the Philippines on Saturday said "other leads" suggest that the twin bombing of a Catholic church in Jolo, Sulu that killed more than 20 people was not the handiwork of suicide bombers.
This was despite President Rodrigo Duterte's statement that the attacks were carried out by a woman and her husband who blew themselves up.
Local Government Secretary Eduardo Año, citing information provided by witnesses, later said the pair were Indonesians.
"There were other leads in our initial investigation showing it's possible that this was not suicide bombing," AFP spokesperson Brig. Gen. Edgard Arevalo said in an interview in a mix of English and Filipino on Super Radyo dzBB on Saturday.
RELATED: DILG: 'Indonesian suicide bombers behind attack'
As of Friday afternoon, 22 people — six soldiers, one coast guard, and 15 civilians — were reported dead while 101 were wounded after the deadly blast.
The first explosion occurred inside the Cathedral of Our Lady of Mount Carmel at around 8:15 a.m. last January 27 when mass was about to begin. It was followed by a second explosion at the cathedral's parking area as troops from the 35th Infantry Battalion responded.
Año said the Jolo bombing was apparently intended to ignite a religious war and inspire recruits.
"For us, we are not ruling out the possibility that it could be a case of suicide bombing," the AFP's Arevalo said.
Sulu police said Friday that there are indications that the blasts were done by suicide bombers but that investigators cannot make conslusions yet.
READ: Sulu police: Jolo bomb attack 'could be' work of suicide bombers
"Our purpose is to collate information... and we will connect them. But what we're seeing based on ongoing investigation, we're heading towards the information that it's possible this is not suicide bombing," he added. — Ian Nicolas Cigaral