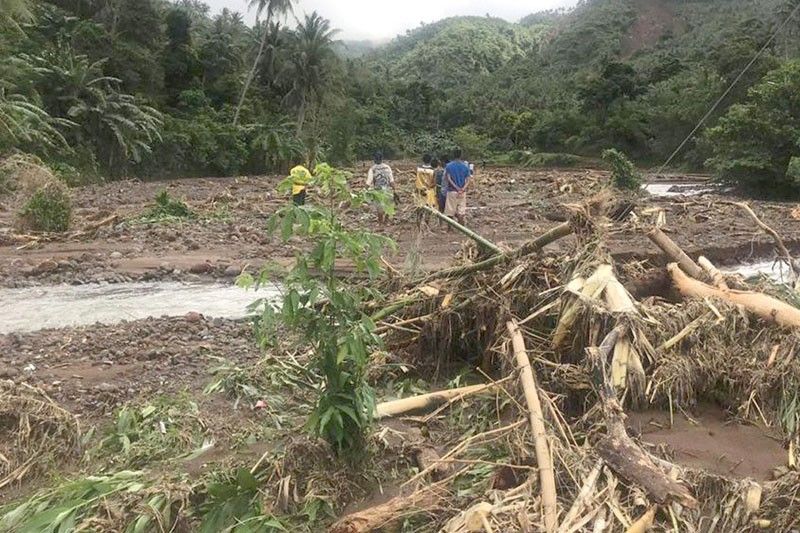 The low-pressure area is expected to develop into Tropical Depression Amang as it enters the Philippine area of responsibility today.
Rudy Santos
Usman-like storm brewing off Mindanao
Helen Flores
(The Philippine Star) - January 19, 2019 - 12:00am
MANILA, Philippines — The state weather bureau yesterday warned the public in Southern Luzon, the Visayas and Mindanao against possible flooding and landslides due to an approaching low-pressure area, which weather forecasters likened to Tropical Depression Usman, the last and deadliest cyclone to hit the Philippines in 2018.
The low-pressure area is expected to develop into Tropical Depression Amang as it enters the Philippine area of responsibility today.
Liza Soccoro Manzano of the Mines and Geosciences Bureau said 1,163 barangays in Calabarzon (Cavite, Laguna, Batangas, Rizal, Quezon) region, 483 in Eastern Visayas, 101 in Northern Mindanao, 573 in Caraga and four in the Davao region may be affected by landslides or flooding within the next 72 hours.
"There is a big chance that these barangays will be affected by landslide and flooding based on the forecast rainfall," Manzano said at a press conference at the central office of the Philippine Atmospheric, Geophysical and Astronomical Services Administration (PAGASA) in Quezon City.
As of 10 a.m. yesterday, the low-pressure area was located at 1,390 kilometers east of Hinatuan, Surigao del Sur.
PAGASA weather forecaster Jun Galang said the weather disturbance was forecast to make landfall over Caraga region tomorrow.
He said heavy rains are expected over Caraga as early as tonight.
"It has the same signature as Usman," Galang said. Usman triggered landslides and flooding in the Bicol region and Eastern Visayas late last year that killed at least 126 people.
Galang said the weather disturbance was expected to weaken into a low-pressure area after hitting landmass.
"Even if it's just a low-pressure area we should not be complacent as it could still bring heavy rains that could lead to landslides like Usman," PAGASA administrator Vicente Malano said.
Use hazard maps, LGUs urged
Sen. Grace Poe wants to find out if local government units (LGUs) are making full use of the government's geohazard maps that could have spared communities from the impact of natural disasters, if not lessen their vulnerabilities.
Poe visited Albay and Camarines Sur on Thursday to distribute relief goods to the families affected by Usman last month.
"The hazard maps will be one of our guides to make our communities safe from the possible effects of landslides and flooding. Are the LGUs using them, are they aware of the maps and do they know how to use them?" she said.
The maps identify the landslide- and flood-prone areas in the country, and the data in them should be maximized to strategically mitigate disasters such as landslides, Poe said.
"These should be integrated in land use planning, land development, disaster risk reduction and climate change adaptation," she said.
Aside from geohazard mapping, the senator pushed anew for a law that would create the Department of Disaster Resilience and Emergency Management. – With Paolo Romero