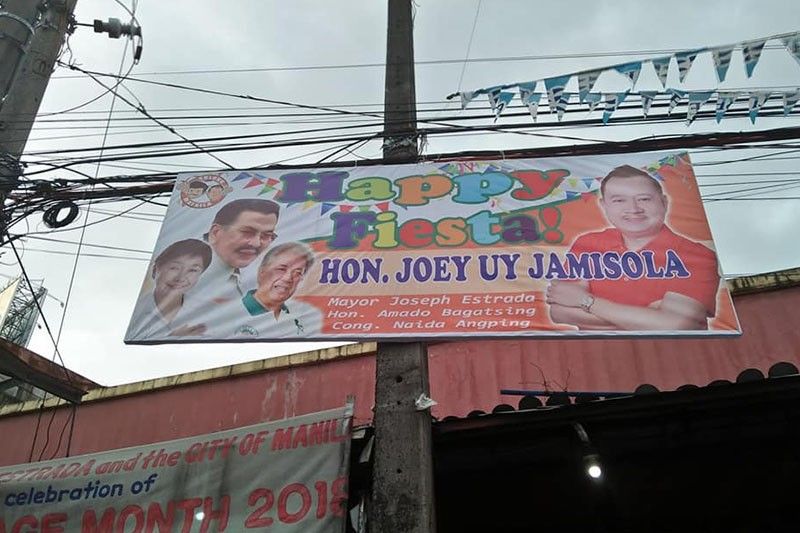 A tarpaulin of political candidates was hung in this January 5, 2019 photo.
EcoWaste Coalition/Facebook, Released
Environmental group laments use of plastic tarpaulins for upcoming polls
(Philstar.com) - January 16, 2019 - 12:37pm
MANILA, Philippines — Environmental watchdog EcoWaste Coalition on Wednesday called on politicians to moderate their use of tarpaulins for the upcoming midterm polls.
EcoWaste Coalition instead urged politicians to opt for ecological campaign methods and materials.
Thony Dizon, EcoWaste Coalition chemical safety campaigner, warned that tarpaulins—mostly made of polyvinyl chloride plastic—may contain toxic chemicals such as cadmium, lead and phthalates that could "leach and contaminate the surroundings."
"Time will come when a tarpaulin has to be removed and disposed of. Even if refused for other purposes, it will still be thrown away after it has worn out or is no longer needed. These tarps, sooner or later, will get buried or burned somewhere," Dizon said.
He added: "It's possible that some of the tarpaulins that we see on the streets might even end up being burned and this will cause far more dangerous pollution."
'Battle of tarpaulins' ahead of poll season
The environmental watch group also lamented the election propaganda tarpaulins that have sprouted ahead of the official campaign period for the midterm elections.
Under existing law, any person who files his COC shall only be considered a candidate at the start of the campaign period on February 12 for national positions and March 29 for those running in the local polls.
"Tarpaulins promoting the names of politicians eyeing elective positions have replaced Christmas decorations that used to adorn our streets. You can see the ubiquitous tarps hanging on electric posts, phone and TV cables and trees," Daniel Alejandre, EcoWaste Coalition zero waste campaigner, said.
Alejandre stressed that politicians and their supporters are exploiting the loopholes in the election laws to do premature campaigning.
"The lax regulation has emboldened political wannabes and their supporters to mass produce tarpaulins and to put them up anywhere even in restricted and unsafe places," he said.
The Senate committee on electoral reforms and people's participation last October recommended the "criminalization" of premature campaigning by political candidates.— Gaea Katreena Cabico