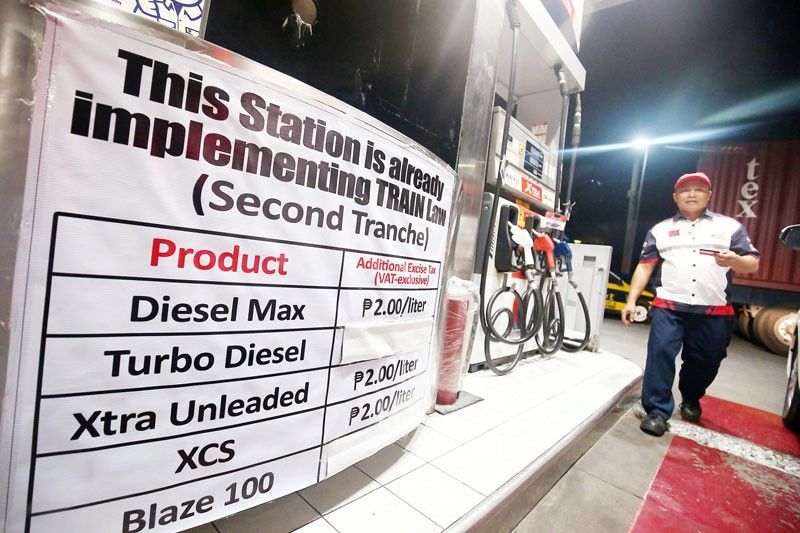 A tarp at a gas station in Manila informs motorists that it was implementing additional excise tax on petroleum products as cars lined up to refuel before the adjusted prices took effect early yesterday.
Miguel de Guzman
Transport group calls for P1 hike in minimum fare
MANILA, Philippines — A transport group yesterday urged the Land Transportation Franchising and Regulatory Board (LTFRB) to bring back the minimum fare for jeepneys to P10 following a spike in fuel prices.
Zenaida Maranan, president of the Federation of Jeepney Operators and Drivers Associations of the Philippines, made the appeal amid the increase in the prices of oil products, particularly diesel.
She noted that pump prices are now P39 to P40 per liter, higher by at least P2.
Maranan called on LTFRB chairman Martin Delgra III to issue a provisional authority, which would increase the minimum fare to P10 from P9.
"Put back the P1 since that was really for us," she said in Filipino in a radio interview.
Delgra did not reply when asked to comment on the transport group's appeal.
Last December, the LTFRB rolled back the minimum fare for jeepneys to P9.
Roberto Martin, head of the Pangkalahatang Sanggunian Manila and Suburbs Drivers Association or Pasang Masda, said it is too early to demand a fare adjustment.
"We can still handle the current oil price increase," Martin said in a phone interview.
He said they would seek a fare hike if fuel prices reach P44 per liter.
VAT on fuel
A consumer group has urged the government to take action against some oil companies allegedly overcharging value added tax (VAT) on fuel.
In a letter to Department of Finance (DOF) Assistant Secretary Antonio Lambino, Laban Konsyumer Inc. president Victorio Dimagiba raised the issue of VAT overcharging amid the implementation of the second tranche of excise tax under the Tax Reform for Acceleration and Inclusion (TRAIN) law.
Attached to the letter were two official receipts from a gas station in Barangay Fairview, Quezon City.
"Our computation shows that VAT was paid on top of VAT on the second tranche of excise taxes, resulting in overpayment of P0.025 per liter by consumers," Dimagiba said.
The receipts were dated Jan. 8 and 12 when diesel was priced at P37.20 and P39.44 per liter, respectively.
The first receipt included additional excise tax for fuel and VAT, which is equivalent to P2.24 per liter.
The group pushed for removing the P0.24 VAT, as it is already computed in the previous receipt at P4.20 per liter, noting consumers paid additional P0.025 per liter of VAT.
The consumer group said the same could be "applicable on the first tranche of excise taxes on fuel for 2018 and resulted in overpayment of P0.085 per liter of VAT."
Wage hike plea mulled
Labor group Trade Union Congress of the Philippines (TUCP) is mulling filing a petition for salary increase to enable workers to cope with the rising prices of commodities and services caused by the TRAIN law.
TUCP president Raymond Mendoza said they were monitoring the movement of prices after oil firms implemented price hikes yesterday.
"We will be citing supervening conditions in filing the petition. We will test once again the capacity of the regional wage boards to remain relevant with its mandate to raise the minimum pay to an amount that can support a family," Mendoza said.
Based on its computation, the TUCP said it may seek P313 to P355 wage hike.
Although the 17 wage boards have increased minimum wages by P8.50 to P56 daily on separate dates last year, these adjustments were not enough, according to Mendoza.
He said the current minimum wage levels remain "inadequate for workers and their families to lead decent lives." – With Sheila Crisostomo, Danessa Rivera