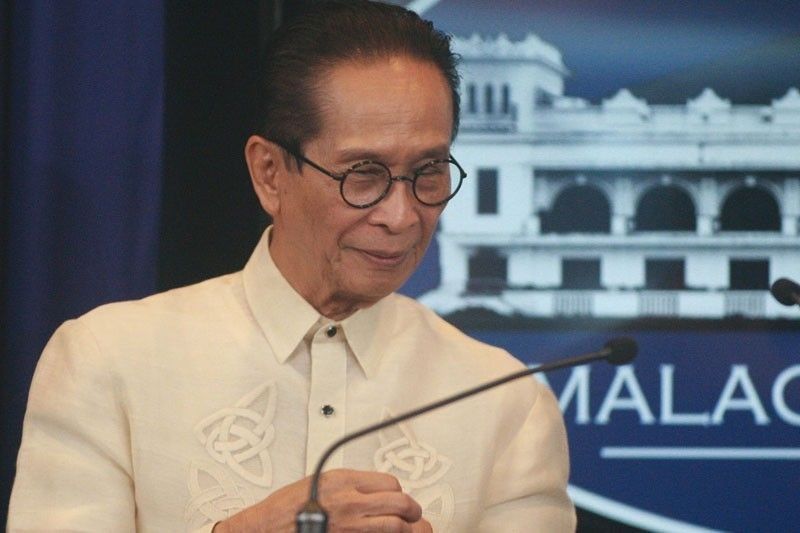 Presidential spokesperson Salvador Panelo says the PACC should have
Screengrab, Facebook/Presidential Communications
Panelo on PACC accusation vs Bello: It shouldn't have been released right away
MANILA, Philippines — The extortion accusations by the Presidential Anti-Corruption Commission against Labor Secretary Silvestre Bello III should not have been made public right away, according to presidential spokesperson Salvador Panelo.
Panelo told Malacañang reporters in a press conference on Tuesday that a letter should have been addressed to Bello privately.
"You might be unnecessarily maligning a reputation without basis," Panelo said.
Bello said in an interview with DZMM Monday evening that he did not receive a copy of the complaint ahead of time.
"The investigation should be discreet in fairness to respondents. He is preempting it," Bello said.

PACC Chairperson Dante Jimenez said their office had received multiple complaints against Bello over allegedly extorting manpower agencies who send workers abroad.

While Bello said he was ready to face any investigation, he wants PACC Commissioner Manuelito Luna sacked for stating the accusations early prior to sending the complaint to him.
Panelo, on his end, said the president would "support who is right" if the secretary should bring the matter to his desk.
"If you ask me, a lawyer, you should give the person you're accusing a chance to explain," Panelo said in Filipino. "Because in my office, where we receive complaints against particular agency or official, we bring it to the agency concerned."
Aside from Bello, former Bureau of Customs commissioner and now Technical Skills Development Authority chief Isidro Lapeña and National Commission on Indigenous People Chairman Leonor Oralde-Quintayo are also subjects of investigations.
The PACC was created in 2017 through Executive Order No. 43 which tasks the commission to look into allegations of excessive lifestyles and graft and corruption activities, and then recommend punishment against those officials which could range from suspension to removal from office.
Another Cabinet member, Budget Secretary Benjamin Diokno is also facing corruption allegations led by House Majority Leader Rolando Andaya. Andaya claims Dikono's "in-laws" received alleged commissions from government contracts funded by sums Diokno is accused of allocating to Sorsogon.