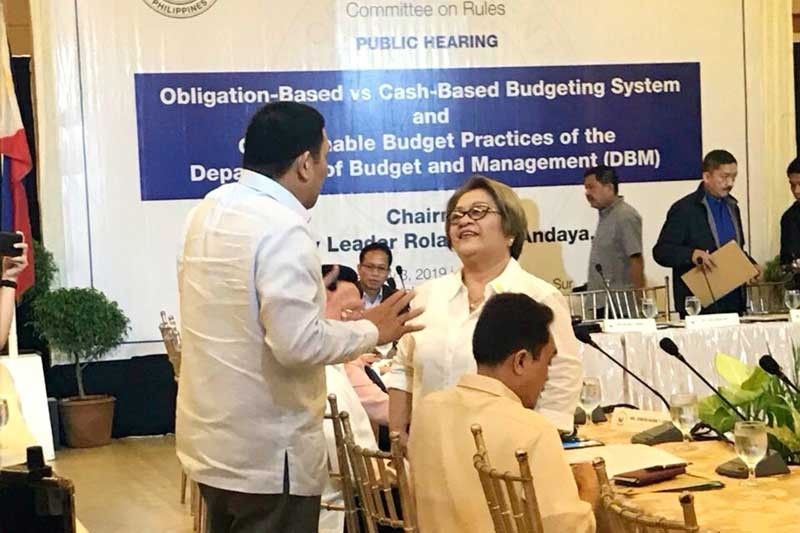 House Majority Leader Rolando Andaya Jr. greets Consolacion Leoncio, owner of CT Leoncio Construction Corp., before the start of a public hearing at Avenue Plaza Hotel in Naga yesterday.
Delon Porcalla
House probe uncovers P332-billion flood fund scam
Palace still trusts Benjamin Diokno
NAGA CITY, Philippines — Clearly a "flood control scam," lawmakers said yesterday of the allocation by the Department of Budget and Management (DBM) under Benjamin Diokno of P332 billion for non-existent flood control projects in a short span of three years.
This was among the initial observations raised by the House rules committee, based on "research" made by House Majority Leader Rolando Andaya Jr.'s team.
"First of all, it is Secretary Diokno – and not President Duterte or DPWH Secretary Mark Villar – who is really behind the insertions for the budget," he said in a power point presentation at the Avenue Plaza Hotel in Naga where the public hearing was held.
He said the P332-billion allocation comprised P213 billion for flood-control projects in the national budget for fiscal years 2017 and 2018, and the proposed P119 billion for this year.
"All of these will come from taxpayers' money," Andaya said, adding that Diokno did the insertions "without consulting" Villar – a former Las Piñas congressman – and in "utter disregard" of Department of Public Works and Highways (DPWH) Order 23 Series of 2015 regarding flood funding requests. Records show a high percentage of slippage, he said.
The House leader also pointed out that DBM placed the funds for projects in areas "not prone to floods" and not covered by any master plan, like the P385 million allocated for Casiguran town whose Mayor Edwin Hamor is an in-law of Diokno.
Local DPWH officials testified Casiguran is not under threat of any flooding and in fact is not included in the studies made by the World Bank, Japan International Cooperation Agency and in the hazard map for Project Noah.
"Definitely Casiguran – unlike the town of Matnog where 19 of its areas were submerged in flood – is not under threat of flooding for the next 25 years," Andaya emphasized.
Hamor's children own the Aremar Construction Corp. which has a joint venture agreement with 70-year-old Consolacion Leoncio of Sta. Maria, Bulacan whose company CT Leoncio Construction Corp. cornered billions in government projects.
Leoncio denied personally knowing Diokno or even the Hamors – including Sorsogon Vice Gov. Esther Hamor – with whom she only converses over the phone.
"Our partnership is 51-49 – 51 is mine and they get 49. They take care of the projects and I take care of the financial side," she said in Filipino.
She said her liaison officer Francis Clemente of Bulacan could explain everything.
Dummy?
Andaya said Leoncio appeared to be just a "financier and dummy" of the Aremars, or Diokno's in-laws.
"It's very clear that it's conflict of interest on the part of Secretary Diokno. That's first degree in the relationship. We're getting close here," he said after the hearing.
He said Aremar was just using the license of CT Leoncio, citing as "evidence" a Land Bank of the Philippines deposit slip indicating Aremar got paid for a project.
An October 2018 Land Bank deposit slip for P11.4 million indicated the amount was a "collection for DPWH project."
Andaya refused to name the source of the check. "It's from a contractor who won the bidding for a project in Bicol. After release of funds from DBM, the winning contractor deposited the money to the real contractor – Aremar," he said.
"I'm inclined to seek the help of the Anti-Money Laundering Council in the House investigation. I will request for all bank transactions of CT Leoncio and Aremar," he declared.
Andaya also took note of Leoncio's criminal liability. "Yes, she will be liable." He also advised Leoncio to consider seriously talking with her liaison officer because he might implicate her the moment he complies with their subpoena.
Clemente was also issued a subpoena.
Confidence in Diokno
But Malacañang yesterday expressed confidence Diokno would be able to answer all the questions on the Bicol flood control projects that some lawmakers claimed had benefited his in-laws.
"Definitely, Secretary Diokno… is very competent to respond to any question directed to him," presidential spokesman Salvador Panelo said at a press briefing.
Panelo said the executive branch would not interfere in the House of Representatives' inquiry into the issue.
"It's the job of the House to conduct investigation. We'll leave it to them and then let's see their findings," Panelo said.
"The expectation of any executive branch relative to the investigation conducted by an equal branch is one of understanding and one of action if it so requires to do such acts. It depends on the results of the investigation," he added. Diokno is reportedly in the US. He has vowed to stay away from the House probe, apparently upon the Palace's advice.
In a statement, Casiguran Mayor Edwin Hamor refuted allegations that his daughter's construction firm cornered P551 million in government contracts from the DPWH in 2018.
Hamor also rejected the claim of Andaya that Aremar was favored owing to its ties to Diokno.
"Aremar was established in 2014 when I was still in the private sector. I divested before I assumed office as mayor in 2016 in favor of my sister, Grace Hamor-Yu, and my daughter, Maria Minez Hamor," the mayor said.
"Maria is my daughter outside of wedlock before I married Esther Hamor, who is the actual in-law of Diokno. Maria now owns majority of Aremar," he added.
Hamor clarified that Aremar and CT Leoncio Construction and Trading are not partners.
The firms were involved in a joint venture for four infrastructure projects in Sorsogon, he said.
"Joint ventures are legal and allowed by the DPWH if approved by the Philippine Contractors Accreditation Board," he said.
The joint venture projects being questioned by Andaya cover the off-carriageway improvement of the Ariman-Casiguran Road (P47 million), Barcelona-Casiguran Diversion Road (P96 million), a tourism road in Bulusan National Park (P115 million) and the section of Daang Maharlika Road in Sorsogon (P289 million).
Albay gets bigger infrastructure funds
Meanwhile, documents submitted to Congress show Albay receiving the biggest amount of infrastructure funds this year among Bicol provinces.
The documents show that Albay was allocated P11.2 billion, followed by Sorsogon with P10.5 billion, Camarines Sur with P10.2 billion, Masbate with P4.5 billion, Camarines Norte with P3.3 billion and Catanduanes with P2.5 billion.
The documents also show that Camarines Sur's first district was allocated P771.8 million this year for road widening projects for five primary roads and one tertiary road, while the second district was allotted P858 million for various flood mitigation structures.
Albay's second district has P768 million for similar projects and an additional P665.5 million for programs to promote tourism destinations and economic zones.
Some P481.7 million is set aside for road widening in Masbate, while Camarines Norte's second district has received P488.65 million for flood control projects.
The House inquiry is zeroing in on the P325-million flood control fund of Casiguran in Sorsogon, the hometown of Diokno's in-laws.
Diokno had denied favoring his in-laws. Palace officials have vouched for the embattled budget chief's integrity. – With Alexis Romero, Jess Diaz