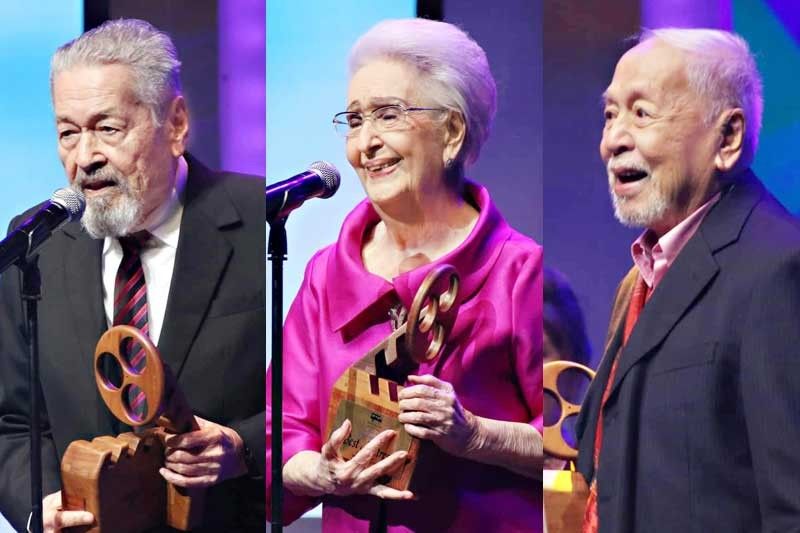 SENIOR MOMENT: From left, Eddie Garcia, lead actor in the movie 'Rainbow's Sunset,' receives a special jury prize; Gloria Romero was named Best Actress, and Tony Mabesa was named Best Supporting Actor during the 2018 Metro Manila Film Festival Gabi ng Parangal at The Theater at Solaire in Parañaque the other night.
Rainbow's Sunset dominates 2018 Metro Manila Film Festival
MANILA, Philippines — Senior stars and a family drama with aging and LGBT themes dominated the 2018 Metro Manila Film Festival Gabi ng Parangal held at The Theater at Solaire last Thursday.
"Rainbow's Sunset," which tells the story of an elderly family patriarch who comes out to his children and wants to be with his dying best friend, nearly swept all the awards with a total of 11 prizes, including Best Picture and Best Director for Joel Lamangan.
It also grabbed the major acting honors – Best Actress for Gloria Romero, Best Supporting Actress for Aiko Melendez and Best Supporting Actor for Tony Mabesa.
"This is a pleasant surprise. You know, this is such a beautiful Christmas gift. I never imagined that at my age of 85 years old, I would still receive this kind of award," said an emotional Romero, who plays the family matriarch in the film. She dedicated her award to her only daughter and grandchild.
The 83-year-old Mabesa, also a veteran actor, credited his co-stars: "I won because I did scenes with very good actors like Gloria Romero and Eddie Garcia. So I cannot fail."
Melendez described her victory as "a great comeback" in the annual film fest, revealing that Davao City Mayor Sara Duterte was her acting peg for winning the portrayal of a strong-willed politician-daughter.
Max Collins and Eddie Garcia, who was an early favorite to win Best Actor but lost to One Great Love's Dennis Trillo, a no-show at the awards night, also received Special Jury prizes for their work in Rainbow's Sunset.
Other recognitions for the film were Best Screenplay, Best Production Design and Best Original Theme Song. The film was also given the Gat. Antonio J. Villegas Cultural award.
For director Lamangan, the big win feels bittersweet. "Painful because right in front of you, the film is slowly being pulled out of cinemas," he said while receiving the Best Director honor.
The film has been Graded A by the Cinema Evaluation Board, which meant it garnered the highest grade possible and entitles its producers to a 100 percent amusement-tax rebate from the government. But as of Thursday night, the number of cinemas where it's being shown was whittled down to 21 after starting in 59 theaters.
"We have the lowest number of cinemas and it's being decreased. Masakit (It's painful) and there are places, provinces especially, where the film is not shown. A lot of people have been asking us why the film is not being shown there," said producer Harlene Bautista.
The MMFF opened on Christmas Day and runs until first week of January.
"Usually, the MMFF opens on a weekday, and nobody really watches films on a weekday even if it's the Christmas season, especially on Christmas Day, when people are at family reunions, so paano yung (what is the) chance?" Bautista pointed out.
She added that since it is a festival, all eight films should be shown for the duration of the festival.
"I think that's fair enough. We deserve (to be shown) and I think any film that has been worked hard on deserves the chance to be seen, otherwise it's nothing," Bautista stressed.
Lamangan also appealed for support from cinema owners, asking them to "respect" the agreed number of cinemas that the MMFF films are supposed to screen in.
"Let's not deprive the audiences of the right to watch films. Let's not think about commerce. Film is art. And art is the soul of a person, and of the nation. I want more people to watch the film because I already have many awards. This is actually my fourth in the MMFF," he said.
Bautista hopes that with the awards, more people will be encouraged to watch their film.
"Hopefully, tomorrow, (the number of cinemas) will become 92... It's sad that it's what we've been used to, that it's becoming the trend (kalakaran)," she said of films being withdrawn from cinemas, even after the first or second day of showing, just because these don't perform well at the box office.
"But of course, never give up in producing quality films," Bautista added.
The other categories and their winners were Second Best Picture – Aurora and Third Best Picture – One Great Love; Best Actor – Dennis Trillo, One Great Love; FPJ Memorial Award – Jack Em Popoy: The Puliscredibles; Best Cinematography – Aurora; Best Editing Award – Jack Em Popoy: The Puliscredibles; Best Musical Score – One Great Love; Best Sound Design – Aurora; Best Visual Effects – Aurora; Best Production Design – Rainbow's Sunset; Best Student Short Film – Kasilyas from Bulacan State University; Best Child Performer – Phoebe Villamor, Aurora; Best Float – Jack Em Popoy: The Puliscredibles, and Stars of the Night – Jericho Rosales and Anne Curtis.