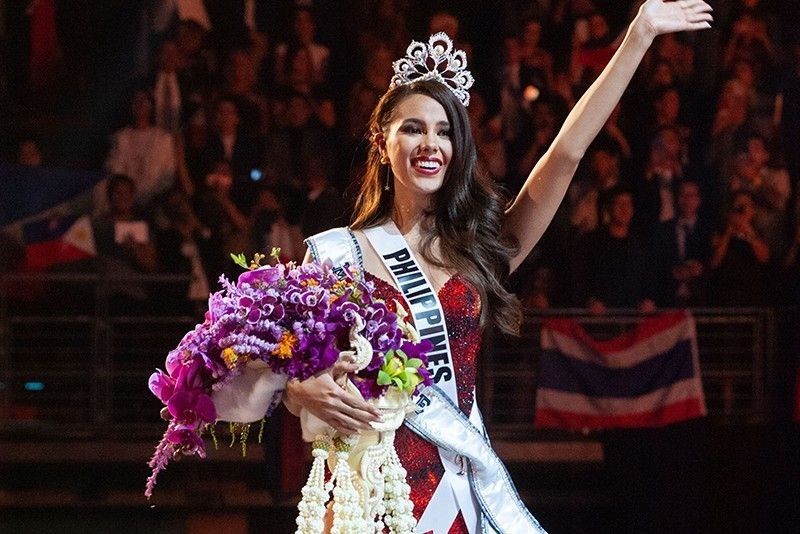 Catriona is an only child. Her mom and her Australian dad Ian Gray were in Bangkok to support Catriona during the pageant, where she beat 93 other aspirants.
Miss Universe Organization/Patrick Prather
Catriona Gray is Miss Universe
Ricky Lo
(The Philippine Star) - December 18, 2018 - 12:00am
MANILA, Philippines — More than the "lava walk" that she has popularized, it was her intelligence that helped Catriona Gray clinch the country's fourth Miss Universe crown.
"She nailed it with her articulate and eloquent reply on the final question," said Margie Moran-Floirendo, the country's second Miss Universe (1973), adding, "Her walk and the sultry look called a lot of attention. It was not easy for her, I'm sure, because there were so many beautiful women who are accomplished and successful in their careers."
The "lava walk" was inspired by the Mayon Volcano in Albay where Catriona's Filipino mother, Normita Ragas Magnayon-Gray, hails from.
Catriona is an only child. Her mom and her Australian dad Ian Gray were in Bangkok to support Catriona during the pageant, where she beat 93 other aspirants.
Miss South Africa Tamaryn Green, 24, was first runner-up, followed by Miss Venezuela Sthefany Gutiérrez, 19. Miss Spain Angela Ponce, 27, made history as the first transgender contestant in the 66-year-old pageant.
Moran watched the live telecast on ABS-CBN and so did Gloria Diaz, the country's first Miss Universe (1969).
"She was super," said Diaz. "Really outstanding!"
Pia Wurtzbach, the country's third Miss Universe (2015), personally watched the pageant.
"Yes, I was there at Impact Arena to support Catriona and to cheer for our country right on," said Wurtzbach. "She really deserved the title and left no stone unturned. I could not be prouder of her for bringing honor to the country."
Gray won the judges' nod with her answer to the question in the Top 3 segment, "What is the most important lesson you have learned and how will you apply it to your time as Miss Universe?"
Her answer: "I work a lot in the slums of Tondo, Manila and the life there is poor and very sad. And I've always taught myself to look for the beauty of it and look in the beauty of the faces of the children and to be grateful. And I will bring this aspect as a Miss Universe to see situations with a silver lining and to assess where I could give something, where I could provide something as a spokesperson. And I think if I can teach people to be grateful, we can have an amazing world where negativity could not grow and foster and children will have smile on their faces."
Helping raise funds to procure a building in Tondo has been Catriona's advocacy even before she thought of joining a beauty contest. The three-story building will serve as a pre-school.
Starting early
Not many people probably remember that in 1999, when Gray was five years old, she joined "Eat, Bulaga's" Little Miss Philippines contest in Sydney where she grew up.
"People say that if you are an only child, your parents can be very strict with you," Gray told The STAR after she won 2016 Miss World Philippines. "Not in my case. Growing up, I had a lot of freedom. I was spoiled in the sense that my mom allowed me to try so many different things kasi when my mom was growing up, she didn't have the opportunity to learn how to play instruments and to do extra-curricular activities. When I was young, I did varied after-school activities. I did art, drama, science, math. I'm not the sporty kind of person but I did get a certificate on outdoor recreation. I also compose songs." (Gray is a contract artist of Viva Records.)
Gray duplicated the feat of Namibia's Michelle McLean, who was one of the judges in this year's pageant. In 1991, McLean finished among the Top 5 finalists in the Miss World pageant held in Georgia, USA. The following year, she won Miss Universe in the pageant held in Bangkok. Her story is also comparable to that of Wurtzbach, who took three attempts to win in the Binibini and eventually bagged the country's third Miss Universe crown in 2015.
In 2016, Gray landed in the Top 5 of the Miss World pageant held in Maryland, USA. And yesterday, she was crowned Miss Universe also in Bangkok.
Beauty-contest connoisseurs have noted that the country's colors have been prominently displayed on the Miss Universe stage – Gray wore red when she won, Moran wore white in Greece and Wurtzbach wore blue in Las Vegas.
According to fashion designer Mak Tumang in his Facebook post, "Today, Catriona is coming home. She is celebrating her roots – she is celebrating Albay! The prominent and iconic Mayon Volcano is the penultimate inspiration for this creation. It is dubbed as the 'perfect cone' because of its symmetric conical form. Folk tales have it that it was named after the mythological heroine 'Daragang Magayon' (Beautiful Lady). Despite its pulchritude is the fact that it is the most active volcano in the Philippines, erupting numerous times in the past half a millennium. Fiery and lovely perfection, Catriona can be considered as the modern-day Daragang Magayon. She embodies the Filipina's beauty, intelligence and burning passion. This lady is definitely on fire! Watch her erupt right before your very eyes and let the lava of grace, goodness and hope flow."
With Gray's win, the Philippines' ranking in the roster of countries with the most number of Miss Universe title-holders was raised to the No. 4 spot once shared with Sweden with three wins. At No.1 is USA with eight wins, Venezuela No. 2 with seven and Puerto Rico No. 3 with five.
"My heart is filled with so much gratitude. There were moments of doubt when I felt overwhelmed and I felt the pressure," said Gray, who wore a red and orange dress that was inspired by Mayon.
Mom's dream
She said she wore red because "when I was 13 my mom said she had a dream that I would win Miss Universe in a red dress." Her mom, she said, cried when they saw each other after she won the competition, the 67th Miss Universe pageant.
Gray was also asked during the contest about her views on legalizing marijuana and replied that she supported it for medical uses.
After she was crowned, Gray told reporters the question was "definitely relevant" and "an active topic," in an apparent reference to the war on drugs in the Philippines that has killed thousands of Filipinos and caused international alarm.
President Duterte raised even more controversy when he recently joked that he smoked marijuana to deal with his busy schedule of meetings with other Asian leaders at a regional summit.
Presidential spokesman Salvador Panelo said her win would put the country on the world map for "beauty and elegance."
"In her success, Miss Philippines has shown to the world that women in our country have the ability to turn dreams into reality through passion, diligence, determination and hard work," he said. The Philippines previously won Miss Universe titles in 2015, 1973 and 1969.
In the Philippines, pageants are a popular attraction, and Filipinos watching the televised contest cheered wildly and jumped for joy when she was declared the winner.
Celebrations were especially buoyant in Oas town in Albay, from which Gray's Filipina mother hails.
Gray's father is Australian, and she was born and grew up in Cairns, Australia. She studied at the Berklee College of Music in Boston in the United States.
One of the few controversies of this year's contest involved Miss United States, Sarah Rose Summers, who seemed to mock contestants from Cambodia and Vietnam over their English language skills. Summers apologized.
The finale was again hosted by Steve Harvey, who infamously announced the wrong winner in the 2015 contest. Harvey joked briefly about the incident in exchanges with contestants and said: "You all can't let that go" and "I'm still here."
The theme of this year's pageant was "Empowered Women" and was judged by seven women including former pageant winners, businesswomen and a fashion designer.
'Unfinished business'
Gray's journey to the Miss Universe crown is a story of heartache turned into triumph – a familiar narrative in beauty pageants.
When she joined the Binibing Pilipinas contest last January and vied for the right to represent the country in the most prestigious pageant in the world, it was an "unfinished business" that she wanted to complete.
Gray first represented the Philippines in the Miss World 2016 pageant held in the US. She was the heavy favorite for the crown, besting other candidates in most of the "fast tracks" or competition events.
But she ended up only in the Top 5, with the crown going to Puerto Rico's Stephanie del Valle. In an unprecedented consolation prize, the organization awarded her with the third runner-up recognition in a post-pageant event.
Many pageant experts considered such result as one of the biggest injustices in global pageants and believed that Gray was robbed of the crown.
After two years, she decided to give pageants another shot.
"I felt like I had unfinished business. I really enjoyed being a charity spokesperson for the longest time, so what bigger platform could I ask for?" she said in an interview after enlisting for Binibining Pilipinas 2018.
"It was no way planned but sometimes the stars align to make things happen," stressed the 24-year-old stunner who runs her Young Focus Foundation that has been providing education to underprivileged children in Tondo, Manila for over 10 years now.
Gray revealed that she had an "evolution of myself quietly happening away from the public's eye" to prepare for her second bid for an international crown.
After her crowning yesterday, Gray revealed that her mother had a vision of her becoming Miss Universe.
"When I was 13 years old, my mother told me, 'I had a dream that you won Miss Universe and you were wearing a red dress. So when I saw her earlier, she said, 'I dreamed (about) this!' And she had tears in her eyes," she told reporters at a press briefing.
Gray corroborated with designers Jearson Demavivas, Mak Tumang, Jojo Bragais and Eric Quiwa for her national costume, evening gown, daily outfits and shoes during the competition.
She has put so much heart and dedication to her craft and wanted to really showcase Filipino culture and tradition on the global stage the way nobody did before.
As she promised, Gray brought with her the entire Philippines with her Luzviminda national costume that historians praised for its recognition of pre-hispanic culture.
She remained true to herself and was a shining representation of the Filipino spirit – finding the silver lining in adversities and smiling amid challenges in life. – With Edu Punay, Reuters, AP
Related video: