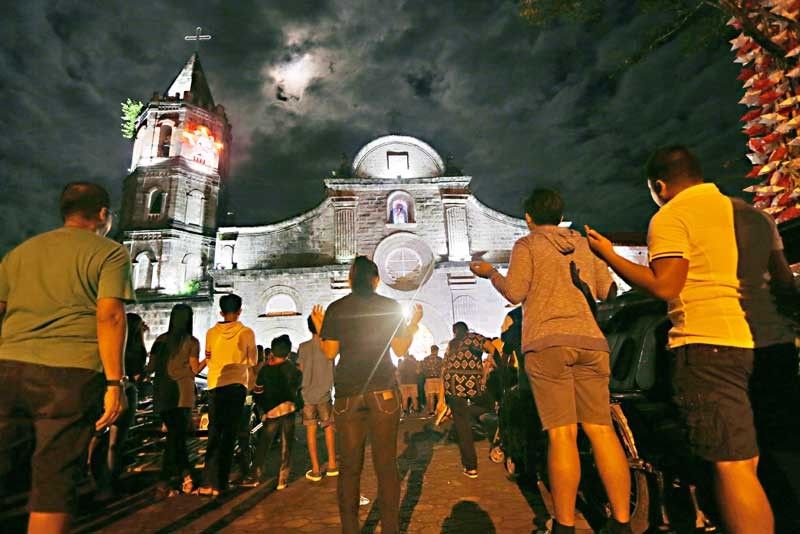 Parishioners stand outside the Barasoain Church in Malolos, Bulacan to attend the first of nine dawn masses, or Simbang Gabi, in this file photo. The tradition of dawn masses dates back to the Spanish era and is seen as a religious sacrifice prior to Christmas Day.
Ernie Peñaredondo
Connect with homilies during Simbang Gabi, youth told
MANILA, Philippines — While many of today's youth turn Simbang Gabi or dawn mass into "Simbang Date," an official of the Archdiocese of Manila yesterday remained hopeful that they would be moved by the Holy Spirit and be able to connect with the homilies.
"But we make the most of what we have," said Archdiocese of Manila Office of Communications head Fr. Roy Bellen.
Bellen said he was looking on the positive side, adding that at least the young people are going to church.
"Hopefully they also get to hear something. You will never know that when a priest gives his homily, you would be surprised by how the Holy Spirit moves," Bellen added.
He said catechism is most alive during Simbang Gabi and Holy Week because these are the times when the churches are filled with people.
During Simbang Gabi, the priests usually inject stories concerning the youth in their homilies since 2019 has been declared by the Catholic Bishops' Conference of the Philippines as the Year of the Youth.
Bellen told the youth that listening to the gospel and participating in the eucharist is the core of Simbang Gabi and not loitering, gossiping or laughing with friends.
He added that the youth should hear masses more with their family than friends.
Despite the recent call of President Duterte for Catholics not to attend mass, many of them will troop to the nine-day Simbang Gabi or dawn mass, which begins today.
Also called misa de gallo or rooster's mass because it is celebrated as the roosters crow at the crack of dawn, the tradition originated in Mexico in 1587 when the pope permitted the holding of Christmas masses outdoors to accommodate the huge number of people who could not get into church for the evening mass.
As this developed, Philippine National Police chief Director General Oscar Albayalde has ordered tighter security around churches for Simbang Gabi.
Albayalde said police visibility and preventive patrol operations should be stepped up by ground commanders to ensure the safety and security of church-goers who attend the nine-day masses. – With Bebot Sison Jr., Romina Cabrera