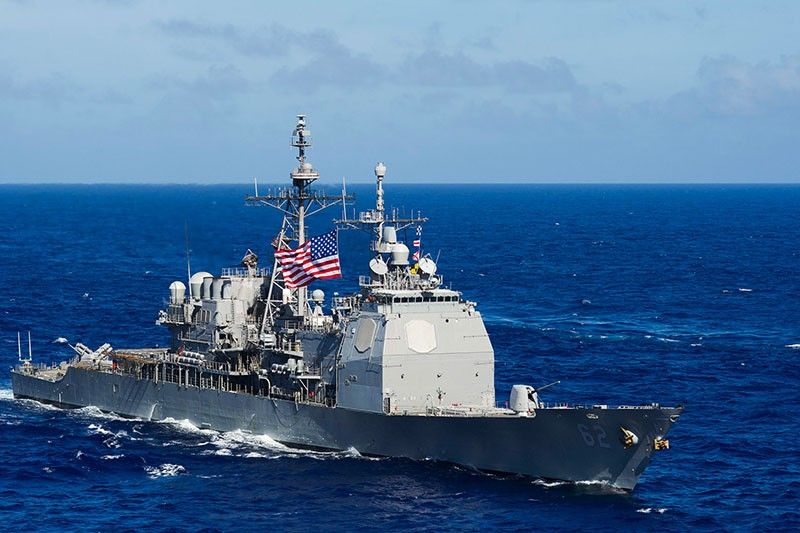 This Sept. 17, 2018 photo shows Ticonderoga-class guided-missile cruiser USS Chancellorsville (CG 62) operates in the Philippine Sea during Valiant Shield 2018. In November, the Chancellorsville sailed near the Paracel Islands in the South China Sea, pushing China to deploy its own navy and air force assets to drive the American warship away.
US Navy/Mass Communication Specialist Seaman Codie L. Soule
Chinese military official suggests attack vs US ships in South China Sea
MANILA, Philippines — A ranking Chinese military official called for a more aggressive approach against United States warships conducting freedom of navigation operations in the disputed South China Sea.
Dai Xu, president of the Institute of Marine Safety and Cooperation and a senior colonel in the People's Liberation Army Air Force, said Beijing should not allow American warships to "create disturbance."
"If the US warships break into Chinese waters again, I suggest that two warships should be sent: one to stop it, and another one to ram it," Dai said in a conference organized by Chinese state-run tabloid Global Times.
The Chinese air force official added that Washington's freedom of navigation operations are provocations against Beijing and interference in the country's sovereignty, the Global Times reported.
Dai also claimed that China has never influenced US operations in international waters but they should not enter Chinese waters.
The US has been increasing its operations in the South China Sea, where several countries, including the Philippines, China, Malaysia, Indonesia and Vietnam have overlapping claims.
The most recent confrontation between Washington and Beijing was in November when the Chinese navy sent its forces to warn a US warship sailing through the contested waterway.
The US Navy's guided-missile cruiser USS Chancellorsville was then conducting a freedom of navigation operation near the Paracel Islands.
According to a report from the South China Morning Post, China's Southern Theatre Command claimed that the US warship entered the waters around the Paracels without approval of the Chinese government.
Beijing then deployed navy and air forces to monitor USS Chancellorsville and warned it to leave the area.
US Pacific Fleet spokesperson Nathan Christensesn said the US warship sailed near the islands to "challenge excessive maritime claims and preserve access to the waterways as governed by international law."