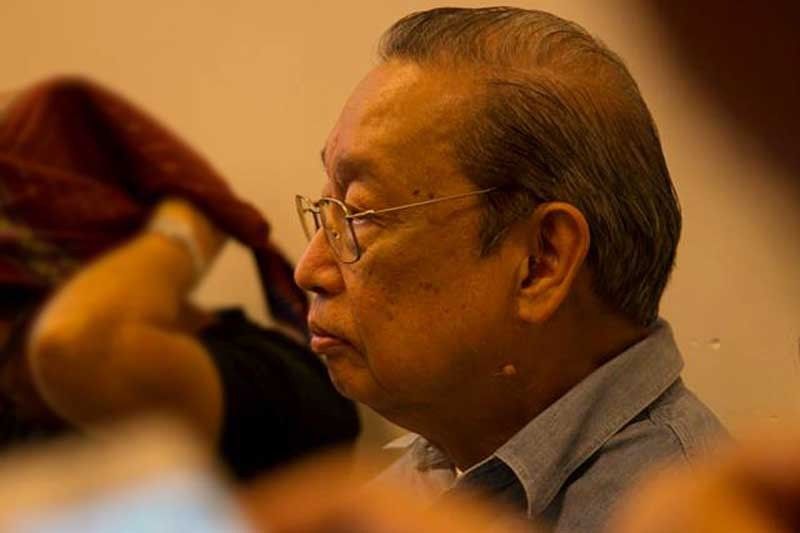 Sison claimed on Saturday that former solicitor general Florin Hilbay was right that the Duterte administration has "treasonously and stupidly made a waiver of Philippine sovereign rights" by being silent on the issue.
UPB Facebook Photo
Palace chides Sison for comments on West Philippine Sea
MANILA, Philippines — Malacañang on Sunday lashed at communist leader Jose Maria Sison for criticizing President Rodrigo Duterte's handling of the West Philippine Sea row and dared him to return to the Philippines to see how the government is implementing its independent foreign policy.
Sison claimed on Saturday that former Solicitor General Florin Hilbay was right that the Duterte administration has "treasonously and stupidly made a waiver of Philippine sovereign rights" by being silent on the issue.
The rebel leader also lambasted the administration for supposedly putting Philippine sovereign rights at par with China's claims in the memorandum of understanding on the joint exploration and development of oil and gas resources in the West Philippines Sea.
Sison said Duterte had made a "false and stupid calculation" that the Philippine economy would be bouyed by "burdensome and exploitative Chinese loans." The communist leader also warned that China wants an "explicit and categorical surrender of Philippine sovereign rights."
READ: How Locsin's oil development MOU differs from Trillanes-released 'China draft'
'Lamentable' attacks
Sison's comments did not sit well with presidential spokesman Salvador Panelo, who described Sison's attacks as "lamentable."
"We find it lamentable and pathetic that Communist Party of the Philippines founding chairperson Jose Maria Sison resorted to ad hominem (personal) attacks in criticizing the president's policy on the West Philippine Sea," Panelo said in a statement.
"We urge Mr. Sison to stop his propaganda war by long distance and to return to the Philippines and see for himself the independent foreign policy course that the president has charted, including a cautious, pragmatic, and diplomatic stance on how to deal with the favorable arbitral ruling," he added.
Panelo said the basis of Sison's tirades was a two-year old article by international political risk analyst Anders Corr, who has worked for several projects with the United States military. He said Sison's reliance on a two-year-old article proved that the rebel leader is "out-of-touch of the realities in the Philippines as a result of more than three decades of high living in Europe."
"The president has a wealth of information at his disposal, which is not readily available to ordinary citizens or foreigners hence he is in the best position to decide on international matters that affect the welfare of the nation," Panelo said.
RELATED: Philippines cannot physically confirm China's weather stations — Lorenzana
Panelo said Duterte has steered clear of a "potential warfare with China" and maintained constructive dialogues through a bilateral consultation mechanism, which led to the signing of 29 agreements.
The government has often said the Philippines cannot go to war with China over the sea dispute, but critics of the Duterte administration's policy in the West Philippine Sea have stressed that there are alternatives to war, like filing diplomatic protests, to assert Philippine interests.
Foreign Affairs Secretary Teodoro Locsin Jr. told the Commisison on Appointments during his confirmation hearing that filing protests would be "basically throwing pieces of paper at a brick wall, essentially the 'Great Wall of China.'" The bicameral commission voted to confirm his appointment as Foreign Affairs secretary.

'Abandon armed struggle'
He said Sison should abandon his violent armed struggle, saying it has resulted in meaningless deaths and has alienated his followers.
"In the twilight of his years, Mr. Sison must accept the reality that his dream of wrestling [sic] political power from the duly constituted authorities has come to an end," he said.
"Truly, the revolution that he has commenced half a century ago has devoured its own children," he said, possibly in reference to a quote used for the French Revolution as a comment on how liberators can quickly become opressors themselves.