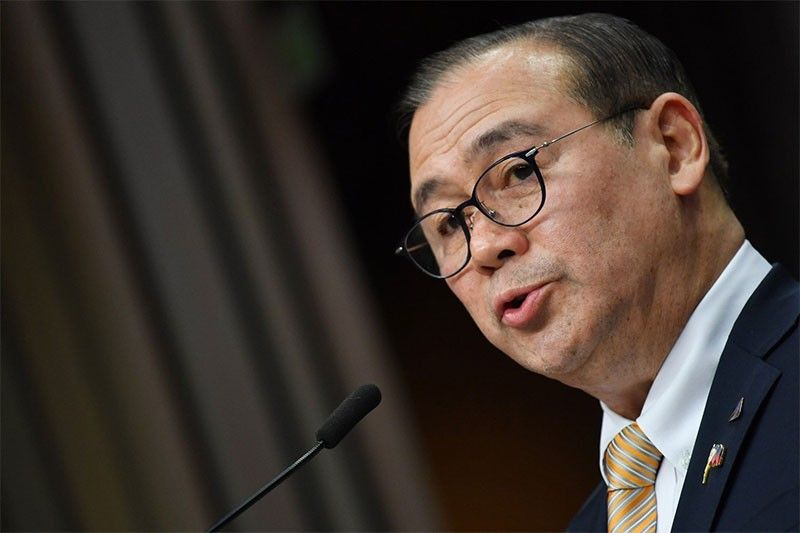 In this Oct. 19, 2018 photo, Foreign Affairs Teodoro Locsin Jr. speaks at a press conference during the Asia-Europe Meeting summit at the European Council in Brussels. The Commission on Appointment has confirmed the appointment of Locsin as Secretary of Foreign Affairs.
AFP/Ben Stansall
Filing protests against China like 'throwing paper at a brick wall' — Locsin
MANILA, Philippines — Foreign Affairs Secretary Teodoro Locsin Jr. prefers not to protest Beijing's aggression in the West Philippine Sea as it is "basically throwing pieces of paper at a brick wall."
The DFA chief made this statement when asked if he would file a note verbale against China following an incident between a GMA News team and Chinese Coast Guard personnel in the Scarborough Shoal.
"I was in the United Nations and I refused to do it. I said the filing of notes verbale basically throwing pieces of paper at a brick wall, essentially the 'Great Wall of China,'" Locsin told the Commission on Appointments.
Locsin acknowledged that his predecessor Alan Peter Cayetano did file notes verbale against Beijing's aggression in the South China Sea, part of which is the West Philippine Sea.
"The accumulation of papers rejected with total indifference by China is simply proof not law, but it is evidence that the fact in case is China is in possession and this is something I do not wish to happen," he said.
Asked what he would do after reports that Chinese Coast Guard personnel drove away a GMA News team away from Scarborough Shoal, Locsin said he would first examine proposals on the matter.
Locsin revealed that he had to bet 33 agreements, including one proposing for an even "tighter coordination" between the coast guards of China and the Philippines.
"Maybe you need a coast guard presses, a tighter coordination to avoid provocations that may escalate what is in a conflicted zone into an actual conflict," Locsin said.
The commission has approved the appointment of Locsin as secretary of Foreign Affairs on Wednesday morning. His confirmation will be submitted to the Senate plenary for approval.
President Rodrigo Duterte appointed Locsin after the DFA top post was vacated when Cayetano filed his certificate of candidacy for Taguig representative in the 2019 midterm elections.
Locsin was Philippine Ambassador to the United Nations prior to his stint at the DFA.