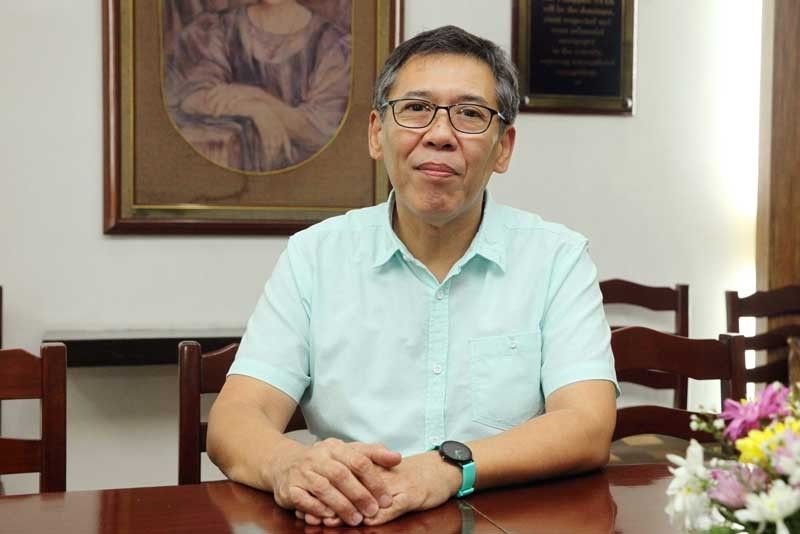 Senatorial candidate and human rights lawyer Manuel 'Chel' Diokno listens to questions from STAR editors during a visit to The Philippine STAR the other day.
Joey Viduya
Chel Diokno: Justice system is top hindrance to development
MANILA, Philippines — Human rights lawyer Jose Manuel "Chel" Diokno believes the Senate remains an institution that can serve as a bastion for democracy and he will push for judicial reforms should he become part of it next year.
Diokno, who came from a family that fought for the country's freedom from tyranny, said he did not aspire to be a politician, but silence is no longer an option for those who do not want dictatorship to return.
For Diokno, the Duterte regime is using fear, violence and systematic lies in running the government, which is very evident in the existence of the so-called narco-list or names of people linked to the illegal drug trade without bases or cases.
"That is what they are doing and the only way to combat it is to speak the truth. That it is the only way," Diokno said in an interview with The STAR.
Diokno is the son of former senator Jose "Pepe" Diokno, an opposition leader detained during martial law and one of the founders of the Free Legal Assistance Group (FLAG) that aids victims of human rights violations.
"Their use of lists is the most effective instrument of keeping people quiet, scaring them, because anyone can get on that list, kaaway ka ni ano, nasa listahan ka (if you're at odds with someone, then you're on the list)," said Diokno.
But he is hopeful because there is still the Senate. "So what is the only institution left that is going to stand up to that kind of governance? There is only one left, the Senate."
Diokno arrived at The STAR office with no fanfare on Wednesday night with a clear purpose – to deliver his message. Clad in light green polo, jeans and rubber shoes, Diokno – low-key and soft-spoken but serious about his desire for a heart-to-heart talk – knows he needs to attract attention during the campaign to get votes. He, however, is determined not to sacrifice who he really is in the process, he said, and his message will always be his focus.
Diokno, De La Salle University College of Law founding dean, said the justice system should be reformed to ensure that the rights of every individual are protected and to promote social justice. They are currently working on a slogan that goes: "Pag may sala, dapat may parusa, mayaman o mahirap (If there is a crime, there has to be punishment, rich or poor)."
"The justice system is the biggest stumbling block to our development… (a total of) 20,322 people have already been killed in the war on drugs, that is only from July 1, 2016 to November 2017," Diokno said.
Asked to answer those criticizing human rights advocates opposing the drug war and those who believe it would be better to kill criminals, Diokno said: "(Did the killings) stop the drug problem? It did not," pointing out that certainty of punishment and speedy and efficient disposition of justice are key to stop corruption and criminality.
"Some politicians are blaming human rights lawyers for defending the cases of poor drug personalities… they make us the bogeyman, when the real culprit is the way our system is working, which they are milking and not telling anyone about it. They have effectively crippled all institutions that are supposed to be the check," Diokno said.
While the Supreme Court issued a circular to speed up the justice system, Diokno said such measure could not be implemented due to lack of prosecutors and judges to handle the cases.
About 20 percent of trial courts are vacant, without judges; One-third on the prosecutor level is likewise vacant, he revealed.
"How can justice work if there are no people?" Diokno asked.
On June 11, The STAR reported that the Philippine National Police (PNP) has recorded a total of 22,983 cases of killings that were classified as deaths under inquiry (DUI) since President Duterte launched the war on drugs.
In a report, the PNP Directorate for Investigation and Detective Management (DIDM) said at least 33 persons were killed daily from July 1, 2016 until May 21 of this year.
However, PNP chief Director General Oscar Albayalde denied that the death toll reached over 20,000, branding the report as "fake news" as he claimed that only about 4,000 drug personalities were considered drug war casualties.
'Figure came from gov't'
Diokno said Albayalde could not deny that the total number of deaths in the war on illegal drugs reached 22,983 since the information was based on a resolution issued by the Supreme Court, citing an accomplishment report from the Office of the President.
"Hindi made-deny ng gobyerno 'yan, galing sa kanila 'yan (The government can't deny that, it came from them)," he noted. "He (Albayalde) conveniently overlooked that fact."
Diokno has been vocal aboutt extrajudicial killings (EJKs) and he does not intend to stop criticizing the abuses being committed supposedly to protect the people.
"I don't think being quiet is an option and I have never been quiet, since the start of EJK, I was one of the first to criticize the killings," he said.
Diokno is part of the "Manlaban sa EJK," a coalition of lawyers, legal experts and law school associations that campaigns against extrajudicial killings, threats to freedom of expression and attacks against human rights defenders.
The group was formed in 2017, a year after thousands of drug suspects were killed due to the war on drugs.
In pushing for social justice, Diokno expressed belief that justice has never been included in the national agenda of the Duterte administration "but we all complain against corruption and crime."
"I was happy being a human rights lawyer, teacher of law students, but as each day passed, it becomes clearer and clearer to me that if I did not do anything I would be surrendering to what is happening (under) this regime," he said.
Diokno said the present government has practically captured the institutions with the appointments it had made in different agencies and departments, making people lose faith even in the courts, when the judiciary is supposed to be an independent branch of government.
"You know the justice system is the elephant in the room. Nobody talks about it. Politicians do not want to talk abut it because they know it's all about accountability, they will not talk about it because they are afraid (that) sila na mauuna mananagot dyan (they'll be the first to have to answer to that)," he noted.
Diokno said some politicians do not want to empower Filipinos with information and knowledge "because if they were more empowered, then they would not vote for them."
Diokno earned his Philosophy degree from the University of the Philippines and a Juris Doctor of Laws from the Northern Illinois University College of Law, where he graduated magna cum laude.