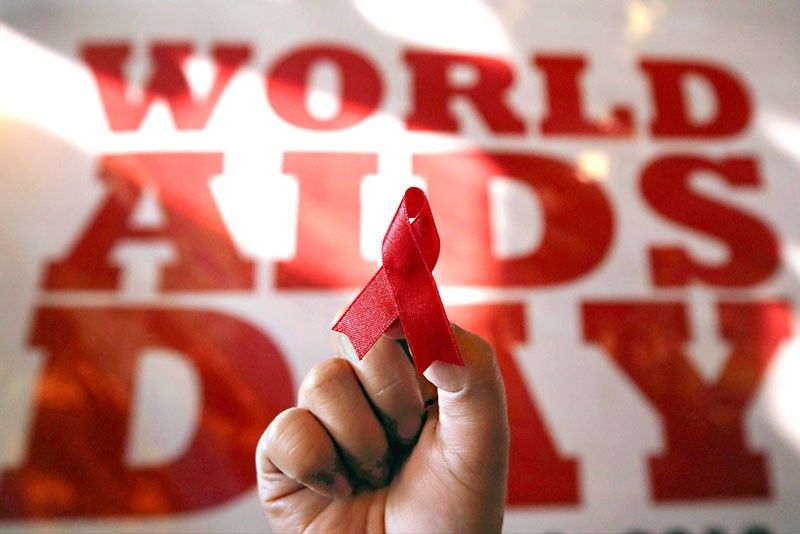 A red ribbon, the international symbol of AIDS awareness, is displayed during an event celebrating World AIDS Day at the Vista Mall in Taguig City yesterday.
Krizjohn Rosales
Fear, ignorance define AIDS epidemic – WHO
MANILA, Philippines — "Fear, stigma and ignorance" are what defined the HIV epidemic that raged through the world in the 1980s, according to the World Health Organization (WHO).
As the world commemorated the 30th World AIDS Day yesterday, WHO claimed the disease has since killed thousands of people "who may only have had a few weeks or months from diagnosis to death – if they even managed to be diagnosed before they died."
"With no effective treatment available in the 1980s, there was little hope for those diagnosed with HIV, facing debilitating illness and certain death within years," WHO-HIV department director Gottfried Hirnschall said, as the organization underscored the need to raise awareness about HIV and its resulting AIDS epidemic.
Since the start of the epidemic, over 70 million people have contracted the virus and around 35 million have died.
Curently, around 37 million worldwide live with HIV, of whom 22 million are on treatment.
WHO coordinator of HIV testing and prevention Rachel Baggaley recalled that in the late '80s, "the outlook for people with HIV was pretty grim."
"Antiretrovirals weren't yet available, so although we could offer treatment for opportunistic infections, there was no treatment for their HIV. It was a very sad and difficult time," she said.
Meanwhile, three in four individuals infected with HIV are aware about their condition, according to the Joint United Nations Program on HIV/AIDS (UNAIDS).
In its new report titled "Knowledge is Power," UNAIDS said that in 2017, around 75 percent of people with HIV knew their status. This is higher than the 67 percent in 2015.
On the other hand, some 21.7 million (59 percent) people living with HIV in 2017 had access to antiretroviral therapy, up from 17.2 million in 2015.
UNAIDS said this indicates that "intensified HIV testing and treatment efforts are reaching more people living with HIV."
The report, however, showed that 9.4 million people living with HIV do not know they are living with the virus and "urgently need to be linked to HIV testing and treatment services."
It also revealed that although the number of infected individuals who are virally suppressed has risen by around 10 percentage points in the past three years, reaching 47 percent in 2017, some 19.4 million people still do not have a "suppressed viral load."
Having suppressed viral load means that although they are not cured, the level of virus in the body is undetectable.
UNAIDS executive director Michel Sidibé noted that "viral load testing is the gold standard in HIV treatment monitoring."
"It shows that treatment is working, keeping people alive and well and keeping the virus firmly under control," he said.
'Heightened vigilance'
A party-list lawmaker yesterday called for "heightened vigilance" against AIDS.
"Fighting AIDS through greater awareness and prevention is a top priority for us because one in 10 Filipinos living with HIV is a migrant worker," ACTS-OFW party-list group Rep. John Bertiz said.
"(Overseas Filipino workers) are especially at risk because once they are exposed to foreign cultures, they tend to let their guard down," he said.
A total of 697 OFWs were newly diagnosed with HIV from January to September this year, up 13.7 percent from 613 in the same period in 2017, according to Bertiz.
He added that the nine-month total brought to 6,135 the cumulative number of OFWs found infected with HIV since the government began passive surveillance in 1984.
Bertiz pointed out that all told, OFWs with HIV now account for 10 percent of the 59,135 confirmed cases in the National HIV/AIDS Registry as of September this year.
Of the 6,135 OFWs in the registry, he noted that 5,280, or 86 percent, are male with the median age of 32 years, while the median age of female OFWs in the registry is 34 years.
The lawmaker added that 71 percent of the male cases were infected through sexual contact with men.
Bertiz urged the Philippine Overseas Employment Administration and the Overseas Workers Welfare Administration to devote more resources to preventive education among OFWs and their families.
HIV causes AIDS, which destroys the human body's natural ability to fight off all kinds of infections. The condition still does not have a known cure.
Antiretroviral treatment has been known to slow down the advance of HIV in cases that are detected early.
At least 31,458 Filipinos living with HIV were listed as undergoing such treatment as of September, according to the Department of Health. – With Jess Diaz