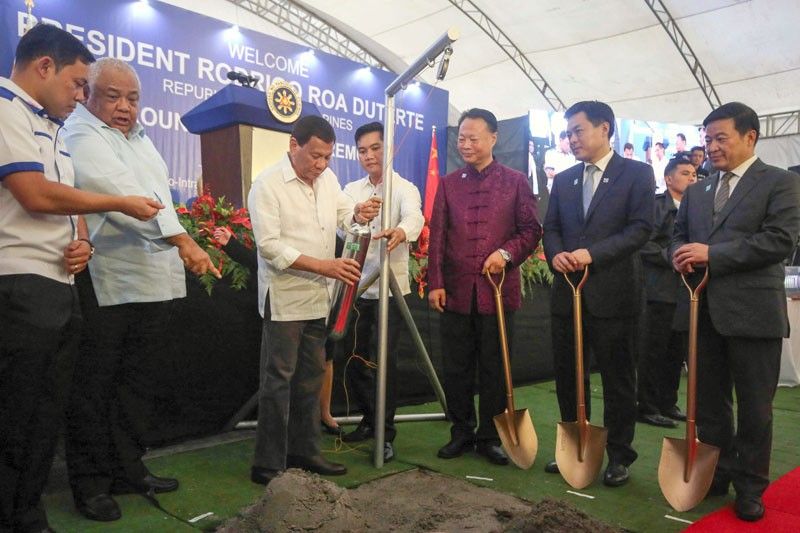 President Duterte leads the groundbreaking ceremony of the Two China Aid and Bridge Project in Intramuros, Manila yesterday. Among those with him are (from left) Public Works Secretary Mark Villar, Executive Secretary Salvador Medialdea and Chinese Ambassador Zhao Jianhua.
KJ Rosales
Philippines, China agree on 10-year cooperation on infrastructure
MANILA, Philippines — The Philippines and China have agreed to cooperate on infrastructure for the next ten years to boost economic development and improve their investment environment.
The infrastructure cooperation program is one of the 29 bilateral deals signed during the state visit of Chinese President Xi Jinping this month.
The program, copies of which were released to the media Tuesday, contained guidelines for infrastructure cooperation between Manila and Beijing over the next decade
The cooperation program also aims to strengthen the link between China's Belt and Road initiative and the Philippines' long-term vision.
The One Belt, One Road Initiative seeks to convince some 60 countries to invest in infrastructure projects to come up with land and maritime routes following the old Silk Road network that once connected China to Central Asia
and Europe.
The Philippines' long-term vision, meanwhile, seeks to end poverty by 2040. The vision, which has been dubbed "AmBisyon Natin 2040," seeks to prioritize housing, manufacturing, connectivity, education, tourism, agriculture, health and financial services.
Under the infrastructure cooperation program, Philippines and China will identify cooperation areas and projects based on their demands and economic situations and based on strategic merits, growth potential and driving effect.
The key areas of cooperation are transportation, agriculture, irrigation, fish ports, power, water resources management, information and communication technology and telecommunications.
The projects mentioned in the cooperation program include:
The Philippine National Railways South Long Haul Project
Subic-Clark Railway Project
Mindanao Railway Project
North-South Harbor Bridge
Palanca-Villegas Bridge
Beata-F.Y. Manalo Bridge
Blumentritt-Antipolo Bridge
East-West Bank Bridge 1
Ilocos Norte Irrigation Project Phase II
Rehabilitation of all Agus-Pulangi Hydroelectric Plant Units
Ambal-Simuay River
Rio Grande de Mindanao River flood control projects
Bohol Northeast Basin multipurpose project
Tumauini River multipurpose project
Panay River Basin integrated development project
New Centennial Water Source-Kaliwa dam project
The modes of cooperation for the infrastructure cooperation program are project contracting, public-private partnership, direct investment, and technical cooperation.
The Philippines and China have expressed willingness to use concessional loans, export credit and other means of financing to support infrastructure projects with economic and social benefits.
The two countries have also agreed to encourage financial institutions to provide financing facilities for Chinese enterprises investing in the Philippines in the form of project financing, syndicated loans and mixed loans.
"Both sides will actively explore new means of financing and take advantage of the financial market of both countries to establish effective means of financing for infrastructure cooperation on the basis of market-oriented financing means," the program read.
The Philippines and China have also agreed to improve regulations related to infrastructure investment to guarantee the effective implementation of the projects.
The two countries have also signed a memorandum of understanding (MOU) on cooperation on the Belt and Road initiative.
Under the MOU, the areas of cooperation between the two countries are policy dialogue and communication, infrastructure development and connectivity, trade and investment, financial cooperation and socio-cultural exchanges.