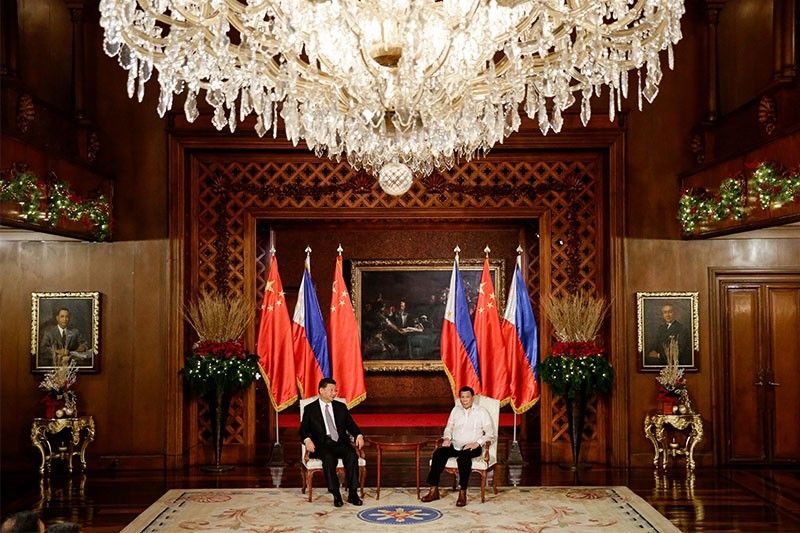 Chinese President Xi Jinping (L) and Philippines' President Rodrigo Duterte (R) look on during an exchange of agreements at the Malacanang Presidential Palace in Manila on November 20, 2018. Chinese President Xi Jinping called his visit on November 20 to long-time US ally the Philippines a "milestone", as he aimed to boost blossoming ties on the promise of billions of dollars in backing for mega-projects.
Mark R. Cristino/Pool/AFP
Protocol chief investigating supposed breach during Xi's visit
(Philstar.com) - November 22, 2018 - 5:29pm
MANILA, Philippines — Refusing to comment on the supposed breach in protocol during Chinese President Xi Jinping's state visit, presidential spokesperson Salvador Panelo said Malacañang's protocol officer will issue a statement on the matter.
Filipino netizens have noticed that the Chinese flag, instead of the blue presidential flag, was carried while President Rodrigo Duterte and Xi were reviewing the troops in Malacañang.
In press briefing Tuesday morning, Panelo said he talked with Presidential Protocol Robert Borje and the latter assured him that he will be issuing a statement on the supposed breach in protocol.
FROM INTERAKSYON: What flag protocols stand for and why they mattered during Xi Jinping's visit
"I talked to him on the phone... His response is, 'We will be investigating and we will be issuing a statement,'" Panelo told reporters.
Asked if he could categorically deny that there was a breach, Panelo reiterated that Borje would be the one to talk about the issue.
To make matters worse, during the inspection of troops during the welcome ceremony earlier, the honor guard carried the Chinese flag, NOT the Presidential Standard as PH protocol dictates #XiJinpingPH (4/9)

(screencap from livestream of @RTVMalacanang) pic.twitter.com/yPQuNnPFsW

— Eufemio Agbayani III (@eufems) November 20, 2018
Aside from the absence of the presidential flag, netizens also noticed that the arrangement of flags were reversed during the bilateral meeting between the two leaders.
On Xi's side, the Chinese flag was placed to the left of the observer while the Philippine flag was on its right.
Section 18 of Republic Act 8941 states that, "When displayed in a row or in a parade with flags of other countries, the National Flag shall be on the left (observer's point of view) of other flags."
Former Presidential Communications Undersecretary Manuel Quezon III said while they are expected to maintain traditions, presidents can also break them.
"It can be a dramatic statement with deep meaning, without having to say anything. In that sense 2018 is a year that marks discarding a tradition dating back to 1935," Quezon said on Twitter.
The last time the Philippine flag was placed on the right and a foreign flag to the left was when the country was a Commonwealth of the United States, according to historical researcher Eufemio Agbayani III. — Patricia Lourdes Viray