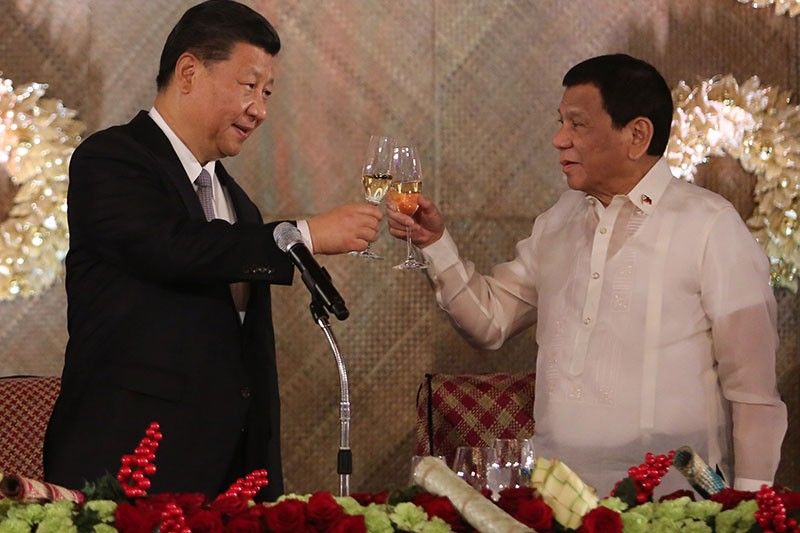 President Rodrigo Duterte with Chinese President Xi Jinping during the state banquet at the Rizal hall of Malacañang Palace on Tuesday, November 20, 2018. President Xi Jinping is in the country for two days for a series of bilateral meeting and signing of agreements.
Pool/Russell Palma
Amid calls for transparency, Palace vows to release documents signed with China
MANILA, Philippines — Malacañang promised to release all documents and other information in connection to the two-day state visit of Chinese President Xi Jinping to the country.
President Rodrigo Duterte and his Chinese counterpart signed 29 deals and agreements after their bilateral meeting on Tuesday afternoon.
Among those agreements is a memorandum of understanding (MOU) on oil and gas development between the Philippines and China.
Foreign Affairs Secretary Teodoro Locsin Jr. and China State Councilor and Minister of Foreign Affairs Wang Yi were the signatories on the agreement.
Asked for a copy of the MOU on oil and gas exploration, Foreign Affairs spokesperson Elmer Cato said the agency does not have copies of the signed documents with them.
"The signed documents are with the concerned agencies and in this particular case with [Department of Energy]," Cato said in the Viber group of the DFA Press Corps.
The DOE, meanwhile, said that it does not have a copy of the agreement as well.
"It's still with Malacañang. My advice is to get it from Malacañang or DFA," Energy Undersecretary Felix William Fuentebella said.
Presidential spokesperson Salvador Panelo asked for understanding, particularly from the media, as the DFA is preoccupied with the activities on Xi's visit.
"We assure everyone that the government would release all pertinent information for public consumption once President Xi's visit has culminated, and as soon as the complete, proper, and correct documents become certified and available," Panelo said in a statement.
Robredo calls for transparency
Vice President Leni Robredo, once again, has called on the Duterte administration to be transparent on its dealings with China as it affects the daily lives of Filipinos.
The vice president welcomed the country's friendship with China but pointed out that such relationship should not come at the expense of national interest.
"Our interests should always come first when we deepen relations with other nations, especially at a time when majority of our people continue to contend with daily challenges brought about by elevated prices and lack of livelihood opportunities," Robredo said in a statement.
Robredo stressed that the Filipino people should be informed about how the deals, such as the memorandum of understanding on the Belt and Road Initiative, infrastructure cooperation and joint oil and gas development, would benefit Filipinos.
She also urged the Duterte government to assert the Philippines' claim over the West Philippine Sea, consistent with the country's vitory from the arbitral tribunal two years ago.
"Our sovereignty must not be compromised in any agreement we enter into with any country," she said.
For the second day of his visit, Xi met with House Speaker Gloria Macapagal-Arroyo and Senate President Vicente Sotto III for a joint call.
The Chinese leader departed for Beijing on Tuesday afternoon.
Below is the list of agreements signed between the Philippines and China following Xi's visit to the country:
MOU on cooperation on the Belt and Road Initiative
MOU on oil and gas development between the Philippines and China
MOU on Foreign Service Institute of the Philippines and China Foreign Affairs University
Exchange of Executive Program of the Cultural Agreement between Philippines and China for 2019 to 2023
MOU on basic education cooperation between Department of Education and China's Ministry of Education
MOU between Department of Information Communication Technology and Ministry of Industry and Information Communication Technology
MOU between Philippine Cooperative Development Authority and Ministry of Agricutlure and Rural Affairs on strengthening the building of agricultural cooperatives
Infrastructure cooperation program between Philippines and China
Program for cooperation on industrial parks development between Philippines and China
Handover certificate of emergency humanitarian cash assistance betwen Philippines and China
MOU on jointly promoting cooperation in key infrastructure projects in Davao region
Handover certificate of humanitarian cash assistance between Philippines and China
Implementation agreement on feasibility study for Davao City Expressway Project
Implementation agreement of feasibility study for Panay-Guimaras-Negros Island Bridges Project
MOU on renminbi clearing arrangement
Protocol of phytosanitary requirements for export of fresh young coconuts from Philippines to China and protocol of sanitary and phytosanitary requirements for export of frozen fruits from Philippines to China
Agreement on economic and technical cooperation between Philippines and China (between DOF and China International Development Cooperation Agency)
MOU on supporting feasibility study of major projects between Department of Finance and China International Development Cooperation Agency
Letters on project of container inspection equipment
Letters on Davao Region Bridge Project
Letters on China-aided Bridge and Road Project in Marawi
MOU on panda bonds issuance
Loan agreement on New Centennial Water Source Kaliwa Dam Project
Commercial contract of Safe Philippines Project Phase I between Department of Interior and Local Government and China Telecom
Commercial contract on New Centennial Water Source Kaliwa Dam Project between Metropolitan Waterworks and Sewerage System and China Engineering Group
Framework agreement for industrial park between Bases Conversion and Development Authority and Gezhouba
Exchange of contract for project management consultancy of Philippine National South Longhaul Project North-South Railway Project between Department of Transportation and China Railway Design Corp Ltd
Letter of no objection to the organization of the Renmindi-Philippine Peso Foreign Exchange Trading Market between Bangko Sentral ng Pilipinas and Bank of China
Handover of Certificate of Authority to operate for Industrial and Commercial Bank of China Limited (ICBC) Manila branch between ICBC and BSP
Related video: