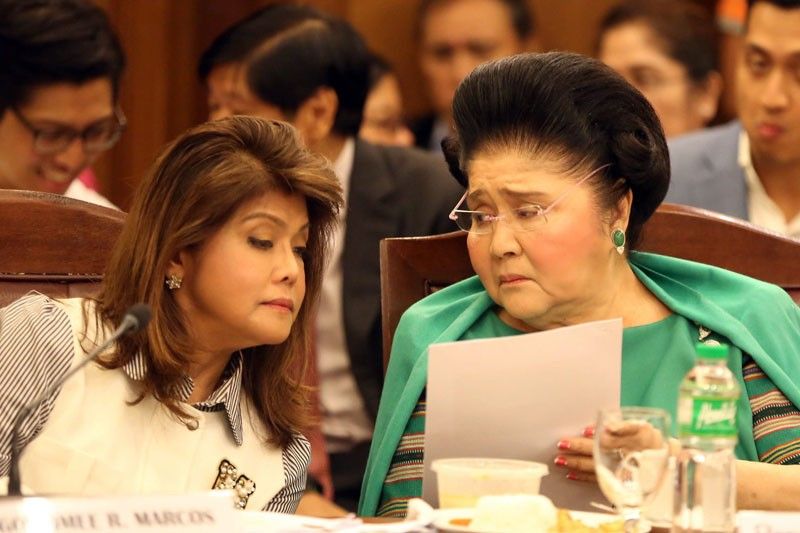 In a motion filed on Nov. 12 but released to the media only yesterday, Marcos, through her new lawyer, former Court of Appeals justice Manuel Lazaro, said she was "indisposed" on Friday last week, which rendered her incapable of attending the Sandiganbayan's promulgation of its judgment on her graft cases.
Boy Santos
Imelda Marcos cites multiple health problems
MANILA, Philippines — Former first lady Imelda Marcos cited her supposed fragile health condition brought about by at least seven ailments in her plea to the anti-graft court Sandiganbayan to allow her to post another bail bond and appeal her conviction on seven counts of graft.
In a motion filed on Nov. 12 but released to the media only yesterday, Marcos, through her new lawyer, former Court of Appeals justice Manuel Lazaro, said she was "indisposed" on Friday last week, which rendered her incapable of attending the Sandiganbayan's promulgation of its judgment on her graft cases.
"At the outset, the accused humbly apologizes to this Honorable Court for her absence during the scheduled promulgation of judgment on 09 November 2018. The failure to appear was neither intentional nor meant to disrespect this Honorable Court but was solely because she was indisposed," Marcos' motion read.
Marcos said she was suffering from "multiple organ infirmities" and was under "strict orders" from her physician "to refrain from stressful conditions that will put her at risk for heart and brain attack and recurrence of seizure."
Marcos attached to her motion a certification dated Nov. 12 from her physician Dr. Joven Cuanang of St. Luke's Medical Center.
Cuanang, in his certification, confirmed that the 89-year-old former first lady and now Ilocos Norte representative is under medical care for several years now for age-related conditions that included diabetes mellitus type 2, hypertension and atherosclerotic cardio vascular disease, static ministrokes, sensorineural hearing loss, chronic recurrent urinary tract infection, chronic recurrent gastritis and multiple colon polyps and recurrent respiratory tract infection.
The Sandiganbayan Fifth Division on Friday ordered the forfeiture of the bail bond that Marcos posted when the cases were filed in 1991.
Marcos was convicted on seven counts of graft over her funneling of funds into several private foundations in Switzerland, which she and her husband, the late dictator Ferdinand Marcos, created during the martial law regime.
She is facing six to 11 years in prison for each count and perpetual disqualification from holding public office.
The Fifth Division also ordered the issuance of a warrant of arrest against her. But as of the closing of the court office on Friday, no enforceable arrest warrant has been issued.
The Fifth Division's order came after Marcos and her then lawyer Robert Sison failed to attend last Friday's hearing despite being duly notified that it will be the promulgation of the decision on the cases.
Hours after her conviction, Marcos was seen on social media posts partying with guests of her eldest daughter, Ilocos Norte Governor Imee, who was celebrating her birthday.
Under Section 6, Rule 120 of the Rules of Court an accused who fails to attend the promulgation of the decision on his or her case, without justifiable cause, shall "lose the remedies available in these rules against the judgment and the court shall order his/her arrest."
The same provision, however, also states that the accused may still avail of post-conviction remedies, including the application for bail, provided that he or she can justify the absence during the promulgation of the decision.
Marcos said that aside from her poor health, she was also unable to attend last Friday's proceedings as her then lawyer Sison was confined at the Asian Hospital in Muntinlupa City due to high blood pressure.
"Considering that the absence of the Accused was due to a justifiable reason, she respectfully prays of this Honorable Court that her standing be restored and that she be given leave to avail of the remedies provided under the Rules of Criminal Procedure against her judgment of conviction," the motion read.
Marcos specifically prayed to the Fifth Division "to question or challenge" its Nov. 9 decision convicting her on seven counts of graft; "to defer the issuance of the warrant of arrest or suspend its implementation if one has been issued" and to "reinstate her bail or allow her to post bail for her provisional liberty."
He motion is set to be heard by the court today, during which her presence is expected.
Filed by the Office of the Ombudsman in December 1991, the cases stemmed from Marcos' creation of seven private foundations in Switzerland when she was the Minister of Human Settlements and the concurrent Metro Manila governor from 1976 to 1986 and member of the Interim Batasang Pambansa from 1978 to 1984.
The ombudsman said Marcos and her husband created the foundations to allegedly funnel illegally amassed government funds during the martial law.
The Presidential Commission on Good Government had earlier identified a total of $658-million deposits in the conjugal Swiss dollar accounts of the Marcos couple, about $200 million of which were supposedly transferred to the Swiss foundations.
No handcuffs
Former senator Aquilino Pimentel Jr. does not see the need to handcuff Marcos should she go to jail but wishes to see her behind bars.
Pimentel, who was detained by the Marcos administration, said that Marcos should be spared from some police practices including handcuffs, given her age and condition.
"There are some police practices like putting handcuff, which is designed for a specific intent. If you are arresting a violent person, naturally you will put handcuff, but I don't see that is necessary to Mrs. Marcos," Pimentel said.
Just like other political detainees, Pimentel said that he definitely wants to see the former first lady jailed like other ordinary criminals.
Pimentel said he would understand if Marcos asks the Sandiganbayan to place her under hospital arrest due to her various ailments.
He also lauded the Sandiganbayan 5th Division for giving justice to thousands of martial law victims under the Marcos regime and address the grievances of those who were oppressed during the dictatorship.
Pimentel said the Philippine justice system should strive for the speedy delivery of justice as guaranteed under the 1987 Constitution and justice that is visibly equal for all the Filipino people.
For former vice president Jejomar Binay, a human rights lawyers during the Marcos years, he does not expect Marcos to spend time in jail, as they will appeal the decision of the Sandiganbayan.
But Binay said the history on Marcos' conviction will not be changed and will stay even though Marcos has the right to file a motion for reconsideration and even go to the Supreme Court.
Presidential spokesman Salvador Panelo said yesterday President Duterte will not intervene in the conviction of Marcos, adding that the Chief Executive would probably visit her if she goes to jail.
According to Panelo, the President is not the kind who would favor close allies but rather he would make them accountable for their actions.
The President will not even stop the courts from issuing any warrant nor the Philippine National Police from enforcing the warrant of arrest if the court will issue it, Panelo added.
Sen. Panfilo Lacson lamented yesterday the apparent double standard of due process in the country, but the Supreme Court could address the disparity of treatment of high profile personalities and ordinary individuals.
"As I said, that's part of due process although that's the ugly side of due process. Ang problema di parehas ang laban (The problem is it's no equal)," said Lacson during the Kapihan sa Senado forum yesterday.
He cited the cases of 145,000 inmates who are detained in crowded jails, unlike Sen. Leila de Lima and former senator Bong Revilla, who are locked up in a bungalow-type detention in Camp Crame. – With Robertzon Ramirez, Christina Mendez
Related video: