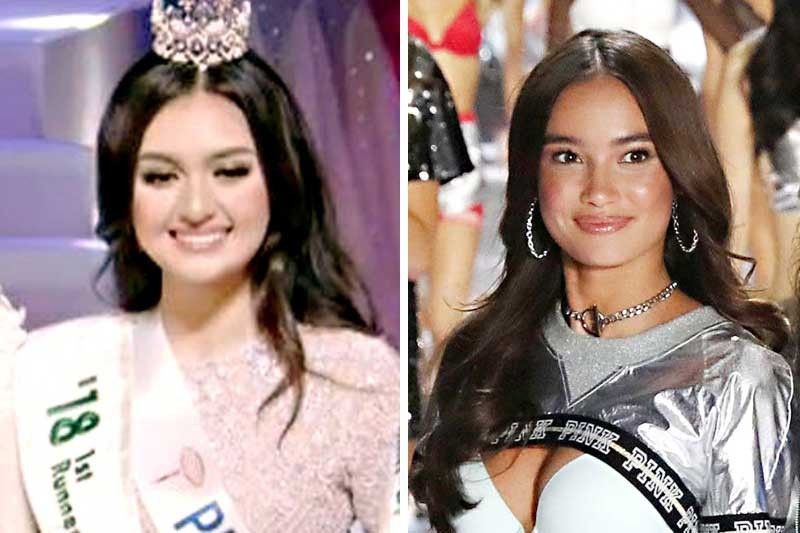 (Left) Miss Philippines Athisa Manalo poses during coronation night of the 2018 Miss International pageant in Tokyo, Japan where she finished first runner-up yesterday. (Right) Filipina model Kelsey Merritt poses on the runway of the 2018 Victoria's Secret Fashion Show on Nov. 8 in New York City. Merritt is the first Filipina to join the lingerie brand's flagship event.
AFP
Safety of candidates is Miss Earth priority
MANILA, Philippines — Carousel Productions Inc., the company behind the Miss Earth beauty contest, yesterday maintained that its priority is the safety and security of delegates coming from all over the world.
"(Miss Earth) will never condone or tolerate any offensive or indecent act or behavior toward or against any of its delegates," Carousel said in a statement.
The statement came on the heels of complaints by three delegates of alleged sexual harassment during the pageant on Nov. 3 in Pasay City.
"At the very start of the pageant, delegates are briefed on several matters… to not believe or ignore people they meet who claim to be pageant judges and, most important, to report immediately to their team managers or the Philippine National Police detail if they have any problems whatsoever, especially on their safety and security," Carousel added.
Lorraine Schuck, founder and executive vice president of Carousel, also clarified that she took action immediately after the alleged sexual harassment by a pageant sponsor.
"In a function on Oct. 14, Miss Canada and Miss England reported to their team managers that they felt sexually harassed by one of the function's sponsor," Schuck said.
Schuck talked to Canada's Jaime VandenBerg and England's Abbey-Anne Gyles-Brown and assured them that Carousel was on top of the situation. Schuck also instructed Carousel's project director to ban the alleged perpetrator from all Miss Earth functions and events.
"I also wanted to find out if any of the other delegates could corroborate the complaint of Miss Canada and Miss England so we could use the statements to help the two in case they decided to file a case against the alleged harasser," Schuck said.
Carousel was ready to support the two in any action they may have wanted to take against the individual who offended them, Schuck said.
"Unfortunately, instead of working together with us on this matter they opted to go to social media and discredit and disparage the organization," Schuck added.
Carousel also denied that they confiscated the passports of the Miss Earth delegates.
"In the 18 years we've been doing this pageant, there had been several instances of candidates misplacing or losing their passports. We hold (their) passports for safekeeping and to facilitate their check-in for their domestic flights and hotel accommodations," Schuck said.
The delegates are free to keep their passports if they want to, Schuck added, after signing a waiver.
"(Liberia's Joicet Jartu Foday) was not allowed to fly (on Nov. 5) because she had misplaced her passport. She had to stay overnight in the airport because she was not allowed to re-enter the country and go back to the hotel without a passport," Carousel said.
Amado Cruz, the sponsor who Guam's Emma Mae Sheedy had named, could not be reached for comment.