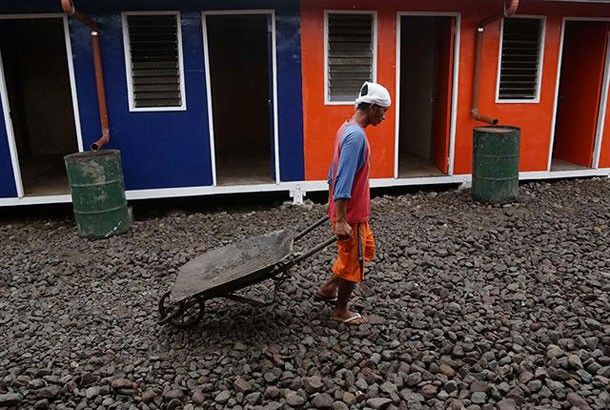 Citing data from the Office of the Presidential Assistant on Special Concerns that oversees the Yolanda rehabilitation projects, Panelo said P146.156 billion was released to implementing national government agencies, government-owned and controlled corporations and local government units as of Dec. 31, 2017.
File
Yolanda rehabilitation on track – Palace
MANILA, Philippines — Malacañang has given assurance that the rehabilitation and recovery efforts in areas hit by Super Typhoon Yolanda five years ago are being fast-tracked, noting that a total of P146.156 billion in funds have already been released for the purpose.
Presidential spokesman and chief presidential legal counsel Salvador Panelo said of the 205,128 permanent housing units for Yolanda, 100,709 units were completed; 46,412 were occupied while 54,297 were ready for occupancy as of Oct. 30, according to the National Housing Authority (NHA).
For his part, former president Benigno Aquino III also said the housing need was 205,128 units and by 2016, 116,552 units were started and 35,308 were completed.
Citing data from the Office of the Presidential Assistant on Special Concerns that oversees the Yolanda rehabilitation projects, Panelo said P146.156 billion was released to implementing national government agencies, government-owned and controlled corporations and local government units as of Dec. 31, 2017.
"Half of the funds released were allotted for housing programs and ancillary basic utilities… To speed up resettlement, we are addressing issues that cause the delay, which include limited availability of titled lands for resettlement, slow processing and issuance of permits and licenses for construction projects and absence of sustainable livelihood opportunities, among others," Panelo said.
Aquino stressed that not all foreign assistance pledged arrived and was not for the most part turned over to the government.
The former president said there were problems with power and water supply in relocation areas identified as safe but away from low lying coastal areas because utility companies did not have sufficient funding to undertake massive housing projects.
"That is why the national government has to come in and fund (the provision of utilities). However, the same takes time (two years) as we need to pipe in from the next town… temporary water and power are supplied until permanent lines are installed," Aquino said.
The former president conceded there had been problems with substandard housing due to failure of the people on the ground both in the past and current administrations to monitor the implementation.
"Some are caused by substandard materials unknowingly used by some contractors such as sand coming from sea instead of rivers. These are the aggregates available in the market," Aquino said.
"What is important is we have corrected the defects and no housing units that were identified as defective were paid," Aquino added.
Panelo said the Department of Finance and the Department of Social Welfare and Development are now drafting a joint order to create a one-stop shop facility for relief consignment, similar to the proposal of Sen. Sonny Angara.
"We likewise take this opportunity to spread better awareness on climate change and its impact on our communities… The Palace, through the Presidential Legislative Liaison Office (PLLO), has transmitted to both houses of Congress a bill creating the Department of Disaster Resilience last July, as President Duterte articulated both in his 2017 and 2018 State of the Nation Addresses," Panelo said.
Sen. Loren Legarda, for her part, renewed her call for communities to heighten resilience to disasters as the nation commemorated Yolanda yesterday.
"We need to continuously conduct massive education and information campaign on disaster preparedness so that communities do not remain complacent," Legarda said.
"We need to ensure that in rebuilding communities, we are not rebuilding the risks again. We must reduce the risks and not create new risks. If a community is prone to landslides, consult the geohazard map to see where relocation is possible; otherwise, we will continue to incur damage and rebuild again when natural hazards occur. That is certainly not a mark of resilience. In coastal communities, there should be mangrove reforestation because mangroves sequester carbon and are good buffers for storm surge and tsunami," she added.
Panelo paid tribute to the sacrifices and support of those who were on the front lines responding to the calamity, as well as all the nations, agencies and organizations that helped the Philippines overcome the ordeal.
"We commend the exemplary resilience of our own people who, in the face of adversity, have remained steadfast. Yolanda has taught us a hard lesson in public service, particularly on the need to respond to our people's plight with more compassion and urgency," Panelo said.
Terror and loss
Survivors of Yolanda recalled their terror and loss while gathered yesterday at a mass grave for thousands killed.
In Tacloban, the worst-hit city, residents painted gravestones, laid flowers and lit candles at a cemetery in memory of the typhoon dead, shedding tears as they recounted how they themselves had survived.
"I felt like it was the end of the world. It was like I was in a washing machine, a whirlpool. I was so afraid," Amelita Gerado, 49, told AFP, describing the giant wall of seawater that swamped her home.
"There is still pain, a scar, but we are recovering," said the woman, whose brother-in-law was among those killed in Tacloban.
The city government has declared Nov. 8 a "day of remembrance and gratitude" to mark the devastation wreaked by the 2013 typhoon, which highlighted how little-prepared the disaster-prone nation was for disasters of that magnitude.
An average of 20 typhoons and storms lash the Philippines each year but Yolanda remains the most powerful. Storm surges higher than trees crashed into densely populated areas, leaving corpses strewn across streets and washing ships to shore.
Survivors and aid groups say rehabilitation has been slow, especially for the million families who lost their homes. They complained of lack of livelihood in resettlement areas aside from basic utilities.
For many whose relatives remain missing, the absence of their loved ones' remains is also a lingering challenge.
In the Tacloban cemetery on Thursday, survivors wrote names on white crosses stuck on top of a mass grave as a way to find closure.
"We just put gravestones here even if we are not sure their bodies are here, just so we have somewhere to light candles. I want to honor their memory," said Michael Ybanez, who lost his mother, sister, a nephew and a niece in the tragedy.
Child survivors in the communities devastated by Yolanda still suffer from trauma five years after the calamity, Save the Children Philippines reported.
"Child survivors still cry when they recall their tragic experience losing loved ones and being displaced during Typhoon Yolanda. Experience has left lifelong scars among children who survived," Save the Children Philippines chief executive officer Albert Muyot said.
"Healing takes time but it's possible, when we help improve their lives and secure a better future for them," Muyot added.
Muyot visited Ormoc, Leyte to assess the programs empowering child survivors to be resilient, secure livelihood and employment opportunities.
According to Muyot, Save the Children Philippines has shifted from relief and recovery to building resilience of child survivors and livelihood for parents in the typhoon-hit areas.
Former senator Jinggoy Estrada and Ilocos Norte Gov. Imee Marcos, who are seeking Senate seats in next year's elections, sought an investigation into alleged misuse of funds.
Marcos also said the National Bureau of Investigation must be able to identify the bodies recovered when the super typhoon hit.
Estrada and Marcos were in Tacloban for a political activity on Wednesday, a day before the fifth anniversary of Yolanda. –With Aurea Calica, Miriam Desacada,Cecille Suerte Felipe, Delon Porcalla, Mayen Jaymalin, AFP