Boracay back in business; mayor suspended
October 26, 2018 | 12:00am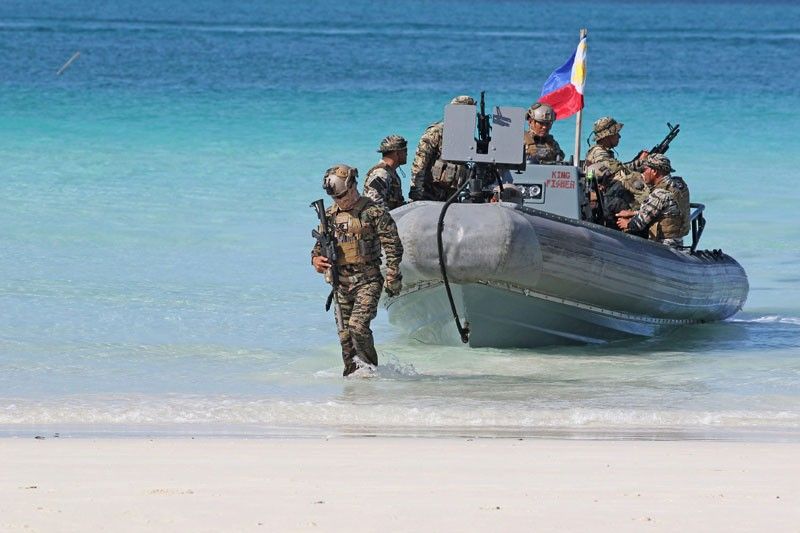 MANILA, Philippines — After it was shut down for six months for rehabilitation, top tourist destination Boracay Island reopens today to tourists.
On the eve of the reopening, the Office of the Ombudsman ordered the six-month preventive suspension of Mayor Ciceron Cawaling of Malay town, Aklan.
The ombudsman is investigating the graft complaint filed against Cawaling by the Department of the Interior and Local Government (DILG) for allegedly allowing the illegal operations of several business establishments on Boracay.
DILG officer-in-charge Eduardo Año said yesterday the suspension order was issued on Oct. 23 but was considered effective only upon its implementation yesterday.
Rowen Aguirre, executive assistant for Boracay Affairs of Malay, said they have yet to receive a copy of the order.
"We only learned about it after several media persons asked for our reaction about the suspension," he added.
Año reportedly broke the news one day before Boracay opened.
The department also filed on June 27 a graft complaint against Cawaling and six other officials – Provincial Environment and Natural Resources Officer Valentin Talabero, Municipal Environment and Natural Resources Officer Edgardo Sancho, municipal licensing officer Jen Salsona and village chiefs Hector Casidsid of Barangay Yapak, Chona Gabay of Barangay Manoc-Manoc and Lilibeth Sacapaño of Barangay Balabag.
In a separate complaint, the DILG also charged Aklan Gov. Florencio Miraflores with grave misconduct, gross neglect of duty, conduct unbecoming of a public official and conduct prejudicial to the best interest of the service.
Also named as respondents in the administrative complaint were Malay Vice Mayor Abram Sualog and municipal councilors Natalie Cawaling-Paderes, Jupiter Aelred Gallenero, Frolibar Bautista, Lloyd Maming, Dalidig Sumndad, Maylynn Aguirre-Graf, Danilo delos Santos and Dante Pagsuguiron.
Sualog, however, will serve as the acting mayor of Malay following Cawaling's suspension.
Both complaints stemmed from the municipal officials' alleged issuance of business permits to more than 2,000 establishments despite the lack of necessary documents such as fire safety clearance and National Building Code compliance certificate, thus allowing establishments to operate illegally in Boracay.
DILG assistant secretary for operations Epimaco Densing, who filed the complaints, said that of the 2,269 establishments in Boracay that his team inspected, only 95 were fully compliant with fire safety, building safety and environmental safety standards.
Densing added that more than half of the establishments investigated were also not paying for their employees' contributions to the Social Security System, Bureau of Internal Revenue and Pag-IBIG.
Densing said their investigation covered the establishments' operations from 2016 to 2017.
President Duterte will likely go to Boracay this weekend not to enjoy the newly rehabilitated island, but to distribute land titles to agrarian reform beneficiaries, his spokesman Salvador Panelo said.
On Wednesday, Duterte said he does not want fanfare once he visits the resort island or see banners welcoming or even thanking him for getting the rehabilitation done in six months.
"I will go to Boracay but at the back… because I said they are scrambling for every space there, Boracay can only handle so much," he said.
Leonard Tirol, resort owner and member of the Boracay Foundation, said everybody is excited about today's reopening.
"The island is beautiful and the environment is very much alive," Tirol told The STAR in Filipino yesterday.
Tirol said the white sand and the beach are the only parts of Boracay ready for reopening.
He said the main roads heading to the resort are still under construction until 2020.
The reopening of Boracay means business is back, which Tirol said is something they have been waiting for since the island was closed on April 26 due to environmental issues.
As far as tourists are concerned, he said they are fully booked until first week of November, despite some regulations imposed by task force Boracay, which handled the rehabilitation of the country's top tourist destination.
Tourism Secretary Bernadette Romulo-Puyat earlier said they agreed to ban beach parties such as "Laboracay," as she emphasized that they are merely enforcing existing local ordinances, national laws and executive orders.
Puyat said that aside from beach parties, they would also prohibit smoking and drinking in public places, and bringing of tables and chairs to the beach.
She said the government wanted to bring the island back to what it was before.
Duterte said the island is small and could only accommodate a few thousand tourists, even if major businessmen pour huge investments there.
"Beyond that... if you go there and buy a lot somewhere... So what I did is, I subjected it to land reform," he said.
He debunked insinuations that he would favor major businessmen, including casino operators.
"I told them, f*** you...I am going there doon sa likod. Doon ako magpunta hindi magpunta Boracay... tutal may swimming pool dyan oh," he said, pointing to his residence in Malacañang.
Duterte said he tried to swim once but "lost the agility" and asked for his aides to save him from drowning. – With Elizabeth Marcelo, Christina Mendez, Czeriza Valencia, Rhodina Villanueva, Jennifer Rendon, Emmanuel Tupas
Related video: