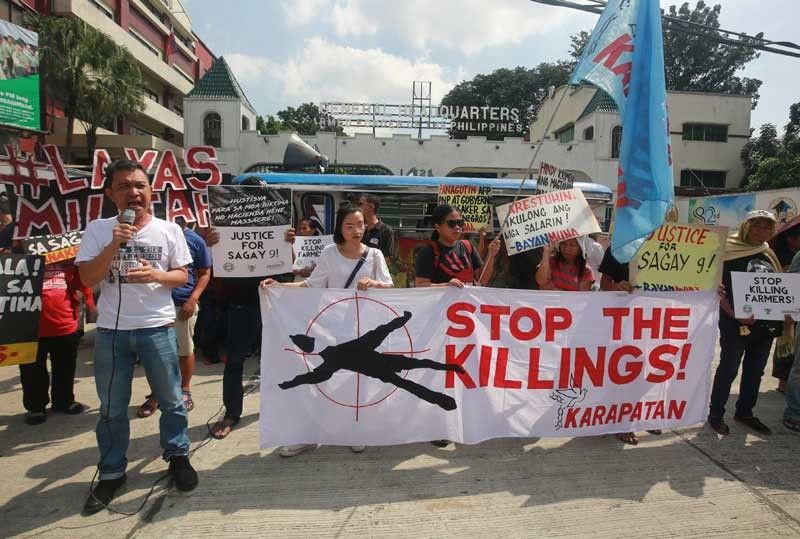 Human rights advocate group Karapatan said the two-day probe, dubbed as the National Fact Finding Mission (NFFM), will look not only into the facts of the actual incident but also "the context that led to it."
Michael Varcas
Farm, human rights groups start fact-finding mission on Sagay massacre
MANILA, Philippines — The National Federation of Sugar Workers (NFSW), labor organizations and human rights advocate groups yesterday commenced their joint fact-finding investigation on last Saturday's massacre of nine farmers in Sagay City, Negros Occidental.
Human rights advocate group Karapatan said the two-day probe, dubbed as the National Fact Finding Mission (NFFM), will look not only into the facts of the actual incident but also "the context that led to it."
"This independent investigation of people's organizations and human rights groups will delve deeply into the root causes of poverty and agrarian unrest in Hacienda Nene and the overall situation of peasants and farmworkers in Negros – those that have plagued the island for years with the continuing feudal exploitation and oppression of peasants and the poor," Karapatan said.
Karapatan stressed the probe will also recommend ways by which accountability can be sought.
"The mission will likewise look into the role of state forces in addressing the climate of impunity that persists in Negros and other parts of the country where peasants are being persecuted and killed because of their advocacies and organizing work," it added.
Aside from NFSW and Karapatan, participating in the probe are the Kilusang Magbubukid ng Pilipinas, Unyon ng Manggagawa sa Agrikultura, Rural Missionaries of the Philippines, National Union of People's Lawyers, Promotion for Church People's Response, National Network of Agrarian Reform Advocates-Youth, Gabriela Women's Party, Gabriela Youth, Salinlahi, Children's Rehabilitation Center, Kabataan Party-list and Northern Negros Alliance of Human Rights Advocates.
Karapatan said their investigation aims to counter any possible attempt by state forces to "whitewash" the incident.
"Numerous spectacular angles have been floated by the Philippine National Police in their so-called investigation on the case. They allege that the leaders and organizers of the NFSW are those behind the massacre. In yet another disjointed angle, they say that the perpetrators are members of the Communist Party of the Philippines (CPP) and the New People's Army (NPA), purportedly using their 'mass base' to create untoward incidents which can be blamed on the government," the group said.
"We view these statements by authorities as a prelude to other forms of whitewashing that are being employed to deny justice to the victims. These baseless statements serve as a diversion, thus enabling the perpetrators to evade accountability," it added.
Gunmen killed nine NFSW members who occupied part of Hacienda Nene in Barangay Bulanon, Sagay City. – With Jose Rodel Clapano