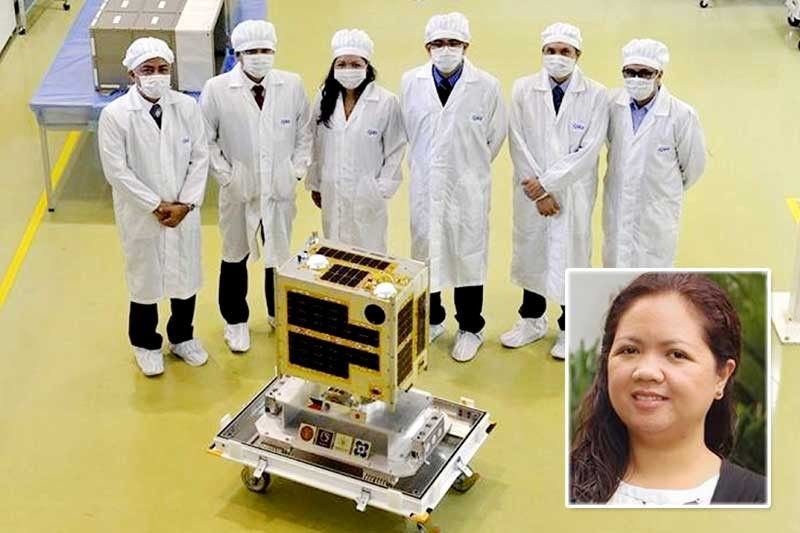 Professor Gay Jane Perez (third from left and inset) poses with the Diwata 1 microsatellite along with other project leaders, among them Joel Marciano, Eric Paringit, Mark Tupas and Alvin Retamar in a photo posted by Pinoy Science on Facebook on Jan. 13, 2016.
UP professor wins ASEAN-US Science Prize for satellite
MANILA, Philippines — A University of the Philippines professor and project scientist with the Department of Science and Technology (DOST)'s microsatellite projects bagged this year's ASEAN-US Science Prize for Women.
Gay Jane Perez, an associate professor at the UP Diliman College of Science's Environmental Science and Meteorology Department, led the DOST Philippines-Microsat program that successfully sent into orbit Diwata-1 in 2016.
Perez is the first Filipino winner of the prestigious award now on its fourth year and given out by the Association of Southeast Asian Nations, US Agency for International Development and the Underwriters Laboratories (UL).
She will receive a cash prize of $20,000.
Perez won for her exceptional research on precision agriculture and how it can improve yield by using satellite observations in conjunction with models and ground data, to better derive and develop prediction tools for agriculture in the Philippines.
She was chosen from a field of 45 scientist nominees in the ASEAN region.
Perez's work on remote sensing examines spatial distribution of vegetation, temperature, precipitation and soil moisture that in turn provide the ability to assess drought impacts.
Her research also includes assessment of how drought evolves through time, which can be the basis of drought advisory and corresponding mitigation measures.
Each year, the DOST nominates one of the country's outstanding woman scientists to the awards.
Perez received her doctoral degree in Physics from the National Institute of Physics in UP Diliman, and was a postdoctoral fellow at the NASA Goddard Space Flight Center.
She has mentored five MS Meteorology and four MS Environmental Science graduates and is currently advising 18 more students under the two programs. Out of the 27 she has mentored so far, nine are women scientists in the making.
The ASEAN-US Science Prize for Women was started by the United States government, in partnership with the ASEAN and UL to strengthen ASEAN science and technology capacity and gender equality and improvement.
The 2018 prize provided promising, ASEAN-based, early to mid-career female scientists with recognition awards from ASEAN and the US government for their academic and professional achievements.
The 2018 Prize emphasized the role of female scientists who use their work to better society in sustainable ways and act as role models for other women working in and pursuing careers in science, technology, engineering and math (STEM).
This year, the prize theme focused on precision agriculture in the ASEAN region. Prize administrators awarded those working at the intersection of agriculture, digital tools, technology and data to help smallholder farmers improve and economize farming practices, increase agricultural outputs and livelihoods, create sustainability and improve environmental standards, and adapt to shocks and stressors related to farming in volatile climates.
Through their work, these women scientists help support the agricultural industry in the ASEAN region and smallholder farmers.
Perez was one of two finalists, the other coming from Malaysia, who presented their work at the 8TH ASEAN-US Consultation on Science and Technology (AUSCST-8) in Cebu last Oct. 18.