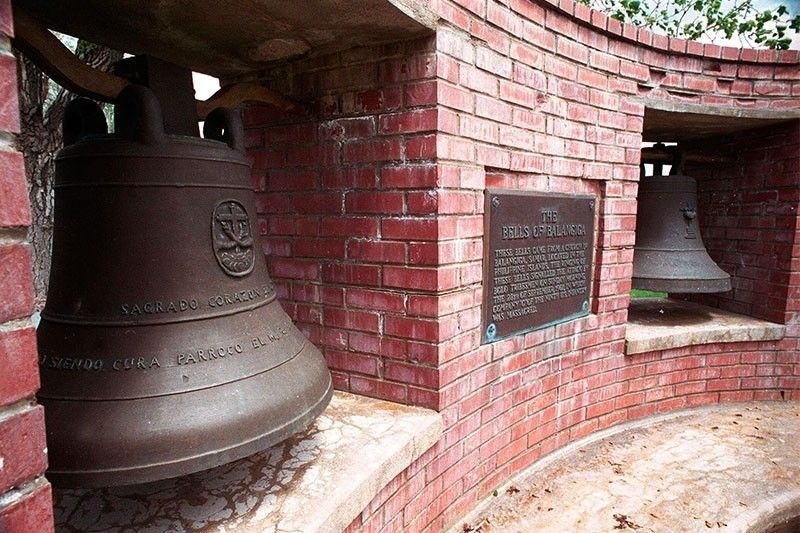 FILE - In this May 2001 file photo are two of the Bells of Balangiga at F.E. Warren Air Force Base outside Cheyenne, Wyo. Elected officials from Wyoming say they oppose plans to return church bells seized as war trophies from the Philippines over a century ago. Two of the bells are in Cheyenne and the third is with the U.S. Air Force in South Korea.
AP/Neal Ulevich, File
Return of Balangiga bells up to US Congress — US envoy
MANILA, Philippines — The promised return of the Balangiga bells to the Philippines would only move forward once the United States Congress approves it, US Ambassador to Manila Sung Kim said.
In August, US Defense Secretary Jim Mattis had notified the US Congress of their intention to return the bells that were taken as war booty by Amercain soldiers from the church of Balangiga town, Eastern Samar in 1901.
"So now in the congressional notification period, if the notificaation passes without any action by Congress then wee would be to move forward with the return," Kim told ANC's "Headstart" on Monday.
The American envoy said they were hoping that the US Congress would come out with a conclusion or resolution that would allow the return of the bells.
Two of the Balangiga bells are at F.E. Warren Air Force Base in Cheyenne, Wyoming while the third one is with the US Army in South Korea.
Kim, however, said that they could not give a specific date on when the bells would be returned to the country.
"I think it's impossible to give a timeline," Kim said, reiterating that the decision is really up to US Congress.
Following Mattis' notification that Washington intends to return the Balangiga bells to Manila, some Wyoming officials opposed the plans to return the church bells.
Wyoming's congressional delegation said the church bells should not go back to the Philippines as they serve as memorials to American war dead.