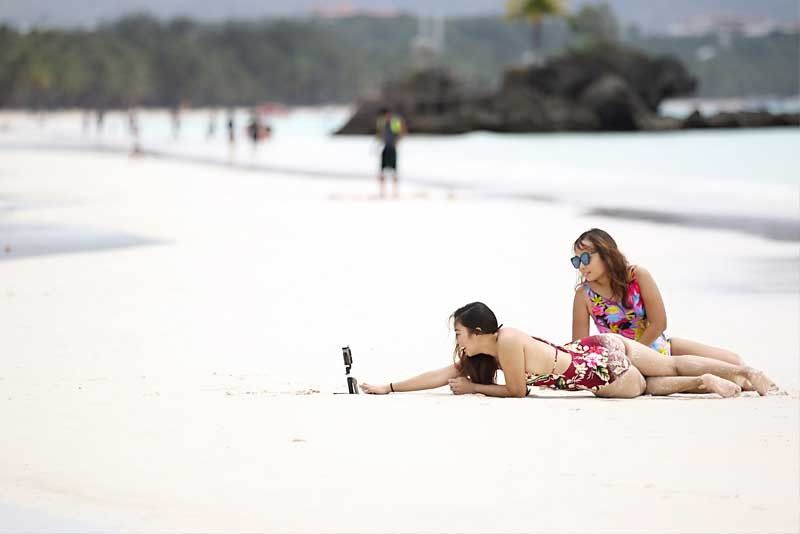 Postcard Pretty: A tourist sets up her smartphone for a selfie in Boracay yesterday. The resort island is set to reopen on Oct. 26. The government wants to make Boracay a model for sustainable tourism nationwide.
Walter Bollozos
DOT to El Nido: Enforce sustainable tourism
MANILA, Philippines — Tourism Secretary Bernadette Romulo-Puyat has called on the local government of El Nido, Palawan to enforce sustainable tourism laws and protect the island from deteriorating.
In a radio interview yesterday, Puyat said she has written to El Nido officials, asking them to address environmental issues such as improper throwing of trash and lack of easement in the island.
"I went to El Nido, I wrote to them two weeks ago. I'm waiting for a reply," Puyat said in a mix of English and Filipino. "There's so much trash because the local government… they should enforce that already – limit the number of boats."
Puyat is saddened about the lack of strict enforcement of existing ordinances on sustainable tourism and environmental protection. These measures include the ban on the use of plastic.
"What's the use of having a local ordinance if you're not going to enforce it?" she added.
The tourism secretary hopes that the local government officials of El Nido would realize the impact of neglecting the environmental condition of the world-renowned tourist destination, adding that no tourists would like to go to a filthy environment.
She urged them not to wait for El Nido to become another Boracay, which had to be shut down for six months to allow a quick rehabilitation. She clarified though that if it comes to that point, she would suggest a less harsh closure like shutting down only the non-compliant establishments.
"It's (total closure) unfair for establishments that comply (with environmental requirements) because whenever I go around, there are already a lot of private sector establishments that are policing themselves," Puyat said.
Should the El Nido government fail to respond to her letter, she promised to write a second time to remind them of her concerns. And if it still fails to formally respond, then she would ask Department of the Interior and Local Government officer-in-charge Eduardo Año to deal with them.
"We want to remind them (about the environmental issues) and from there, they will work with us," she added.
Puyat also cited the case of Oslob town in Cebu as one local government unit (LGU) that cooperated with them and limited the number of tourists there by half when the Department of Tourism (DOT) pointed out the excessive number.
Writing letters about issues on the sustainability of tourist destinations to LGUs is part of President Duterte's directive to rehabilitate the country's other tourist destinations, she added.
"The instruction of the President is to make a study on the carrying capacity of each major tourist destination," she said.
The Department of Environment and Natural Resources earlier commissioned a study on the carrying capacity of Boracay, which found that the island and its swimming areas could only support 55,757 people per day – broken down into 19,215 tourists and 36,542 residents and workers. At least 6,405 tourists are allowed to enter the island daily.
"Setting the carrying capacity for all tourism destinations, and not only for Boracay, will be beneficial in the long run. It will definitely move the sustainability of tourist destinations significantly," said Tourism Congress of the Philippines president Jose Clemente III.
The scheme, he added, would lead to the development of more destinations.
"By capping tourism arrivals based on carrying capacity we shall now be bound to develop other destinations around the country, thereby spreading the benefits of tourism on a broader scale. This will open up new destinations within the country which is always good for stakeholders," Clemente said.
Clemente earlier said developing new destinations would help create more employment for the tourism sector as new businesses will be created.
As Boracay is set to reopen this week, Tourism Promotions Board chief operating officer Marie Venus Tan told The STAR that they would take the opportunity to promote the country's other equally stunning island assets.
"We think it is the right time for more destinations to be marketed and promoted while being mindful of our stewardship roles. It's time to balance business with social responsibilities," she said.
Puyat earlier said Boracay will be promoted as a sustainable tourism spot once it reopens, emphasizing that this is just the start of the country's campaign towards sustainable tourism and responsible tourists.
"Lessons learned are not for Boracay alone but also for the other island destinations around the country," she was quoted as saying.