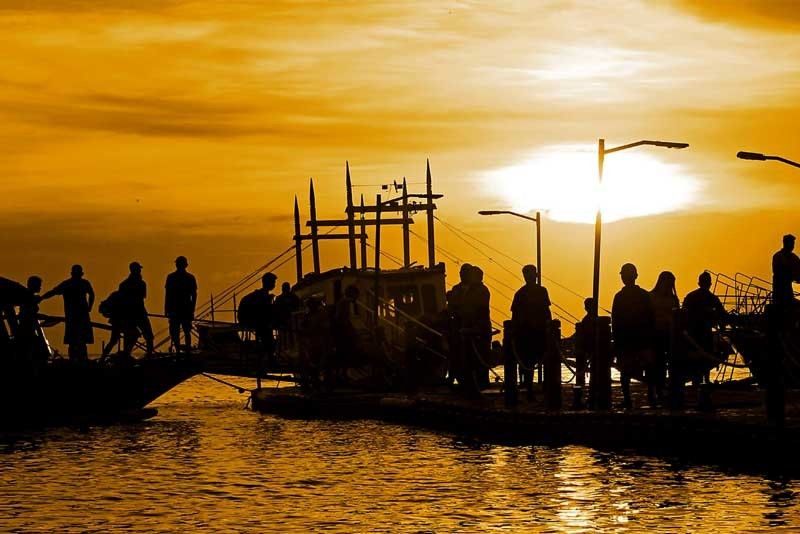 Tourists arrive in Boracay at sunset yesterday, in time for the resort island's soft opening today. President Duterte ordered the island closed for rehabilitation in April after describing it as a 'cesspool.'
Walter Bollozos
'Duterte wants Boracay as standard for Philippine resorts'
MANILA, Philippines — President Duterte wants the kind of environment compliance now being implemented in Boracay applied to other tourist destinations in the country, Interior Secretary Eduardo Año said yesterday.
The world-famous island is set to have its soft opening today, about six months after Duterte ordered its closure to local and foreign tourists and to other tourism-related activities to pave the way for its rehabilitation.
Año said significant improvements were made in Boracay, including the clearing of obstructions to roads and the easement of the beachfront.
He stressed the need for an environmental compliance certificate (ECC) from the Department of Environment and Natural Resources (DENR) before a local government unit or a private entity is allowed to operate an environmentally critical project.
"Sometimes there is a flip side to development as unchecked development takes its toll on the environment. While we encourage the influx of new businesses, local governments should always consider the potential impact of new projects on the environment and to nearby residents," Año said.
He cited the tragic environmental degradation of Boracay Island as a classic example of how unregulated development could turn a holiday destination into a cesspool.
Presidential Decree 1586, issued on June 11, 1978, said "no person, partnership, or corporation shall undertake or operate any declared environmentally critical project or area without securing first an ECC."
Applications for ECCs are reviewed and granted by the DENR through its Environmental Management Bureau (EMB). An ECC is issued after a positive review of the project's application and should indicate that a proposed undertaking will not cause a significant negative impact on the environment.
The project proponent must then fulfill the specific measures and conditions indicated in the ECC before and during the operation of the project and even after the project completion.
An ECC also certifies that the proponent has complied with all the requirements of the Environmental Impact Statement (EIS) system and has committed to implement its approved environmental management plan.
In cases where the DENR-EMB finds that an ECC is not applicable, a Certificate of Non-Coverage (CNC) is issued to confirm that the proposed project is not part of the EIS system and poses no environmental threat.
Meanwhile, the Department of Labor and Employment (DOLE) will stop providing financial grants to those affected by the closure of Boracay.
"As the number of application exceeded the funds allocation for the program, priority shall be given to those who were profiled and verified," said Labor Secretary Silvestre Bello in an advisory.
He added that the agency would also stop processing new applications from workers whose names are not included in the database of profile for affected formal workers.
Immediately after the island's closure, DOLE reached out to an estimated 18,000 affected workers and offered a grant under its Adjustment Measures Program (AMP). However, only a few affected workers initially availed themselves of the program prompting DOLE to simplify its process.
The financial support component, which is equivalent to 50 percent of the prevailing minimum wage in Region VI or about P4,205, shall be provided monthly for a maximum of six months regardless of the status of affected workers, with the reckoning period starting from the date of the beneficiary's displacement. – With Mayen Jaymalin
Related video: