68 Boracay hotels get green light for reopening
October 14, 2018 | 12:00am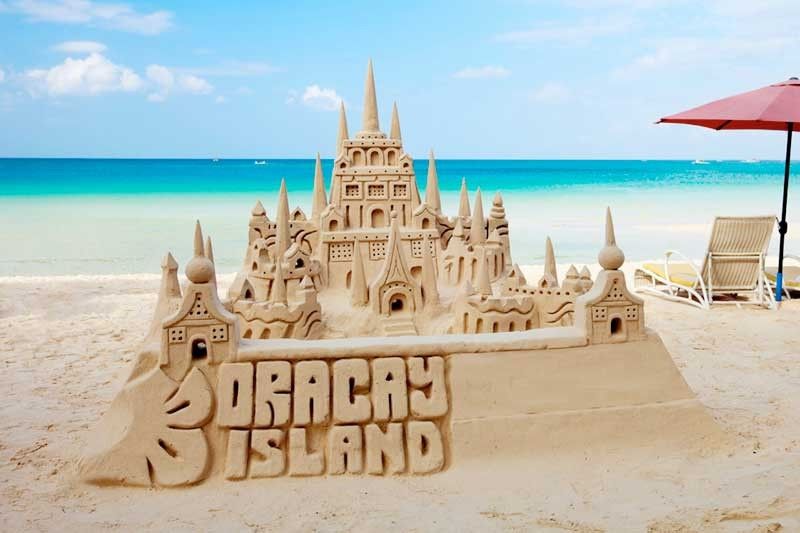 MANILA, Philippines — The Department of Tourism (DOT) has listed 68 accommodation establishments allowed to operate during the reopening of Boracay on Oct. 26.
The DOT said only accredited establishments would be allowed to accept bookings for the reopening of the resort island.
It said all online promotions and other related collaterals of non-compliant establishments should be deleted or put on hold until complete compliance with government regulations have been accomplished.
"Violators will face the full force of the law," it said.
The updated list of 68 accommodation establishments translated to a total of 3,519 rooms that are compliant with the requirements of the Boracay Inter-Agency Task Force (BIATF) and can begin operations when the island starts receiving visitors.
Based on an updated list released by the DOT, the compliant establishments and the number of their rooms are: 357 Boracay Resort (10); 7 Stones Boracay Suites (31); Alice in Wonderland Beach Hotel (21); Astoria Current Resort (205); Azalea Hotels & Residences (284); Best Western Boracay Tropics (64); Blue Coral Resort (5); Boracay Have Resort (63); Boracay Haven Suites (82); Boracay Holiday Resort (69); Boracay Mandarin Island Hotel (52); Boracay Travelodge Beach Resort (40); Boracay White Coral (5);
Calypso Resort Hotel (22); Canyon de Boracay (31); Casa Pilar Beach Resort (84); Dave's Straw Hat Inn (11); Discovery Shores Boracay (99); El Centro Beach Resort (39); Ernest's Place Resort (21); Fairways & Bluewater Resort (700); Frendz Boracay Hostel (8); Frendz Resort (19); Greenyard Inn (5); Hampstead Boutique Hotel (8); Hey Jude Resort Hotel (24); Hey Jude South Beach (19); Hue Hotel (Luana Hotel) (127); Hotel Soffia (58);
Isla Azul Boracay Hotel (14); Isla Gecko Resort (16); Island Inn (26); Jeffrey S Hotel (15); Jony's Beach Resort (21); Jony's Boutique Hotel (22); Lady Jean Resort (7); Lanterna Hotel (6); Lugar Bonito (6); Luxx Boutique Hotel Boracay (11); Milflores de Boracay (Jinjiang Inn) (10); Moreno's Cottages (6); Nigi-Nigi Nu Noo's'e; Nunu Noos (37); Nirvana Beach Resort (32); Ocean Breeze (7); Paradise Garden Resort Hotel & Convention Center (463); Pinjalo Resort (Jade hill Project Property) (24);
Red Coconut Beach Hotel (50); Reef Retreat Beach Resort (12); Roy's Rendevous Resort & Bungalow (10); Shangri-la Resort (219); Shore Time Hotel-Annex (12); Sol Y Sombra (10); St. Vincent Cottages (Vicente Aguirre Rooms) (27); Sulu Plaza Lodge (12); Sunshine Place (9); Tan's Guesthouse Main (14); Tan's Guesthouse Annex (14); Taj Resort and Spa Main (11); Taj Resort and Spa Annex (18);
The Club Ten Beach Resort (20); The Ferra Premier by JG Hotel (36); The Lazy Dog Cottages (26); The Strand Boutique Hotel (13); Villa Simprosa (24); Villa Sunset Boracay (8); White Beach de Boracay (5); White House Beach Resort (30).
In August, only 25 accommodation establishments were cleared by the DOT based on an initial list released by the agency.
Tourism Undersecretary Arturo Boncato Jr. earlier said environmental indicators were imposed as parameters in accrediting tourism establishments in Boracay.
"Some of these environmental indicators are... instead of using sachets for shampoo, they will have to shift to bulk dispensers. Single use plastic bottles are going to be discouraged," Boncato said.
"We have to go back to the basics like using refillable glass bottles in bedrooms and the type of linen that will be used… and so on," he added.
Boncato said they are planning to have indicators in the accreditation of tourism establishments all over the country.
He said the DOT accredits establishments that have complied with the permits and clearances of the Department of Environment and Natural Resources (DENR) and the Department of the Interior and Local Government.
Tourism Secretary Bernadette Romulo-Puyat earlier said the rehabilitation of the island would go beyond the soft opening date of Oct. 26.
"Despite the soft opening, the government's efforts to rehabilitate should continue as we rehabilitate the island in stages," Puyat said at this year's Philippine Travel Exchange.
She said completion of the first phase of rehabilitation would be this month, the second by the middle of next year and the third by the end of 2019.
"This is to make sure that all tourism establishments and service providers are compliant with the standards set by the government and that all necessary infrastructure and facilities are in place," Puyat said.
The inter-agency task force earlier said it will be holding a dry run or partial opening of the island from Oct. 16 to 25, to be ready for its full reopening.
"The dry run will allow us to assess what else needs to be done before the island is reopened to all tourists, both domestic and foreign, on Oct. 26," Environment Secretary Roy Cimatu said.
He said that during the dry run, only Filipino tourists would be allowed entry to Boracay, with locals as priority.
Strict monitoring
The government will closely monitor compliance and effectiveness of the guidelines laid down to protect Boracay from unsustainable tourism practices during the dry run.
Cimatu, head of the BIATF, said the 11-day dry run would allow government to test all systems put in place during the six-month rehabilitation period.
"We will be monitoring a lot of things, from managing the entrance, exit and stay of the tourists, to enforcing rule of law on establishments that have been found to be non-compliant with laws and regulations," Cimatu said.
The "no compliance, no operation" policy for establishments will be enforced not only during the dry run but beyond Boracay's formal reopening.
"We will not hesitate to close hotels and other establishments that would operate without clearance from the BIATF," Cimatu said.
He warned tourists who are planning to visit the island to make sure they book their accommodations with compliant hotels and establishments.
The DENR will deploy at least 30 environmental enforcers to check on Boracay's water quality, solid waste management, drainage and sewage systems and occupation on forest areas and wetlands.
The Armed Forces of the Philippines and the Philippine National Police have committed to help maintain peace and order during the dry run leading to the reopening.
"We are trying to correct the mistakes of the past and we have succeeded in finding a solution to cleaning the environment. We do not want to backslide on what we have started," Cimatu said.
Lifeguards
The Philippine Coast Guard (PCG) has trained 200 qualified lifeguards of hotels, resorts and tour boats to ensure safety of visitors who would be engaging in water-related activities on the island.
PCG Western Visayas District commander Capt. Allan dela Vega said they have been conducting life-saving trainings since June, when Boracay was closed to tourists.
Among the participants were hotel and resort lifeguard personnel, tour guides, boat crew members and employees of disaster risk reduction and management offices. – With Louise Maureen Simeon, Robertzon Ramirez, Rhodina Villanueva, Evelyn Macairan
Related video: