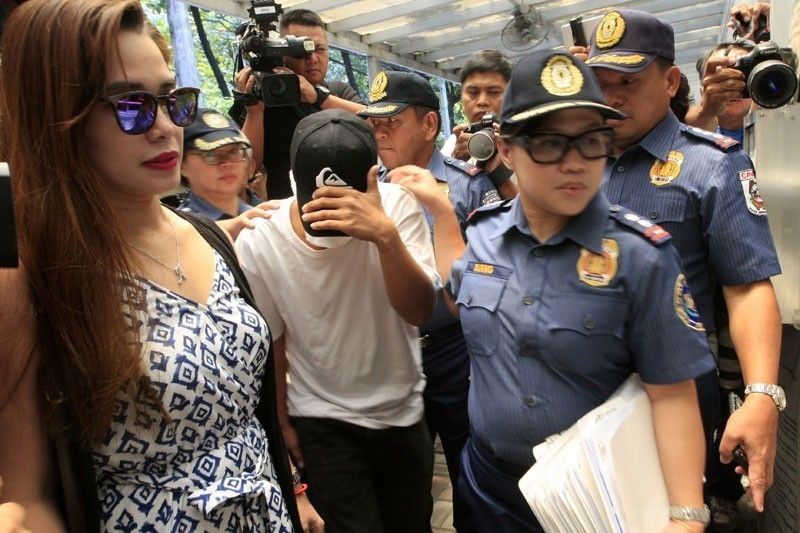 Gemma Lubigan (shades) wife of Trece Martires City, Cavite Vice Mayor Alexander Lubigan accompanied by the lone witness ( wearing a white t-shirt) arrive at the Department of Justice in Manila to file two counts of murder and a frustrated murder against Trece Martires City Mayor Melandres De Sagun.
Edd Gumban, file
DOJ to hear murder complaint vs Trece Martires mayor, councilors Friday
MANILA, Philippines—The Department of Justice is set to hear on Friday the murder case against Trece Martires Mayor Melandres De Sagun for the death of of Vice Mayor Alex Lubigan.
The hearing is set on October 12 in the afternoon, said Justice Secretary Menardo Guevarra,
Cavite police, on September 13, filed a murder complaint against De Sagun, Councilor Lawrence Arca, Rhonel Bersamina, Luis Abad Jr. and Ariel Paiton before the Justice department.
Five other John Does were included as respondents in the case.
Lubigan was killed by an unidentified gunman who shot at the vice mayor's Toyota Hilux along Trece Martires-Indang road on July 8.
READ: Trece Martires vice mayor slay: Raps filed vs mayor
According to Senior Superintendent William Segun, Cavite police director, De Sagun reportedly left for the United States on September 6.
Probers are eyeing politics as the motive for the killing, noting that Lubigan was killed after he announced his plan to run for mayor in next year's elections.
Lubigan and De Sagun reportedly had a falling out in the 2016 elections.
READ: Face raps, Trece Martires mayor told
Lubigan's death came days after the murders of Tanauan City, Batangas Mayor Antonio Halili and General Tinio, Nueva Ecija Mayor Ferdinand Bote.
More than 20 local officials have been killed since the start of the Duterte administration.
Just last October 1, Sudipen, La Union Mayor Alexander Buquing was killed by unidentified gunmen.
Officials of the courts were also not spared in the killings as Ozamiz trial court Judge Edmundo Pintac was gunned down by unidentified men earlier this week.