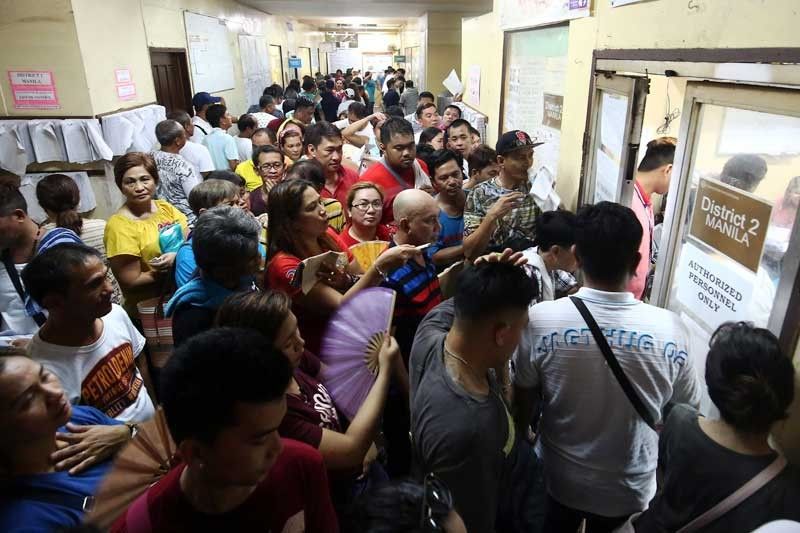 "We don't want this event to be disorderly and chaotic. However, we cannot control what the aspirants and supporters will do outside our office," Comelec spokesman James Jimenez said yesterday.
Miguel De Guzman
Comelec tells bets: COC filing not a circus
Poll body limits bets' entourage
MANILA, Philippines — While the Commission on Elections (Comelec) is ready to accept, starting today, the certificates of candidacy (COCs) that will be filed by those who will run in next year's midterm elections, an official of the poll body warned that the filing should not be turned into a "circus of the supporters."
"We don't want this event to be disorderly and chaotic. However, we cannot control what the aspirants and supporters will do outside our office," Comelec spokesman James Jimenez said yesterday.
He was referring to the Comelec main office at Palacio del Gobernador in Intramuros, Manila where senatorial bets will file their COCs.
Party-list groups are also expected to submit their Certificates of Nomination and Certifications of Acceptance of Nomination at the Comelec main office.
To minimize the crowd in the building, Jimenez said senatorial aspirants have been told to bring only four companions each while the five nominees of party-list groups may each be accompanied by five individuals.
Jimenez has appealed to the candidates "to take the initiative" to tell their supporters to exercise restraint while they are outside the Palacio.
"There are last-minute preparations currently being done but we are ready. We've been looking forward to the (filing set for Oct. 11, 12, 15, 16 and 17)," Jimenez said.
Major names
According to Jimenez, Comelec expects "major names" to file COCs during the five-day filing period, unlike in the past when candidates waited for the last day.
"We foresee the filing to be spread out. We expect that there will be major names on every day of the filing because they don't want to steal the spotlight from each other," Jimenez claimed.
Jimenez added that the Comelec expects more COCs for senators to be filed, based on the interest manifested by many individuals for the position. The filing of COCs is from 8 a.m. to 5 p.m.
61-million voters
Around 61 million are expected to vote in the elections next year, Jimenez said yesterday.
He added the figure does not include 1.9 million overseas Filipino voters.
"We expect to see more voters in next year's elections, which to us is a good sign because more people are very much engaged and willing to participate in this exercise," Jimenez said.
In the 2016 polls, there were around 58 million voters, including 1.3 million overseas.
Records showed the Comelec had received some 2.3 million applications for voter registration and reactivation. The other applications were for correction of entries on the voters' records and transfer of registration.
Jimenez noted that the biggest segment of voters belongs to the youth sector aged 18 to 35 years old. They account for more than one-third of the votes.
"This is because of the inclusion of the alumni of the Sangguniang Kabataan. They no longer need to register as they are automatically included in the list of voters," Jimenez added.
The elderly, or those above 55 years old, also comprise a "large segment" of voters, accounting for "a little less than one-third" of the total number.
The "smallest demographics" of voters are those of middle age.
Meanwhile, the provincial election supervisor of Pangasinan advised prospective candidates to avoid the mañana (procrastination) habit in filing their COCs.
Marino Salas, provincial election supervisor, urged candidates to submit their COCs together with their certificates of nomination and acceptance from their political party.
Salas met with the 48 election officers in the 44 towns and four cities of Pangasinan yesterday.
"Right now, I can confidently say that it's all systems go for the filing of COCs," Salas said.
'No-el' possible?
A no-elections ("no-el") scenario is still possible with the Charter change (Cha-cha) push in the House of Representatives, lawmakers belonging to the minority bloc said yesterday.
"It's possible but difficult due to time constraints," Minority Leader Danilo Suarez told a news conference.
Instead of the elections, a plebiscite could be held for the ratification of a new constitution, Suarez said.
National Network of Cooperatives party-list Rep. Anthony Bravo said administration allies in the House want to work on Cha-cha "because it is the President's priority."
Rep. Arnulfo Teves of Negros Oriental said the polls "could be postponed but not scrapped."
Spare churches
Meanwhile, the Catholic Bishops' Conference of the Philippines (CBCP) urged candidates to spare churches from political campaign.
Fr. Jerome Secillano, CBCP public affairs committee executive secretary, reminded politicians to keep the solemnity of churches where they plan to make a stop and hear mass.
"Just don't make it similar to attending a political rally, because the church is really a place for praying," he said in an interview.
"You shouldn't go there and make public speeches because that would be inappropriate. Maintain the solemnity of the place," the CBCP spokesman appealed.
Secillano also reminded candidates not to put up posters and tarpaulins and distribute flyers within the church's vicinity.
"Those are prohibited acts. Don't do that," Secillano stressed. – With Eva Visperas, Jess Diaz, Edu Punay