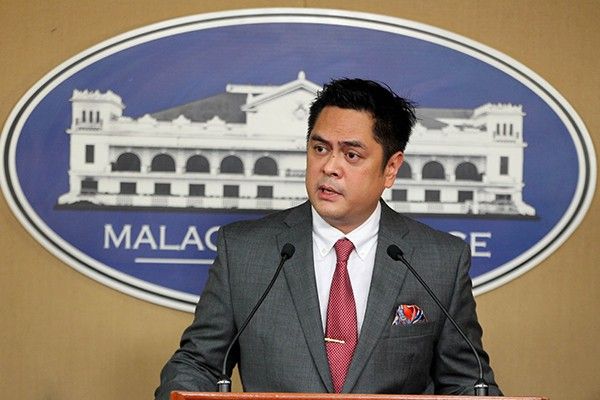 Presidential Communications Office Secretary Martin Andanar said he gave PTV-4 leeway to run its own business.
Presidential Photo/Ace Morandante
Andanar disowns PTV-DOT ad deal he helped set in motion
MANILA, Philippines— Presidential Communications Operations Office Secretary Martin Andanar on Monday denied his involvement in the controversial advertisement deal between state-run People's Television Network, Inc. and the Department of Tourism.
Andanar said he has always believed that government-owned or controlled operations like PTV have their own charter.
"They should have independence and, for that reason, I gave full 100-percent leeway, freedom to PTV to manage their own business," Andanar said in an interview with ANC's "Headstart."
"And that's what the GCG (Governance Commission for Government-owned and Controlled Corporations) said too, that although it's an attached agency, they have their own charter. The secretary can't even sign anything," he added in mixed English and Filipino.
The PCOO chief clarified that he did not sign the P60-M deal questioned by the Commission on Audit for being awarded to "Kilos Pronto", a program produced by Bitag Media Unlimited, Inc.
Bitag is a blocktimer on PTV4 and is owned by Ben Tulfo, brother of Corazon Wanda Teo, the Tourism secretary at the time.
"I did not sign anything in that document with the advertising," Andanar said.
"It's solely [PTV's] decision, it's a corporate decision of PTV to do that," he added.
Andanar reached out to DOT for partnership
A letter previously obtained by Philstar.com, however, shows that Andanar reached out to Teo for partnership in marketing Philippine tourism. The letter was signed on Jan. 16, 2017.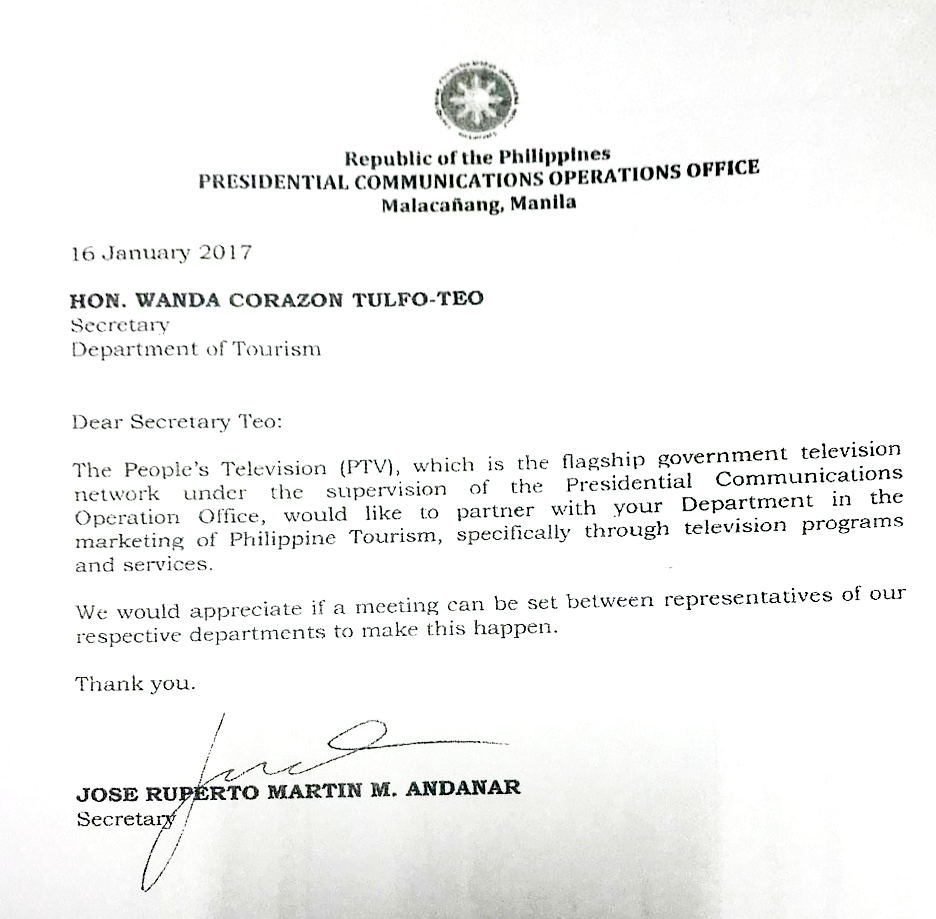 Last April, the DOT, still under Teo's leadership, said that an ad placement is a normal transaction between the tourism agency and a television network because it is part of the marketing operations to promote Philippine tourism sites to both domestic and international tourists.
It added that it preferred PTNI in line with President Rodrigo Duterte's directive for government agencies to support the government television network.
Teo camp: PTNI picked show, timeslot for ads
In May, Teo's legal counsel, Ferdinand Topacio, also presented a letter showing that PTNI made the proposal to air DOT's advertisements on the Tulfo brothers' show.
READ: PTV-4 proposed tourism ad placements on Tulfo brother's show, letter reveals
The letter, dated Feb. 6, 2017, also indicated that PTNI executives proposed the duration and timeslots where the tourism ads would be placed. It also specified "Kilos Pronto" as a show that would carry the ads.
The letter was penned by Ramon del Rosario, group head of programing or airtime management of PTNI, and was signed by network president and general manager Dino Antonio Apolonio.