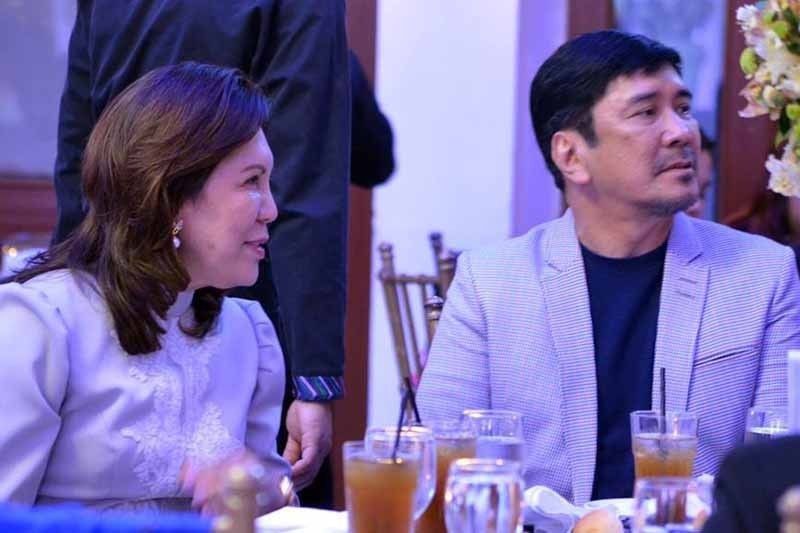 Broadcaster Ben Tulfo and Tourism Secretary Wanda Tulfo-Teo, his sister, have been named in a deal that the Commission on Audit reviewed.
Bitag Live, Facebook
PTV-4 proposed tourism ad placements on Tulfo brother's show, letter reveals
MANILA, Philippines — A legal counsel of Tourism chief Wanda Tulfo-Teo on Thursday presented a letter proving the state-run People's Television Network, Inc. made the proposal to air the Department of Tourism's advertisements on the Tulfo brothers' show.
In a letter dated Feb. 6, 2017 shown by Teo's lawyer Ferdinand Topacio, PTNI executives indicated the duration and time slots when the tourism ads would be placed. It also specified news-type magazine program "Kilos Pronto" as a show that would carry the ads.
"We would like to offer the Department of Tourism PTV's major daily newscasts for your DOT TV spot placements to maximize your tourism promotion and campaign nationwide. This project includes PTV's new media and social media campaign," the letter read.
"PTV has production outfit who is capable and ready to produce weekly tourism programs. Likewise, news-magazine type program featuring places, destination and people with a flavor of public service," it added.
PTNI added that its "seasoned professional independent production outfit can give DOT six minutes segment three times a week in its most watched daily program in our network for one year contracts."
The letter was penned by Ramon del Rosario, group head of programing or airtime management of PTNI and was signed by the network's president and general manager Dino Antonio Apolonio.
Topacio said this letter was vetted by Teo's staff and passed all the relevant requirements.
Last Friday, the Commission on Audit posted a report questioning PTNI for issuing three checks worth P60,009,560 to Bitag Media Unlimited, Incorporated, the media outfit of Teo's brother, Ben Tulfo. The independent media firm is a blocktimer of PTNI.
BMUI runs Kilos Pronto, where DOT ads were placed. The program is co-hosted by Ben, his brother Erwin Tulfo and another broadcaster Alex Santos.
The COA's annual report claimed that the PTNI and the DOT entered into a Memorandum of Agreement for the latter's purchase of advertisement airtime on "Kilos Pronto."
"The MOA on file was between [PTV] and DOT, specifically requiring [PTV] to air a 6-minute segment buy in PTVs Daily News-type magazine segment, Kilos Pronto, plus a 3-minute DOT spot within the program. There were no provisions for the airtime rates per segment/spot and such other terms and conditions of the commercial advertisement specifically as regards the manner of payment," The COA report read.
Last April 28, Teo said in a radio interview that she was surprised and did not know that PTNI would place the DOT ads on her brother's show. However, two days later, she tweaked her statement and said she knew but only after the contract was signed.
'PTV decided to place ads on Kilos Pronto'
Topacio defended the DOT secretary and said it was PTNI who should explain why it placed the ads on "Kilos Pronto." The lawyer insisted that Teo did not deliberately choose her brother's show.
"It was at their behest. It was not DOT that initiated this just to be clear," Topacio said in ANC's Headstart.
"The MOA it was signed by her department. She's not disclaiming any knowledge, only that it is part of a package and the consideration for the ad campaign was," he added.
The DOT earlier said an ad placement is a normal transaction between the DOT and a television network because it is part of the marketing operations to promote Philippine tourism sites to both domestic and international tourists.
It added that it preferred PTNI in line with President Rodrigo Duterte's directive for government agencies to support the government television network.
The tourism agency cited that similar placements were made with other television networks and media agencies, both domestic and international, such as BBC, MediaCorp, FOX, CBS, Discovery Channel, ABS-CBN, GMA-7 and CNN Philippines.