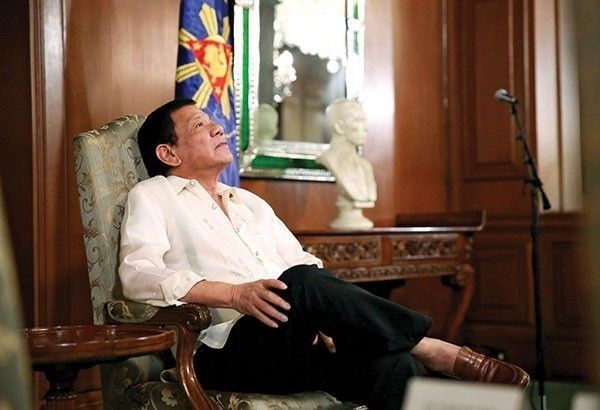 Forty-five percent of Filipinos believe that Duterte has health problems, 17 percent of whom "strongly believe" and 28 percent "somewhat believe."
File
SWS: Most Pinoys believe Duterte has health problems
Helen Flores
(The Philippine Star) - October 8, 2018 - 12:00am
MANILA, Philippines — A majority of Filipino adults think President Duterte has health problems, a latest survey by the Social Weather Stations (SWS) revealed.
Forty-five percent of Filipinos believe that Duterte has health problems, 17 percent of whom "strongly believe" and 28 percent "somewhat believe."
Almost three in 10 or 26 percent, on the other hand, do not believe that the President has health problems, while 29 percent are undecided about the matter.
The belief that Duterte has health problems is stronger in Metro Manila at +31 (53 percent "believe," 23 percent "not believe," followed by Balance Luzon – areas in Luzon outside Mega Manila – at +21 (45 percent believe, 24 percent not believe), Visayas at +14 (45 percent believe, 31 percent not believe), and Mindanao at +12 (39 percent believe, 27 percent not believe).
It was higher in overall urban areas (+29), compared to overall rural areas (+12).
It was higher in classes D (+21) and ABC (+19) than in class E (+8).
It was also higher among high school graduates (+27) and college graduates (+27), compared to non-elementary graduates (+14) and elementary graduates (+8).
The poll was conducted from Sept. 15 to 23, using face-to-face interviews of 1,500 adults, 18 years old and above, nationwide.
Meanwhile, 55 percent of respondents are worried that Duterte will have health problems – 18 percent "worried a great deal" and 38 percent "somewhat worried."
Forty-four percent said they are not worried, which is composed of 22 percent who are "not too worried" and 23 percent "not worried at all."
The proportion of those who worry that Duterte will have health problems was highest in Mindanao, his home region, at 61 percent, followed by Metro Manila at 59 percent, balance Luzon at 53 percent, and the Visayas at 51 percent.
Sixty percent of Filipinos also believe that Duterte's state of health is "a public matter that is why the public should be informed" about it.
For 33 percent of Filipinos, the President's state of health is "a private matter that is why the public does not need to be informed" about it.
The survey was released days after Duterte admitted that he went to Cardinal Santos Medical Center in San Juan City to undergo tests.
Duterte had also admitted that he underwent colonoscopy and endoscopy.
Duterte earlier said he is suffering from Barrett's esophagus due to his many years as a smoker.
Barrett's esophagus is a complication of gastroesophageal reflux disease.
Reactions
Communications Secretary Martin Andanar insisted that there is no need to worry about the President's health.
"I don't think there's a reason for us to really worry and if you really look at it, (Duterte) is working and you can see that he is healthy. You saw his pictures in Hong Kong, he was walking, buying clothes. So there's really nothing to worry about," Andanar said in a radio interview yesterday.
But it would be better if Duterte was forthcoming about his health to end speculations on his recent medical procedures, senators said.
Senate Minority Leader Franklin Drilon said under the Constitution, the people have the right to know if the President is afflicted with any kind of illness.
Drilon recalled that during the last months of the Marcos dictatorship, rumors were rife that the late strongman Ferdinand Marcos was seriously ill and he was no longer running the country.
Sen. Francis Pangilinan, president of the Liberal Party, also called for greater transparency from Malacañang after Duterte disclosed that he underwent colonoscopy and endoscopy last month.
"The problem is we do not know if the President is serious or not. If this is true or simply another remark he will claim to be a joke," Pangilinan said.
"If he is serious then full disclosure is required but if not then it would be best that we stop such talk and focus our time and attention on looking for solutions to the serious problems of spiraling high prices of food, gasoline and other basic commodities," Pangilinan said.
Sen. Francis Escudero, however, cautioned against speculating too much on Duterte's health, adding that the President apparently did not want to make a fuss about it.
Escudero said the procedures Duterte mentioned are diagnostic in nature and are not "findings" or conclusions regarding his state of health.
"What the Constitution is referring to is the latter or his 'state of health,'" Escudero said. "To be fair to (the President) the denials of his spokespersons notwithstanding, he himself candidly admitted the tests that he went through."
"I think (Duterte) will be equally candid with respect to the 'findings,' if any, and his spokespersons should take the cue from their boss with respect to this issue and not second-guess him as regards his candidness and honesty with respect to this and other matters," Escudero added.
For his part, Senate President Pro Tempore Ralph Recto said endoscopy and colonoscopy are regular procedures that he himself undergoes every year.
"The President is healthy enough to discharge his duties. I'm sure Malacañang will update the public on the President's medical condition at the appropriate time," Recto said.
"Even if the President is found to have a medical condition for as long as he is fit to perform his duties then that's okay. We should all wish the President well," he said. – With Paolo Romero, Alexis Romero