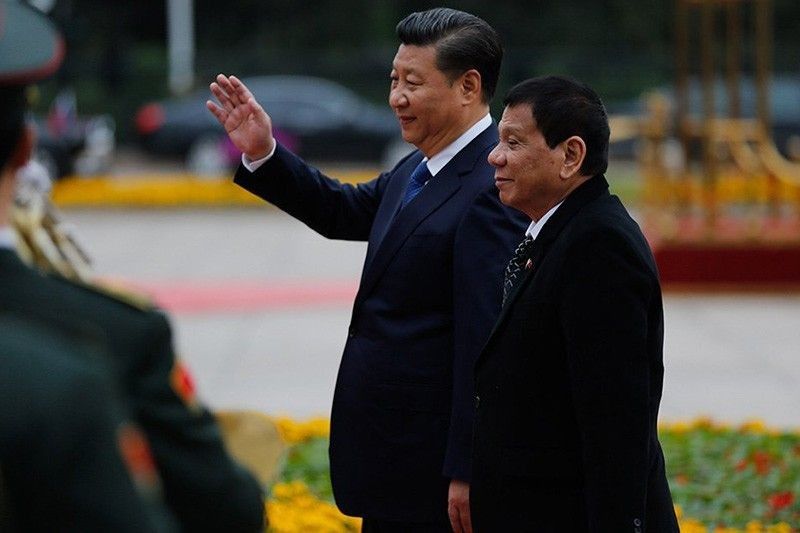 In this Oct. 20, 2016 photo, President Rodrigo Duterte is accompanied by Chinese President Xi Jinping during his arrival at the Great Hall of the People in Beijing, China.
Presidential Photo/Toto Lozano, file
Duterte writes to Xi: I hope our friendship will lead to stronger partnership
MANILA, Philippines — Extending his greetings on China's 69th founding anniversary, President Rodrigo Duterte told Chinese President Xi Jinping that their recent interactions have "borne much fruit."
"As we continue to cooperate in promoting and sustaining peace, stability and security, it is my hope that our friendship will lead to a stronger partnership in the bilateral, regional and multilateral fora," Duterte said in his letter to Xi.
The president also said that he was looking forward to meeting his Chinese counterpart in Manila soon.
The Chinese president is expected to visit the country this year. Chinese Ambassador Zhao Jianhua earlier said they are working with the Philippine side to finalize the details of Xi's visit to the Philippines.
"I look forward to welcoming you in Manila soon and to discuss the path forward our countries and peoples to sustain our bonds and make it more meaningful," Duterte told Xi.
Foreign Affairs Secretary Alan Peter Cayetano, meanwhile, told his counterpart Chinese Foreign Minister Wang Yi that the Philippines remains committed to forging a stronger partnership with China.
"I take pride in the evolution of the partnership between our two countries in recent years. The past years have witnessed how our robust bilateral relations supported our countries' objectives in strengthening cooperation, and spurring development in a multitude of areas," Cayetano said in his letter to Wang.
The renewed relationship between the Philippines and China comes as the two countries hold a bilateral consultation mechanism to resolve the South China Sea dispute.
The Duterte administration appears to have shelved the July 2016 arbitral ruling of the Permanent Court of Arbitration in exchange of renewed ties with Beijing.
The arbitral ruling, which was a victory for the Philippines, invalidated China's nine-dash line claim over the South China Sea. It also concluded that Beijing violated its commitment under the United Nations Convention on the Law of the Sea as it constructed artificial islands in the Philippines' exclusive economic zone.
In the past months, China has deployed surface-to-air missiles and electronic jamming equipment on its outposts in the Spratly Islands, despite claiming that the installments were not directed to any country.