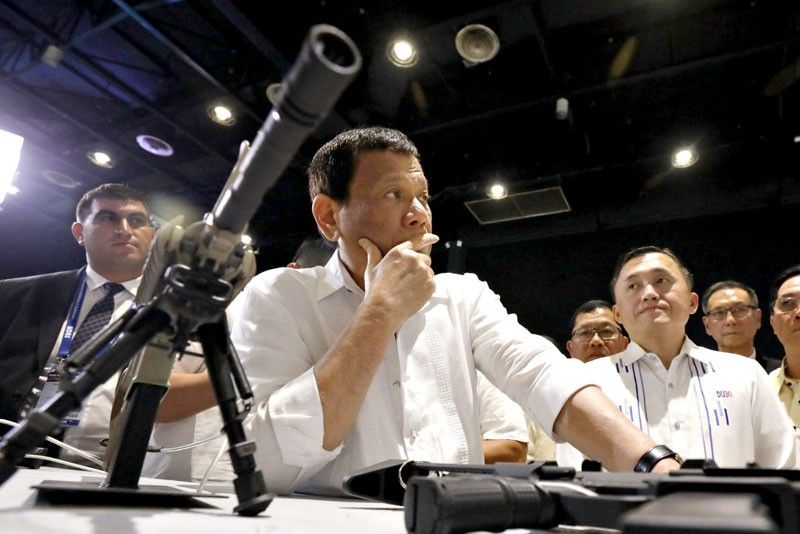 President Duterte takes a tour of exhibits at the Defense, Security, and Crisis Management Exhibition and Conference of the Asian Defense and Security 2018 on Wednesday. Joining him is his special assistant Christopher 'Bong' Go.
Harry Roque: 'EJK Duterte's only sin? Don't take him seriously'
MANILA, Philippines — By supposedly admitting that extrajudicial killings (EJKs) were his "only sin," President Duterte was taunting critics and not being serious, Palace officials said yesterday.
"He is not serious about it. As I see it, he was just highlighting that he had never, ever stolen the people's money – that he may have been criticized for EJKs, but he cannot be faulted for stealing people's money or being engaged in corruption issues," presidential spokesman Harry Roque Jr. said.
In remarks before career service professionals at Malacañang on Thursday, Duterte said, "What are your sins? Ako? Sabi ko nga sa military, ano kasalanan ko? Nagnakaw ba ako diyan ni piso (Me? As I told the military, what is my sin? Did I steal even a peso)?"
He said his only sin was EJK: "Ang kasalanan ko lang, yung mga extrajudicial killings."
His pronouncement sparked another controversy and prompted political foes and human rights advocates to alert the International Criminal Court (ICC) where they want him tried for crimes against humanity.
But Roque said the President is used to issuing controversial statements – sometimes as a joke or to taunt his critics.
"Well, you know the President… he is not serious about it. He may just be saying that because critics always say he was into it. He was also just stressing that he is not a thief. I don't think (his statement) should be taken in a context that is literal," he said.
Roque, a lawyer, also downplayed claims by UN special rapporteur Agnes Callamard that the President had just admitted to his crimes.
"In the first place, it's not in a form of a signed affidavit so how can it be said to be self-incriminating. Not at all, that's the President being himself, being playful, being… highlighting the point that he is not corrupt," Roque said.
Presidential chief legal counsel Salvador Panelo also downplayed Callamard's statements.
"Callamard has given that kind of conclusion even before she started investigating," Panelo said.
He said Callamard's latest comments are no cause for worry. "They can do the worst and the President will do his best," he said.
"There are so many things (being thrown) against him like corruption, what he was just saying was that 'extrajudicial killing is the only issue you can have against me'," Panelo said over ANC.
"That should be taken in context. He has previously denied and disputed those points. I think it's a matter of language barrier. He is a Visayan, he is not a Manileño," he said.
"You have to take everything in context in reference to his previous statements, in reference in his State of the Nation Address (SONA) where he said he declares war but they will be held to pay against those abusive police officers," Panelo said.
"You have to know the President… People against him misunderstand… him. They will be using anything and everything to put him in bad light," the President's chief legal adviser said.
He also maintained that the ICC has no jurisdiction over the Philippines, dismissing moves by critics to have the President's remarks recorded and later used as evidence for his possible prosecution before the ICC.
Out of frustration
Philippine National Police (PNP) chief Director General Oscar Albayalde said Duterte made his EJK remarks "out of frustration" over his being linked by critics to many issues.
Despite Duterte's tough stance against narcotics and other crimes, Albayalde insisted the President had never ordered the police to commit murder.
"The PNP operates on the directives of our President to wage war against illegal drugs within the bounds of the law. We can be tough on crimes while upholding human rights and the rule of law," Albayalde said at a press briefing. – With Emmanuel Tupas, Alexis Romero