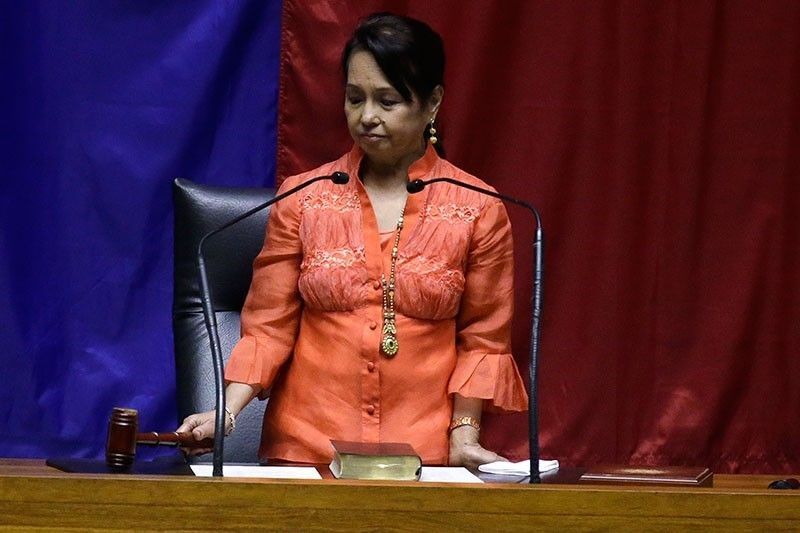 The committee on constitutional amendments has endorsed Resolution of Both Houses (of Congress) No. 15, which proposes the "revision of the 1987 Constitution."
AP/Aaron Favila/File
Gloria Macapagal-Arroyo, 21 colleagues pushing charter change
Jess Diaz
(The Philippine Star) - September 29, 2018 - 12:00am
MANILA, Philippines — Speaker Gloria Macapagal-Arroyo and 21 other lawmakers in the House of Representatives have made a renewed push for Charter change (Cha-cha) by filing a resolution that contains their version of a revised Constitution.
The committee on constitutional amendments has endorsed Resolution of Both Houses (of Congress) No. 15, which proposes the "revision of the 1987 Constitution."
Arroyo's co-authors of the measure include Majority Leader Rolando Andaya Jr. and some deputy speakers, Leyte Rep. Vicente Veloso, who chairs the constitutional amendments committee, and Reps. Alfredo Benitez of Negros Occidental, Aurelio Gonzales Jr. of Pampanga and Eugene Michael de Vera of party-list group Arts, Business and Sciences.
Benitez, Gonzales and De Vera have earlier proposed their own separate versions of a federal constitution.
In proposing the revision of the Charter, the former president and her colleagues said many of its provisions "have already served, if not outlived, their purpose."
This is the reason why there has been a sustained clamor over the years for changes to bring about "much-needed socio-economic and political reforms," they said.
The major part of the resolution is the authors' version of a revised Charter titled, "The Constitution of the Federal Republic of the Philippines."
The proposed basic law of the land retains the present presidential structure of government with a president, vice president and Congress with a Senate and House of Representatives.
It does not automatically create federal states. It gives such authority to the legislature.
The president and vice president are to be elected at large together. A vote for the president is a vote for the vice president to avoid a scenario where the president is at odds with the vice president, like in the case of President Duterte and Vice President Leni Robredo.
The president and vice president will have a term of office of four years with one reelection.
Twenty-four senators will be voted at large and House members by congressional districts, which Congress will determine on the basis of a 350,000 population, instead of the present 250,000.
Like the president and vice president, senators and House members will have a term of office of four years. But the proposed new charter does not contain a reelection limit for members of Congress.
The legislature will have a Commission on Appointments that has the same powers and composition (12 senators, 12 House members) as the one in the present Constitution. However, the Speaker, instead of the Senate president, will be its ex-officio chairman.