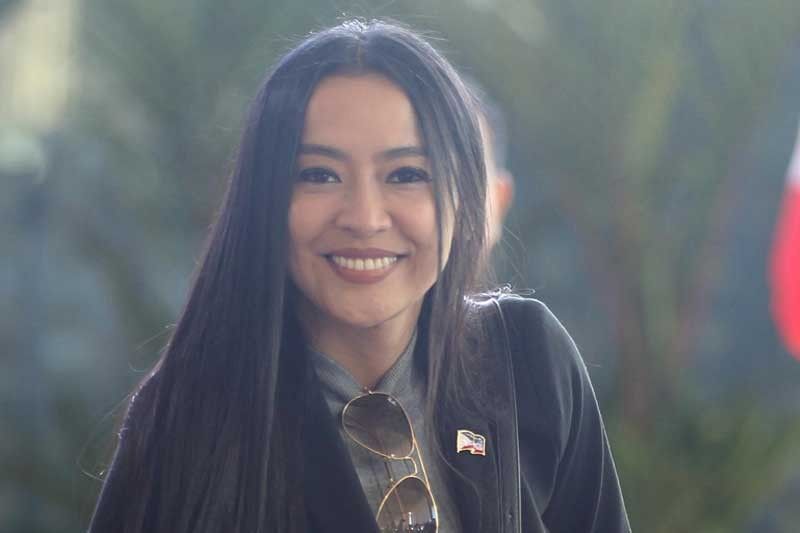 Reps. Antonio Tinio and France Castro of the Alliance of Concerned Teachers urged Uson to resign from her Palace post "for violating the law."
Krizjohn Rosales
Mocha Uson told: 'Quit government, go back to showbiz'
Jess Diaz
(The Philippine Star) - September 22, 2018 - 12:00am
MANILA, Philippines — Lawmakers joined yesterday the growing outrage against the latest "unacceptable actions" of Presidential Communications Operations Office (PCOO) Assistant Secretary Mocha Uson and blogger Drew Olivar.
Reps. Antonio Tinio and France Castro of the Alliance of Concerned Teachers urged Uson to resign from her Palace post "for violating the law."
Former Senate president Aquilino Pimentel Jr. also said Uson should go back to showbiz and not meddle in the government's federalism campaign.
"She should just stay in the entertainment industry and not talk about federalism, which she clearly knows nothing about," Pimentel, a member of the consultative committee tasked by President Duterte to draft the federal charter, told a press briefing at Malacañang.
Pimentel said Uson is not helping in the administration's efforts to amend the Constitution.
"Doon na lang siya sa sayaw-sayaw (Just stick to dancing), OK lang," he said.
Tinio and Castro condemned Uson and Olivar for ridiculing and disrespecting the deaf community in their video post.
They violated Republic Act 9442 or The Magna Carta for Disabled Persons, which protects persons with disability from public ridicule and vilification, the lawmakers said.
They said Uson and Olivar "must be held accountable for their irresponsible and disrespectful act."?"Uson's and Olivar's mockery of the sign language and vilification of the deaf community by comparing Drew Olivar to a monkey while he imitates doing the sign language is a clear violation of the law. The video posted by Uson had no other purpose but to make fun of the Filipino sign language and the deaf," they said.
They said while Olivar has apologized for the video, Uson's apology was only "for the mimicking of Olivar of the sign language and failed to apologize for laughing and for uttering 'mukha kang unggoy diyan' (you look like a monkey)."
"The video was not an innocent mistake but was intentionally posted to ridicule and make fun of the deaf. Uson once again violated the law, this time at the expense of a group of people with disability. She must be held accountable for this action. She is a public official being paid by taxpayers, she should be reminded that she is working for the Filipino people and the least she could do is to respect those paying for her high salary," they added.
The Philippine Federation of the Deaf has urged the Office of the Ombudsman to investigate Uson for violating The Magna Carta for Disabled Persons and the Code of Conduct and Ethical Standards for Public Officials and Employees.
Presidential spokesman Harry Roque has said if the ombudsman orders Uson's dismissal, the Palace would not oppose it.
Uson's immediate superior is PCOO Secretary Martin Andanar, but PCOO officials said they could not discipline their assistant secretary for social media "because she is an appointee of the President."
They said it is the Office of the President that has disciplinary authority over Uson, who receives a basic monthly salary of about P140,000.
Miriam College echoed the call to uphold the law that seeks to penalize an individual, group or community for acts of making mockery of persons with disability.
"As an institution that has been home to the deaf community since 1974 through its varied programs for pre-school to graduate students who are deaf, we are appalled by the utter disrespect that Uson and Olivar have shown to a sector that has fought hard for their advancement, equality and respect," Miriam College said in a statement.
It said Uson and Olivar should be held accountable for their offensive attitude and action toward the deaf community.
Earlier, De La Salle-College of Saint Benilde (DLS-CSB) also condemned the behavior and actions of Uson and Olivar.
Dennis Magbanua, president of DLS-CSB, said in a statement their actions were "very offensive and disrespectful to the Filipino deaf community" and called on the government to "take action" and "impose appropriate penalties as provided by law." – With Christina Mendez