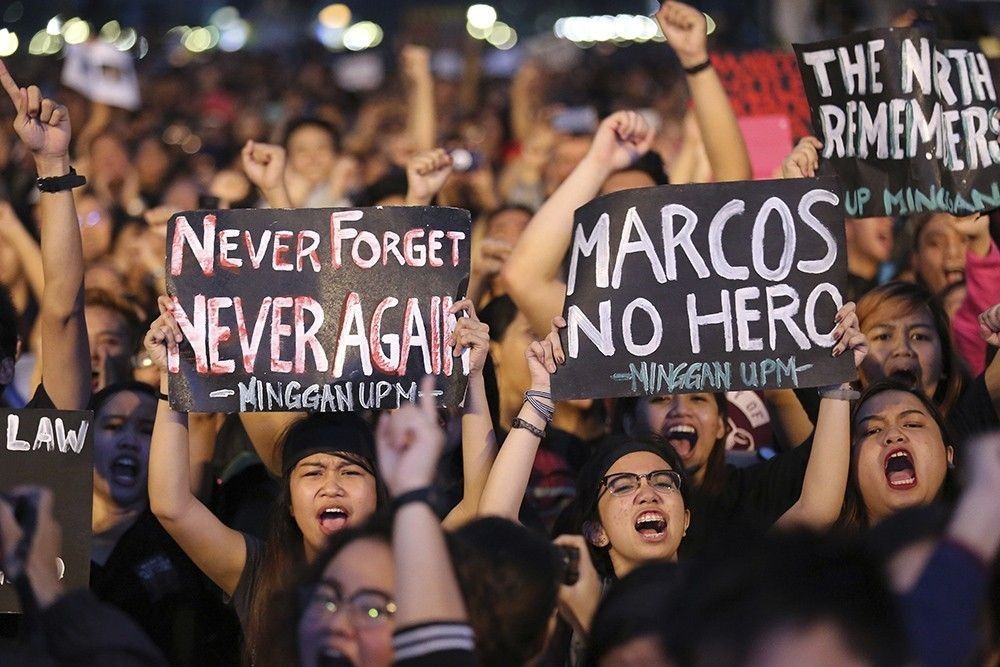 Students shout slogans during a rally at the Rizal Park, Friday, Nov. 25, 2016 in Manila, Philippines. Thousands of Filipinos, including more than a dozen nude students, protested Friday against the hasty burial of Philippine dictator Ferdinand Marcos in a heroes' cemetery, in a growing political storm that's lashing the president who allowed the entombment.
AP/Bullit Marquez, File
Groups set to hold protest actions on Martial Law anniversary
(Philstar.com) - September 20, 2018 - 7:14pm
MANILA, Philippines — Several groups and universities would hold protests on Friday to mark the 46th anniversary of late dictator Ferdinand Marcos' declaration of Martial Law.
Friday marks the Martial Law anniversary which was enacted through Proclamation 1081 on September 21, 1972 and declared two days later on September 23.
READ: Youth groups to Marcos: We haven't moved on
Rallies would be staged on Friday and Sunday in various areas across the country to protest dictatorship and tyranny. Groups are expected to converge on Friday at the Luneta Park at 4 p.m. for the United People's Action against Tyranny and Dictatorship.
Planning to go out for the NATIONWIDE United People's Action mobilization on September 21 but haven't found a protest center? We got 'ya covered!

Check out the map to find the nearest protest center you can go to!#KabataanKontraDiktador#NeverAgain#FightTyranny pic.twitter.com/gEpVUm7fDt

— Kabataan Partylist (@KabataanPL) September 19, 2018
The Alyansa ng Magbubukid sa Gitnang Luzon said in a statement that "hundreds of peasants joined together by indigenous people, fisherfolks, urban poor and other sectors—people of Central Luzon—continue their three-day protest march from provinces." The group would also join the United People's Action against Tyranny and Dictatorship.
Amihan National Federation of Peasant Women also said they would join the protests in Manila.
University of the Philippines President Danilo Concepcion has declared September 21 of each year as a "Day of Remembrance" of the university's "participation and sacrifice" against Martial Law.
The Communist Party of the Philippines, meanwhile, clarified that while they support the mass actions, they are not one of the organizers of the event.
"The CPP denounces the officials of the Philippine National Police for insisting on the lie that tomorrow's mass actions are being organized by the CPP, NPA and NDF in an apparent bid to justify plans to clamp down on scheduled protests," the group said in a statement.
Manila Mayor Joseph Estrada has suspended classes in all levels, public and private, in anticipation of the rallies and other activities.
The PNP, for its part, said it would observe maximum tolerance for the mass actions on Friday.
Meanwhile, the Metropolitan Manila Development Authority has urged motorists to take alternate routes on Friday and Sunday in anticipation of road closures for mass demonstrations.
The two-decade rule of Marcos was marred by killings, human rights abuses, disappearances and media repression, which the Marcos family has not acknowledged.
Amnesty International estimated that 70,000 people were imprisoned, 34,000 were tortured and 3,240 were killed during martial law. — Kristine Joy Patag