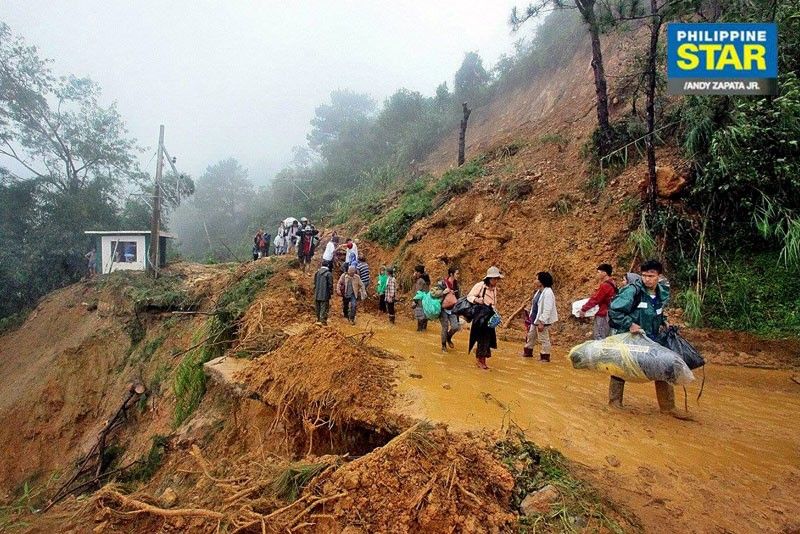 Residents cross a muddy area in Barangay Ucab in Itogon, Benguet after a landslide left the road leading to Baguio City inaccessible yesterday.
Andy Zapata Jr.
Cagayan under state of calamity
TUGUEGARAO, Cagayan – Nearly 100 people are feared dead in a landslide that buried a mining shelter in Itogon, Benguet during the onslaught of Typhoon Ompong on Saturday.
Itogon Mayor Victorio Palangdan said the small-scale miners were trapped in a bunkhouse buried by a landslide.
Along the path of devastation left by Ompong (international name Mangkhut), officials said at least 56 people were confirmed killed mostly in landslides in mountain areas.
Earlier, two rescue workers died in a landslide in Itogon while trying to retrieve several people buried in the mud.
Palangdan said rescue workers retrieved as many as 30 dead from the mining bunkhouse.
He said most of the dead were retrieved from the bunkhouse used by the former Benguet Corp., located outside the mining tunnel just below the mountain slopes.
"There were people trapped inside the privately owned bunkhouse that was buried by the landslide. We fear they might be dead," Palangdan said over dzMM.
Benguet provincial police chief Senior Supt. Lyndon Mencio added they have recovered four bodies from the site.
"We're on top of the building that was buried. There seems to be no sign of life. We already recovered four bodies in the area," Mencio also told dzMM.
Presidential political adviser Francis Tolentino, designated as a "conduit" to coordinate government rescue and relief efforts, earlier said 20 of the fatalities were in the Cordillera region and four from Nueva Vizcaya.
The Cagayan police said a 74-year-old farmer died of exposure after his hut was torn apart by strong winds in the remote town of Peñablanca. In Ilocos Sur, another person died after he was hit by a falling tree.
Tolentino said the tally reflected the situation at 9 a.m., adding that reports from other areas of northern Luzon hit by Ompong on Saturday were still coming in.
Emmanuel Salamat of the Office of Civil Defense (OCD) said police reported at least 20 dead in the Cordillera region alone.
Tolentino said most of the victims died from landslides, adding they are still searching for others still missing.
A family of four died Saturday after their house was buried in a landslide in a remote village in Nueva Vizcaya.
Cordillera regional police director Chief Supt. Rolando Nana said they listed 20 fatalities, mostly from landslides.?He said Benguet reported seven fatalities, Baguio City and Mountain Province at six each while one fatality was reported in Kalinga.?Baguio City Mayor Mauricio Domogan however said only three people died and six others were missing on Saturday after ferocious winds and rain destroyed several houses and set off landslides, which also blocked roads to the popular vacation destination.
The National Disaster Risk Reduction and Management Council (NDRRMC), meanwhile, refused to release casualty reports, saying all figures should be validated first.
However, the NDRRMC reported a total of 250,036 people in seven regions were affected by Ompong as it passed through Luzon over the weekend.
The NDRRMC said a total of 1,403 barangays in 332 cities and municipalities of 30 provinces in the National Capital Region (NCR), Calabarzon, Mimaropa, Cordillera and Region 1, 2, and 3 were adversely affected by the storm.
A total of 133,457 people or 34,169 families had to stay in 1,190 evacuation centers while the rest stayed at home, the NDRRMC said.
Although Ompong has left the country on Saturday, the typhoon left a trail of destruction in northern Luzon.
The Cordillera region, being a mountainous area, was heavily hit by landslides. It was this region that reported most of the casualties.
Cagayan, which initially bore the brunt of Ompong, was heavily damaged in terms of infrastructure and destroyed crops.
The provincial board of Cagayan has declared a state of calamity, which Gov. Manuel Mamba said sustained P4.6 billion damage in agriculture and P46 million in infrastructure.
Mamba said the entire province has no electricity after six major power transmission lines had been toppled by strong winds brought by Ompong.
All major roads in the province are still passable but telecommunication lines are still down, he said.
The province of Kalinga has also been placed under a state of calamity. Gov. Jocel Baac said agricultural damage caused by the typhoon in the province may reach P1 billion.
The heavy rains brought by Ompong also caused massive floods from Pangasinan, Tarlac, Bulacan, down to Metro Manila in the south.
At least 108 barangays in 18 towns and cities in Pangasinan were flooded. – With Helen Flores, Cesar Ramirez, Artemio Dumlao, Victor Martin, AP, Reuters