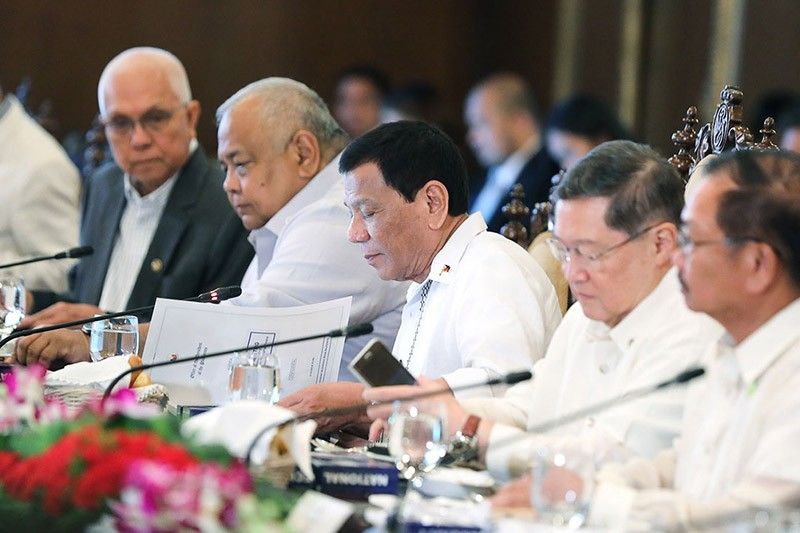 President Rodrigo Duterte presides over the 29th Cabinet Meeting at the Malacañan Palace on Sept. 11, 2018.
Valerie Escalera/Presidential Photo
Duterte will form 'super body' to handle all gov't procurement
MANILA, Philippines — President Rodrigo Duterte will form a five-person commission that would handle all government purchases as part of his effort to cleanse the government of corruption.
Duterte said the commission, to be composed of people who are "adept in accounting and auditing," would prevent overpricing, ghost deliveries and collusion among bidders.
"This will not really be a super body. I will call it checks and balances, the office of checks and balances. All purchases of government (will go through it). I will know whether payment has been made, whether there were deliveries, so we can avoid ghost deliveries and invented SAROs (special allotment release orders)," the president said during a briefing on Typhoon Ompong in Tuguegarao Sunday.
"If I can just assemble about five simple men who are adept in accounting and then of course audit, it's very important, we can survive. I'm just awaiting the retirement of people," he added.
Duterte hinted that uniformed personnel would be part of the commission.
"Next year, I'm waiting for some guys, one of them should have been Rolly who is about to retire," the president said, referring to Army chief Lt. Gen. Rolando Bautista, who will assume as National Food Authority administrator in October.
"I just want my orders followed because I'm here giving orders. If my orders are not followed, I'd rather retire," he added.
Duterte said the present procurement mechanisms have disadvantages and have to be perfected to ensure the prompt delivery of supplies.
He said the lowest bid requirement of the Commission on Audit has led to "terribly inferior" projects and has encouraged collusion among prospective suppliers.
"What ails the country actually is the lowest bid, the lowest bid...is really a purgatory that somehow the government must correct. That's why I do not follow COA. Don't give me that sh*t," the president said.
Duterte said the Swiss challenge is better than none but takes time. Under a Swiss challenge, firms interested to undertake a project are asked to come up with proposals that are better than the one submitted by the original proponent.
"Swiss challenge is better than none but how fast it can be done is the problem. We have to perfect on that," the president said.
Duterte said the late dictator Ferdinand Marcos also formed a body that would compare the prices of supplies or equipment to be acquired by the government.
"I am ready to assume responsibility... in the end, I will be the one who will be grilled for this. This insanity of corruption must really stop," the president said.