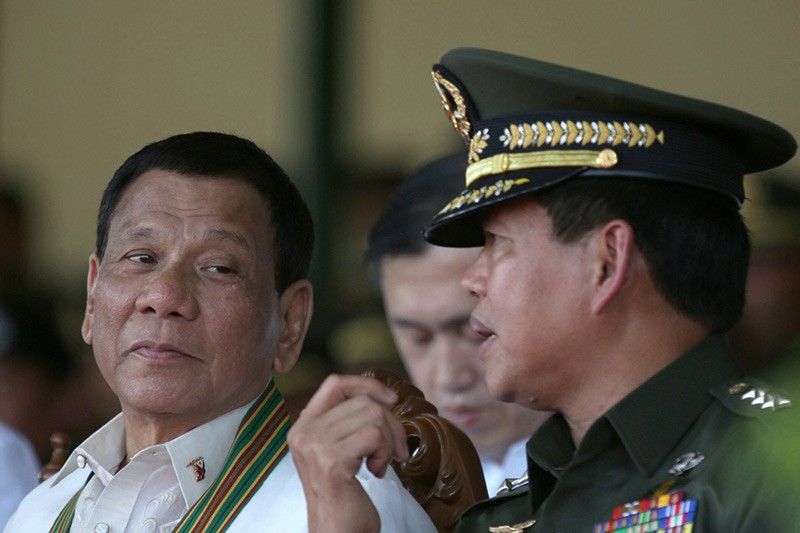 President Rodrigo Roa Duterte chats with Philippine Army (PA) Commander Lieutenant General Rolando Bautista on the sidelines of the 121st Founding Anniversary of PA at Fort Bonifacio, Taguig City on March 20, 2018.
Toto Lozano/Presidential Photo
Duterte to appoint retiring Army chief Bautista to head NFA
MANILA, Philippines — Another soldier will lead the National Food Authority as President Rodrigo Duterte is set to appoint Army chief Lt. Gen. Rolando Bautista as administrator of the embattled state grains agency.
During a meeting on the effects of typhoon "Ompong" Sunday, Labor Secretary Silvestre Bello III said the NFA was facing rice supply issues in Cagayan because of the absence of leadership in the agency.
NFA Administrator Jason Aquino has "requested" Duterte to relieve him from his post because of disagreements with fellow officials.
Bello said he had tried to discuss the matter with Agriculture Secretary Emmanuel Piñol, who replied that he has no control over the NFA. Bello asked Duterte whether he could allow Piñol to handle the NFA temporarily to address the issue.
Duterte, who was presiding over the meeting in Tuguegarao, then asked some military officials present in the meeting who among them is retiring soon. Bautista told Duterte that he would bow out of the service in October.
"In the meantime, I cannot place you in the central bank, perhaps I can place you in the NFA to rationalize the idiotic...to come up with plans, make it structural," the president said.
Duterte admitted that Bautista might not like the post because he is not into rice trading.
"Si Bautista muna...di naman siya tindero (For now, it's Bautista. He is not a rice trader). In the meantime, you have to help the country to rationalize it," he added.
Presidential spokesman Harry Roque said Duterte expressed his desire to appoint Bautista as NFA administrator after he retires on October 15. Bautista assumed as Army commanding general in October last year. He served as the chief of the Presidential Security Group before assuming as Army chief.
Bautista will succeed Aquino, another former military man, who reportedly asked Duterte to relieve him from his post as the NFA was facing backlash over the rising prices of rice in the market.
Duterte reiterated that he is in favor of imposing tariffs on rice, saying the imposition of quotas has caused corruption.
"I have decided (it has to be) tariffication. Whoever submits the highest bid, give it to them. Conduct a public bidding. Whoever has the money and whoever wants to import, go ahead. That would really stop corruption," he said.
"If the government has control, there is corruption. I tell you again."
Duterte justified his appointment of Bautista and other military men to civilian posts, saying he wants people who will follow his orders. "I want my orders followed because I'm here giving orders. If my orders are not followed, I'd rather retire," he said.