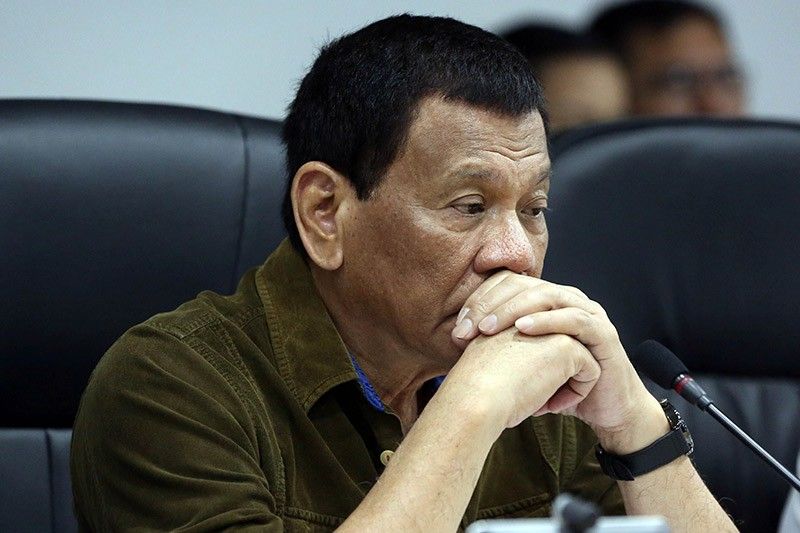 President Rodrigo Duterte arrives for a briefing on Typhoon Ompong at the National Disaster Risk Reduction and Management Council in Quezon City on Sept. 13, 2018.
The STAR/KJ Rosales
Palace brushes off criticism Duterte should've axed NFA chief, not allowed to resign
MANILA, Philippines — Malacañang Thursday shrugged off statements that President Rodrigo Duterte should have fired outgoing National Food Authority Administrator Jason Aquino, who is being blamed for the reported rice supply lack in the country.
Presidential spokesman Harry Roque said Duterte could not dismiss Aquino if he offered to step down from his post. He said Aquino's resignation does not mean anything because the outgoing NFA chief could still be charged if he committed any wrongdoing.
"He can't be fired when he has offered to resign," Roque said.
"(The) resignation of anyone, not just Jason Aquino, will not extinguish criminal or administrative liabilities if there are any... If you resign, it does not mean that you will no longer be accountable," he added.
Roque noted that some lawmakers have classified the act of Aquino as technical malversation.
"I'm sure if they filed a proper complaint, it will be acted upon by the ombudsman," the presidential spokesman said.
Agricultural group Samahang Industriya ng Agrikultura has charged Aquino and NFA Accounting Services Manager Gerry Ambrosio of technical malversation and violation of the Anti-Graft and Corrupt Practices Act before the Office of the Ombudsman.
Citing a report by the Commission on Audit, SINAG said NFA used P3.01 billion intended for its food security program subsidy to offset guarantee fees and contribution to debt reserve funds while P2.09 billion was used to pay loans to the Land Bank of the Philippines and Development Bank of the Philippines.
Critics pointed out that the funds for the food security program should have been used to buy rice and to cover costs related to rice distribution and importation, buffer stocking and grains business registration and licensing.
Last Tuesday, Duterte revealed that Aquino had "requested" that he be relieved from his post because of disagreements with fellow officials. The president said Aquino was tired and could not cope with the internal dynamics in government.
Duterte made the statement as the state grains agency is being assailed for its supposed failure to address the higher prices of rice in some parts of the country.
The NFA administration and the interagency NFA Council have blamed each other for the rice supply issues.
The NFA administration has accused the NFA Council of not acting immediately on its request to import one million metric tons of rice. The NFA Council said the NFA administration is to be blamed for the delay because of its failure to submit data on its inventory.
Roque has said Aquino's successor should be "absolutely honest" and capable of reforming the NFA.