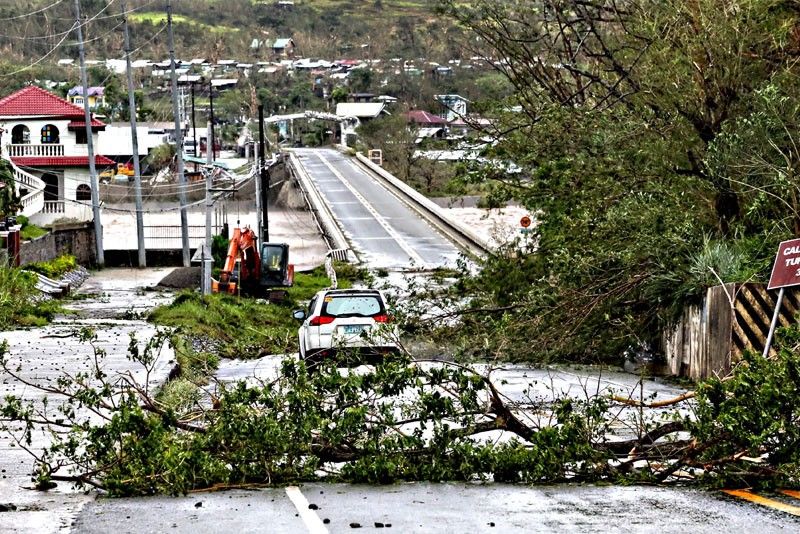 Fallen trees block the road toward the Pinacanauan overflow bridge in Tuguegarao City in Cagayan, which was hammered by heavy rains and strong winds as Typhoon Ompong made landfall in the province early yesterday.
Walter Bollozos
Ompong leaves trail of destruction
Jaime Laude
(The Philippine Star) - September 16, 2018 - 12:00am
2 Cordillera responders among early casualties
MANILA, Philippines — Typhoon Ompong tore through Northern Luzon yesterday, its ferocious winds and blinding rain killing at least three people and causing floods, landslides and power outages.
Ompong, the strongest storm to hit the country this year, made landfall at the coastal town of Baggao in Cagayan province at 1:40 a.m. before it exited the Ilocos region before noon and moved out towards the South China Sea with reduced wind speeds of 170 kilometers per hour.
In the aftermath of the storm, officials began to assess the damage and check on casualties.
The National Disaster Risk Reduction and Management Council (NDRRMC), for its part, confirmed two of its rescue workers were killed while trying to free people trapped in a landslide in the Cordillera region.
NDRRMC executive director and Office of Civil Defense (OCD) chief Ricardo Jalad identified the two fatalities as Shaina Mae Laroco, 19, and Grace Ganabe, 45, both of Youngland, Camp 7, Baguio City.
The two rescuers were among those helping to retrieve Hyacinth Gabino and Narcisa Gabino who went missing after a landslide hit their village in Loakan, Itogon, Benguet.
Police also said the dead body of a 12-year-old girl was fished out of the swelling Marikina River in Pasig City yesterday.
Defense Secretary Delfin Lorenzana said officials in Cagayan were verifying the drowning of two children.
Authorities were also checking what happened to about 70 men who reportedly returned to their coastal village to check on their homes during dangerous storm surges that saw walls of seawater whipping inland.
Officials are also checking reports that a man was crushed to death when a concrete wall collapsed in Caloocan City during the storm.
Officials are also assessing the extent of damage in Cagayan where Ompong initially hit.
At daybreak, Cagayan's capital Tuguegarao City was left with a severely damaged public market, its roof ripped apart and wooden stalls and tarpaulin canopies in disarray.
Outside a popular shopping mall, debris was scattered everywhere and government workers began clearing roads of fallen trees.
Many stores and houses were damaged but most residents remained indoors as occasional gusts sent small pieces of tin sheets and other debris flying dangerously.
Tuguegarao airport terminal was badly damaged, its roof and glass windows shattered by strong wind, which also sent chairs, tables and papers flying about inside, Lorenzana said.
Government damage assessment was underway except in areas still being battered by wind and rain. Two Air Force C-130 cargo planes and 10 helicopters were on standby in Manila to help transport rescuers and aid supplies.
More than five million people were at risk from the storm, which the Hawaii-based Joint Typhoon Warning Center categorized as a super typhoon with powerful winds and gusts equivalent to a Category 5 Atlantic hurricane.
With a huge raincloud band 900 kilometers wide, combined with southwest monsoon rains, Ompong dumped intense rain that set off landslides and flash floods.
Storm warnings have been raised in almost all the provinces across Luzon, including Metro Manila, restricting sea and air travel.
A few hours after landfall, the eye of the typhoon roared past Ilocos Norte.
Ompong's sustained winds weakened to 170 kph with gusts of up to 260 kph after it sliced across Northern Luzon.
Before it hit land, Ompong packed sustained winds of 205 kph and gusts of up to 255 kph, forecasters said.
Still destructive
Even if the typhoon weakened slightly after slamming ashore, its winds will remain very destructive, according to Rene Paciente, assistant weather services chief of the Philippine Atmospheric, Geophysical and Astronomical Services Administration (PAGASA).
"Even if Ompong is already out of the (Philippine area of responsibility), the outer spiral of the typhoon may still affect the country," Paciente said.
He said the southwest monsoon enhanced by the typhoon will bring gusty winds with occasional moderate to heavy rains over Western Visayas, Zamboanga Peninsula, ARMM, MIMAROPA and Bicol Region, while scattered light to moderate to at times heavy rains will prevail over Eastern and Central Visayas.
PAGASA warned stormy weather is expected over the areas still under Signal no. 3, including Cagayan, Babuyan Group of Islands, Batanes, Ilocos provinces, La Union, Mountain Province, Benguet, Ifugao, Kalinga, Apayao and Abra.
Signal No. 2 remained hoisted over Isabela, Nueva Vizcaya, Pangasinan, Tarlac, Nueva Ecija, Aurora, Zambales, Quirino, Pampanga and Bulacan.
Meanwhile, Signal No. 1 is hoisted over Metro Manila, Bataan, Rizal, Cavite, Batangas, Laguna, Batangas, Lubang Island, Northern Quezon including Polillo Island.
At 5 p.m. yesterday, the eye of Typhoon Ompong was located 160 km west northwest of Laoag City in Ilocos Norte. It was forecast to leave the Philippine area of responsibility last night or early today.
PAGASA said the weather would start to improve today.
Better prepared
Some 105,000 people were staying in temporary shelters after mass evacuation of coastal areas following major storm surge warnings.
Authorities in some areas of northern Luzon turned off power as a precaution, and said some residents in high-risk areas chose to ride out the storm to protect homes from looters.
Dams across Luzon opened up its floodgates to let off excess water ahead of Ompong's torrential rains.
According to Lorenzana, more than 1,000 houses were impacted in Baggao where the storm first made landfall.
Lorenzana presided over a press conference with NDRRMC officials at Camp Aguinaldo where he revealed thousands of houses in Baggao were completely flattened by Ompong.
He also said eight villages in the town became isolated, with rescue workers and soldiers finding it difficult to establish contact with the residents since electricity is down.
"Aside from the destroyed houses and fallen trees and electric posts along the way, the old Baggao town was also destroyed," Lorenzana said.
"There are a lot of properties that were destroyed, including rice fields and root crops," he added.
At the same press conference, Cagayan Gov. Manuel Mamba said the provincial government has yet to determine the extent of the damage as some areas of the province are still isolated.
Despite the damage and casualties, officials said they were better prepared this time in terms of evacuating and informing high-risk communities.
"I talked to the President last night (Friday). His clear and concise marching order was ''Save lives, save lives'," said Francis Tolentino, the government's disaster response coordinator and political adviser to President Duterte.
Undersecretary Renato Solidum of the Department of Science and Technology said people in northern Luzon experienced Super Typhoon Lawin in 2016 and were not caught off guard.
"There has been an aggressive information dissemination to prepare well," Solidum said.
"Because the people had experienced a super typhoon only recently, they really had imagination about what happened before and that they really need to be prepared."
In an emergency meeting Thursday, Duterte asked Cabinet officials from the north to help oversee disaster response work.
Duterte designated Tolentino as "conduit" to coordinate government rescue and relief efforts in the regions directly in Ompong's path. – Rhodina Villanueva, Emmanuel Tupas, Raymund Catindig, Robertzon Ramirez, Ding Cervantes, Jack Castaño, Eva Visperas, Cesar Ramirez, Sheila Crisostomo, Rudy Santos, Jun Elias, Ramon Efren Lazaro, Artemio Dumlao, Marc Jayson Cayabyab, Reuters, AP