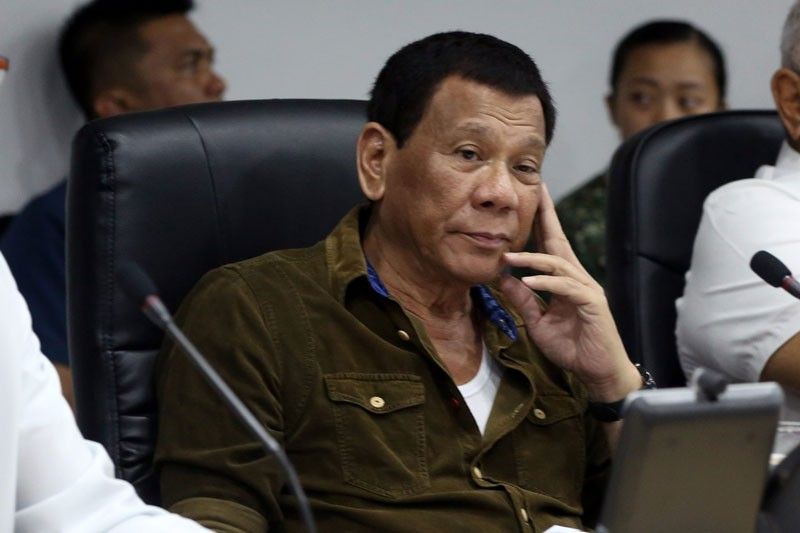 Trillanes has been holed up at his office in the Senate for more than a week to avoid being arrested after his amnesty was voided through President Duterte's Proclamation 572.
File
Duterte not interested in arresting Trillanes
DAVAO CITY , Philippines — President Duterte said he is not interested in having Sen. Antonio Trillanes IV arrested.
Trillanes has been holed up at his office in the Senate for more than a week to avoid being arrested after his amnesty was voided through President Duterte's Proclamation 572.
"I am not interested to arrest him. Nobody is interested to arrest him," the President said at a press briefing last night at the National Disaster Risk Reduction and Management Office operations center in Camp Aguinaldo, Quezon City.
The President said Trillanes could stay at the Senate as long as he wants.
The President said the Armed Forces of the Philippines is also not interested in arresting the senator as it has not constituted the court martial to hear the case of Trillanes.
Duterte said as Trillanes' case is already with the civilian courts, let the case proceed as it should.
Trillanes was advised to scrap his plan of leaving the Senate after he was warned of a possible attempt to arrest him once he steps out.
In a hastily called press briefing outside his office last night, Trillanes said that there were two incidents since last Wednesday night that indicated to him that he would be arrested on sight.
He said that his driver was sent out for an errand last Wednesday night and noticed a man on board a motorcycle following him.
The following day, shortly after he held a press briefing to announce his plan to go out of the Senate, Trillanes said his driver once again drove out with his vehicle to fill up on fuel and just like Wednesday night, saw a motorcycle-riding man following him.
Trillanes said that there was also an augmentation of the members of the Philippine National Police detailed outside the Senate after he announced his plan of going out.
"It was reported to us that when suddenly it was reported in media (that I will go out), there was an augmentation (of troops) and when I go out, they will stop me from going back in," Trillanes said.
"A few hours ago, the AFP (Armed Forces of the Philippines) arresting units warned us that I will be arrested. The decision is to remain here at the Senate for as long as there is no categorical statement from the AFP that they will not arrest me by virtue of that proclamation and any court martial charge. So it is more prudent to stay here," he added.
Trillanes said that it was upon the advice of his lawyers that he decided not to allow himself to be arrested because doing so would have an impact on his current case.
"I was advised by my lawyers because it will affect our petitions because what we are questioning now is the issuance of a warrant. If I will be arrested then that will be moot and academic, therefore the question would now be on the illegal arrest," Trillanes said.
"This only shows that you can't trust the word of Mr. Duterte," Trillanes said.
Legal heavyweights will argue Trillanes' case before the Supreme Court and the Makati City regional trial courts (RTCs) regarding President Duterte's Proclamation No. 572 voiding the amnesty granted to him in 2011. ?Trillanes maintained the voiding of his amnesty is illegal and the cases filed before the Makati RTCs related to this are part of political harassment.
"I have talked to some of the best legal minds in the country who are willing to stand for the rule of law. They believe that if this illegal act would not be corrected, our country's democracy would be in peril," the senator said.
Among the lawyers who will represent Trillanes are former University of the Philippines College of Law dean Pacifico Agabin, former solicitor general Florin Hilbay, law professor Joselito Chan and Trillanes' chief legal counsel Reynaldo Robles.
"I put my trust in our courts that they will correct this executive overreach and adhere to the rule of law despite Duterte's twisting of laws just to achieve his aim of silencing his critics," Trillanes said.
DOJ: No problem in delayed warrant
Justice Secretary Menardo Guevarra yesterday said he does not mind if the Makati City RTC did not immediately grant their request for the issuance of a warrant of arrest and hold departure order (HDO) against Trillanes as long as there is minimal possibility that he would flee the country to avoid arrest.
During yesterday's court hearing, the Department of Justice (DOJ) submitted an eight-page reply to the "very urgent omnibus motion" filed by Trillanes last Monday wherein he asked the court to junk the request for the issuance of an alias warrant of arrest and HDO against him.
Fadullon pointed out that Trillanes has the tendency to "hole up" just to avoid due process of law such as during the Oakwood mutiny incident on July 27, 2003 and the Manila Peninsula siege on Nov. 29, 2007. Since Sept. 4, he also submitted himself to the custody of the Senate to avoid arrest.
"The history of this case reminds us that accused Trillanes has the propensity to 'hole up' in an enclosed building, establishment and/or institution, as exhibited during the Oakwood mutiny and Manila Peninsula standoff, disrupting business operations; and in recent days, one can fairly assume that that disruptive behavior is being employed in the Senate premises, disrupting its day-to-day operation, while evading the processes of the law," the DOJ said in its reply.
The DOJ added that the granting of amnesty to Trillanes during the term of former president Benigno Aquino III, under Proclamation No. 75 dated Nov. 24, 2010, "was on the presumption that accused Trillanes will comply with the requisites thereof. He did not."
The DOJ yesterday said that with President Duterte signing Proclamation no. 572 that voided the amnesty to given to Trillanes, the order dismissing the coup d' etat case against him has no leg to stand on.
In the reply submitted by the DOJ at the Makati RTC Branch 148, it pointed out that last Sept. 21, the court issued an order dismissing the case against Trillanes because he reportedly was given amnesty.
But with that amnesty now void, the case should proceed.
Since Trillanes was detained prior to the issuance of the court order, "it follows that he must again be taken into custody of the law, having been charged with an offense punishable by reclusion perpetua."
Duterte twitted Trillanes for questioning his qualifications and if he indeed passed the Bar in 1979.
The President stopped short of calling Trillanes a dimwit for insulting him over his credentials.
Although he has described himself as an average student compared to his classmates who are now members of his Cabinet, Duterte said the senator should be schooled by an economist and Wharton graduate like former secretary Mar Roxas.
He accused Trillanes of wanting to take over the government – owing it only to the senator's good looks.
The Chief Executive debunked Trillanes' claims that he only passed the Bar with the help of his late father. "I became a lawyer 20 years after my father's death," he said.
Duterte then pointed out that even the former soldier's mother had been a supplier in the military while Trillanes' father was still in the military service.
Trillanes got the President's ire since he accused him of maintaining secret bank accounts and implicated members of the Duterte family as well as special aide, Christopher Go, in alleged anomalies.
Malacañang yesterday mocked the camp of Trillanes for challenging the voiding of his amnesty before the Supreme Court, saying the petition is "useless" because the high court is not a trier of facts.
Presidential spokesman Harry Roque, a former law professor, said the Supreme Court did not issue a temporary restraining order on the proclamation voiding the amnesty because issues of facts are resolved by lower courts.
Roque claimed the lawyers of Trillanes would have known the process if they were his students. – With Evelyn Macairan, Christina Mendez, Alexis Romero