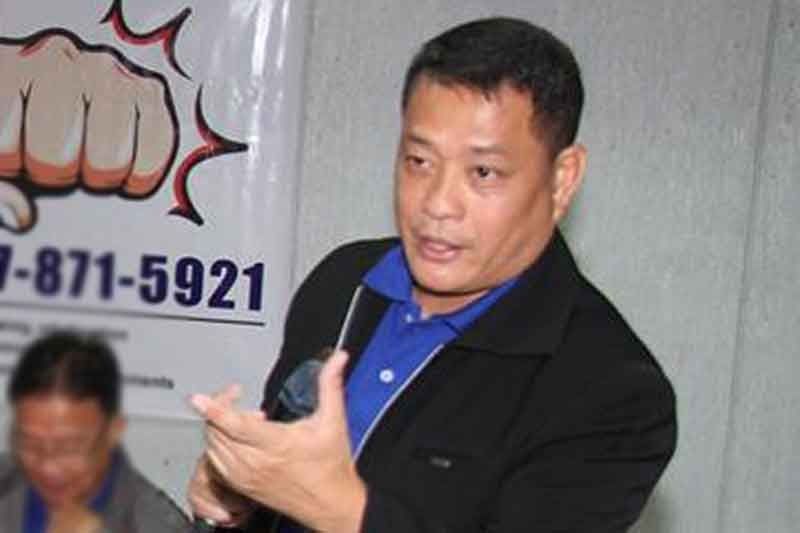 Asked at a press briefing yesterday whether Aquino would be held liable for the rice shortage in some parts of the country, presidential spokesman Harry Roque replied: "Well, it's without prejudice, if there is basis for liability."
NFA Facebook Photo
NFA chief Jason Aquino still liable for rice woes — Palace
Alexis Romero
(The Philippine Star) - September 13, 2018 - 12:00am
MANILA, Philippines — Despite his "request" to be relieved from his post, outgoing National Food Authority (NFA) administrator Jason Aquino could still be held liable if proven that he was involved in any wrongdoing while in government.
Asked at a press briefing yesterday whether Aquino would be held liable for the rice shortage in some parts of the country, presidential spokesman Harry Roque replied: "Well, it's without prejudice, if there is basis for liability."
"But for now, the President is busy looking for a replacement for Jason Aquino," Roque said.
On Tuesday, President Duterte said Aquino has requested that he be relieved as NFA administrator as the administration is facing backlash over high rice prices.
The President said Aquino was tired and had some disagreements with some government officials.
NFA has been drawing flak over the thinning rice supply and higher rice prices in some parts of the country, prompting lawmakers to demand Aquino's resignation.
The NFA administration and the interagency NFA Council have been trading barbs over the rice supply issue hounding the country.
The NFA administration has said it took the NFA Council about seven months to approve its October 2017 request to import one million metric tons of rice.
The NFA Council, however, said the delay was caused by the NFA administration's failure to provide information about its inventory.
Roque said Duterte decided to look for a new NFA administrator because Aquino could no longer perform his duty.
"Maybe the President did not think about it anymore. If he (Aquino) could no longer do his job, that's the reason why the President is looking for a replacement," he said when asked about Duterte's reason for granting Aquino's request for relief.
Roque said the next NFA administrator should be "absolutely honest" and capable of reforming the grains agency.
"I think there is a need for an absolutely honest NFA administrator, the imported rice should reach the intended beneficiaries, the rice that should be sold at P27 per kilo should reach the markets," the presidential spokesman said.
As this developed, a senior trade official yesterday rejected claims that the NFA Council had failed to perform its functions.
Duterte has said he might recommend the abolition of the NFA Council because it "has not done any purpose" and "only hinders the operation."
Trade Undersecretary Ruth Castelo, a member of the council, said she does not share the view that the interagency has not fulfilled its purpose.
"We have set the direction. The council has stated its position...especially on rice importation and distribution," she said, noting that the NFA Council is a policy-making body.
Asked to react to Duterte's plan to abolish the council, Castelo replied: "The President must have been improperly advised already for him to think of that."
It is business as usual in state-run NFA. In a statement, the NFA said there will be no disruption in its intensified rice distribution and other services even as NFA chief Aquino has requested to be relieved from his post.
Aquino, currently on leave, will remain as the head of the food agency until the President appoints a new NFA chief.
Prior to Duterte's announcement on Tuesday, NFA said Aquino has already instructed regional field officials to intensify rice distribution activities and increase market participation of up to 20 percent from the current 10 percent.
"He has also instructed NFA officials in regions that may be affected by Super Typhoon Mangkhut to get ready, safeguard NFA stocks and activate their respective operations centers to monitor the situation and provide quick response to any rice needs for relief operations of concerned agencies and local government units," NFA said.
Furthermore, Aquino has directed a more aggressive and pro-active stance in palay procurement and think of innovative ways to encourage farmers to sell their produce to the agency despite its low procurement price compared with prices offered by private traders.
Sen. Francis Pangilinan said yesterday said that Aquino should also be prosecuted for graft and made to explain the missing P20 billion worth of rice.
"He (Aquino) should have been fired rather than asking to be relieved and in fact charges should be filed against him," Pangilinan told ANC's Headstart.
Pangilinan said Aquino has to explain how rice buffer stock, which should be for 30 days during leans months as mandated by law, is now down to just two days.
He said there were persistent reports of tons of NFA rice being sold to private traders, who rebag the grain and sell the same as commercial rice.
NFA rice is supposed to be sold directly to the public at P25 and P32 per kilo, depending on the variety. Greedy traders, he said, buy the NFA rice and sell it at P45 per kilo or higher.
The senator cited the testimony of an NFA-accredited retailer during a recent hearing at the Senate that for the first time in 40 years, there was no rice to be bought from the government and they had to buy NFA rice from traders.
House may abolish NFA
The House of Representatives will abolish the NFA if President Duterte wills it, Speaker Gloria Macapagal-Arroyo said yesterday.
"If he asks for it, then we will work on it," she told reporters.
Earlier, she said the passage by Congress of the rice tariffication bill could result in the abolition of the NFA.
On Tuesday, in a national televised interview with presidential legal counsel Salvador Panelo, Duterte said he would request lawmakers to abolish the NFA.
Lawmakers have blamed NFA's Aquino, Cabinet Secretary Leoncio Evasco Jr., who heads the NFA Council, and Agriculture Secretary Emmanuel Piñol for the rice supply crisis and rising prices of the staple.
They have demanded their resignations.
Sen. Sherwin Gatchalian said it is about time that the NFA is abolished because it has already outlived its usefulness.
Speaking on "The Chiefs" program of One News on Cignal TV, Gatchalian noted how the NFA has failed to perform its mandate of ensuring a stable supply of rice in the country as seen in the way the price of rice has continued to increase in the market.
"The price is not stabilizing. The lives of farmers are not improving. Every year we give close to P7 billion in funding to the NFA. We could use this for something else such as direct subsidies to farmers and direct importation or rice," Gatchalian said.
Now that the government is headed towards allowing the private sector to import rice through the proposed rice tariffication law, Gatchalian said there is even less reason for the NFA to continue existing.
He said the government should still regulate, monitor and supervise the importation and sale of rice, but said this could already be done by the Department of Agriculture.
Once the rice tariffication law is in place, Gatchalian said rice prices should immediately go down by an average of P10 per kilo.
Leftist lawmakers are proposing the allocation of an additional P10 billion for the NFA to enable it to ramp up its palay procurement.
The proposal is contained in Joint House Resolution No. 28 filed yesterday by Rep. Carlos Zarate of Bayan Muna and six other colleagues in the Makabayan bloc.
In their resolution, the seven Makabayan members blamed the NFA for the rice crisis, saying the agency failed to buy enough of the produce of rice farmers to beef up its stocks and enable it to intervene in the market in a way that would stabilize prices.
Zarate said the NFA bought only 28,344 metric tons in 2017 out of its target of 153,483 MT and used its P5.1-billion palay-buying fund to pay its loans from local banks.
"The same thing happened this year. The agency used P6.1 billion of its P7-billion procurement fund for maturing loans. With its procurement fund spent on unauthorized loan payments, it procured a miserly 334 metric tons as of January 2018," he said.
Under the resolution, the NFA, if given an additional P10 billion, would be authorized to buy 500,000 metric tons of palay at P20 per kilo up to January.
Lawmakers said Aquino, Piñol and Evasco have been quarreling since early last year over rice importation. – With Jess Diaz, Louise Maureen Simeon, Marvin Sy, Paolo Romero