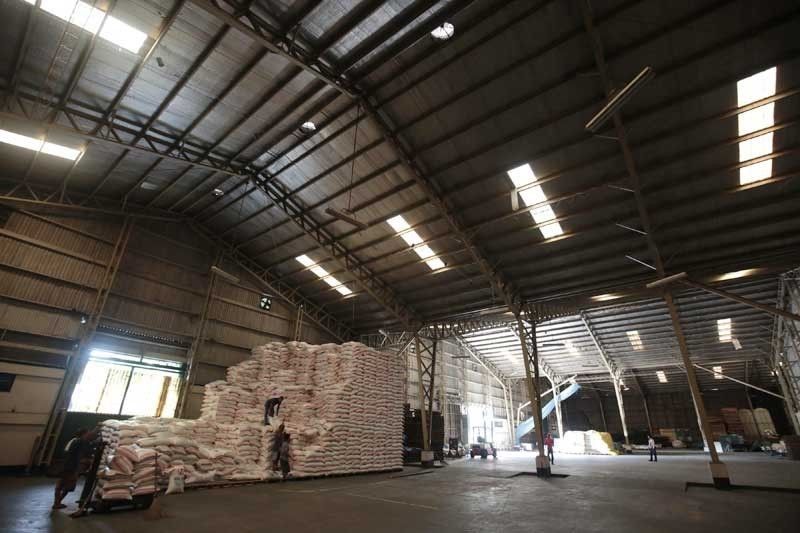 The figure is 24 percent below the previous month's stock level of 1.99 million MT.
Michael Varcas/File
Rice supply still thinning; Duterte says lack artificial
MANILA, Philippines — The country's rice inventory dropped to 1.52 million metric tons in August, down 25 percent from last year's stock of 2.02 million MT, according to latest data from the Philippine Statistics Authority (PSA).
The figure is 24 percent below the previous month's stock level of 1.99 million MT.
The PSA did not specify for how long the rice stock would be sufficient. But based on the average daily consumption of Filipinos of 32,000 MT, the current inventory is enough for 48 days.
The National Food Authority (NFA) still has limited inventory of three days from the mandated 30 days and even if imports started arriving three months ago, the stocks were distributed to markets to bring down prices of commercial rice.
So far, 385,000 MT out of the 500,000 MT of imported rice have arrived in the country.
Another 250,000 MT will be imported for the fourth quarter, bringing total imports for the year to 750,000 MT.
The main harvest season will be in full blast starting next month, which could help augment national inventory.
NFA administrator Jason Aquino has instructed the agency's field offices, especially in rice producing areas, to be more aggressive in their palay buying strategies.
"We will not wait for the farmers to bring their produce, but rather go out to the farthest and remotest barangays to buy their harvest, especially in areas where the prices offered by private traders are below the government support price," Aquino said.
The grain agency reactivated its mobile procurement teams, which are coordinating with farmers' organizations and local government units to inform them about the NFA's procurement scheme and incentives.
As of last month, NFA has only procured a total of 75,753 bags, which is roughly three percent of its target 2.6 million bags for the whole year.
The agency's low procurement performance during the summer harvest was attributed to the high palay farm-gate price offered by private traders ranging from P20 to P28 per kilogram.
The buying support price of NFA remains at P17 per kilo for clean and dry, with additional incentives of P0.70-P1 per kilo for delivery, drying and cooperative incentive fee.
With the additional imports and the start of the harvest season, the government is expecting rice prices to stabilize by November but will unlikely reach below P40 per kilo.
Retail prices of rice ranged from P44 to P48 per kilo.
P38/kilo in Bulacan
In Bulacan, a group of rice traders agreed to sell P38 per kilo of imported rice in selected areas in the province.
Roderico Sulit, spokesman for the Rice Millers Association of Bulacan, said they would sell mixed grains imported from Vietnam in coordination with the NFA.
The rice will be sold initially in relocation sites in Balagtas, Bocaue, Marilao and Malolos. Each relocation site will be allocated 150 sacks of rice.
Consumers can buy up to five kilos of rice, Sulit said. – With Ramon Lazaro