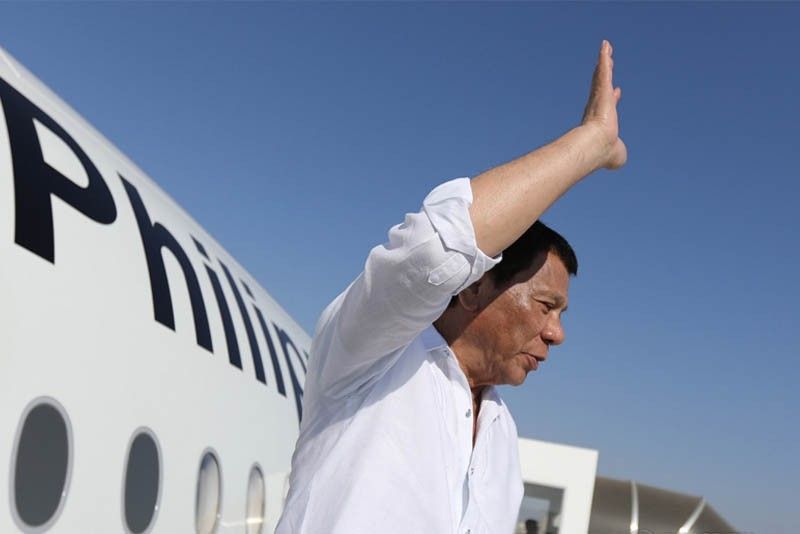 President Rodrigo Roa Duterte bids farewell to the send-off party before his flight bound for the Hashemite Kingdom of Jordan after capping off a successful official visit to the State of Israel on September 5, 2018.
Presidential photo/King Rodriguez
Duterte: 'Usurpation of authority' committed in granting Trillanes' amnesty
(Philstar.com) - September 8, 2018 - 4:48pm
MANILA, Philippines — President Rodrigo Duterte on Saturday said "usurpation of authority" was committed when amnesty was granted to his arch critic Sen. Antonio Trillanes IV by the previous administration, a claim that the opposition lawmaker dismissed.
Before leaving the Philippines for Israel and later for Jordan, Duterte issued a proclamation ordering Trillanes' arrest by voiding his amnesty given by former president Benigno Aquino III. The lawmaker claimed he is being persecuted for being critical of Duterte.
The Department of Justice said a review of records showed that Trillanes, who was involved in a failed coup 15 years ago, fell short of the minimum requirements, including personally filling out his application form and admitting his guilt.
This claim, however, was contradicted by a video showing Trillanes filing the application form. The embattled senator has challenged Duterte's order before the Supreme Court.
At a press conference, Duterte said usurpation of authority, or performing an act without being lawfully entitled to do so, was committed when former Defense Secretary Voltaire Gazmin recommended and approved Trillanes' application for amnesty.
Duterte also said Trillanes should have had sworn an oath and declared his guilt, which must be "placed on a narrative," before the amnesty was given to him.
"You know, he (Gazmin) recommended that a general amnesty be given. And then, after his recommendation, he approved it. He was the one who granted it," Duterte explained. "The problem here is the one who investigated and recommended the application for amnesty was the same person who approved the amnesty."
"You think you can just play with the Constitution? They must remember I'm a lawyer. I wouldn't sign it if I knew there was no basis," he added. "The power to pardon and the power to grant amnesty with the concurrence of Congress is a presidential power. It cannot be delegated to anybody else."
Shocked
At a press briefing, Trillanes insisted on the validity of his amnesty, adding that he was "shocked" by the president's claims.
The former military serviceman said it was Aquino, not Gazmin, who approved the amnesty.
Trillanes then accused Duterte of attempting to fill in the holes in the presidential order issued against him. Duterte said Solicitor General Jose Calida, who is being probed by a Senate panel chaired by Trillanes, initiated the review of amnesty granted for the senator.
"The amnesty proclamation spells out the system of granting amnesty. It says there that the [Department of Defense's] mandate is to process the application," Trillanes explained in Filipino.
"There's a committee that processed the amnesty application form. Now, this committee was satisfied with the application form which, in turn, was recommended to the committee headed by Secretary Gazmin," he added.
"Secretary Gazmin recommended the approved application to be granted the amnesty." — Ian Nicolas Cigaral