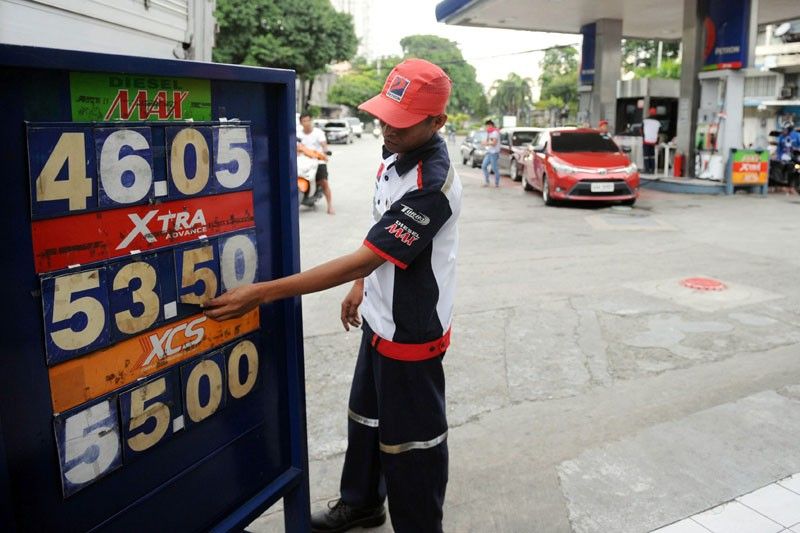 Oil companies implement another round of price hikes on fuel products yesterday even as world crude prices fell.
Edd Gumban
Transport groups seek P10 minimum fare for jeepneys
MANILA, Philippines — Two transport groups yesterday filed an appeal before the Land Transportation Franchising and Regulatory Board (LTFRB) to increase to P10 the minimum fare for passenger jeepneys to cushion the impact of the continued increase in the prices of petroleum products.
Zenaida Maranan, president of the Federation of Jeepney Operators and Drivers Associationa of the Philippines (Fejodap), said the current minimum fare of P9 for the first four kilometers is no longer sufficient with the current prices of diesel at more than P45 per liter.
She said the provisional fare increase of P1 imposed by the LTFRB last July was negated by the increase of P1.20 per litter of diesel yesterday.
"If we will study it carefully, P12 should be the fare but our commuters also have families," Maranan said in Filipino over radio station dzMM.
Maranan lamented that from P450, the daily take-home pay for drivers is now just P250.
"The LTFRB should have a heart and look at our condition," she added.
Jojo Martin, vice president of the Pangkalahatang Sanggunian Manila and Suburbs Drivers Association (Pasang Masda), appealed for understanding from commuters.
"We will not ask for an increase if we are not suffering," he said in Filipino also over dzMM.
LTFRB chairman Martin Delgra III did not reply when asked to comment on the issue.