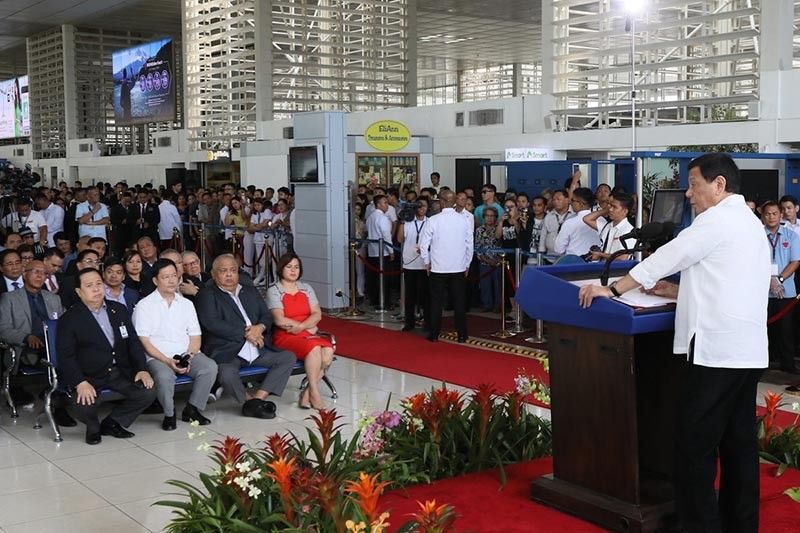 President Rodrigo Duterte delivers his departure statement at the Ninoy Aquino International Airport Terminal 2 in Pasay City on Sept. 2, 2018 before heading off to his official visits to Israel and Jordan.
King Rodriguez/Presidential Photo
Duterte justifies his rape 'joke' as freedom of expression
JERUSALEM — President Rodrigo Duterte on Monday cited freedom of expression to justify his remark on rape in his hometown Davao City, the latest in the growing list of his statements that critics find unacceptable.
Duterte stirred controversy anew last week after he said there were many cases of rape in the city because there are a lot of beautiful women there. Critics have condemned the president's remark and insisted that sexual abuse should not be joked about.
The president, however, justified his controversial statement and claimed that one is tempted to commit rape because of the beautiful women.
"They would say again I am a misogynist ako...There are many rape cases in Davao. I said 'perhaps there are many beautiful women in Davao.' I did not say all of them were raped," Duterte said during a meeting with about 1,400 Filipinos here.
"But you are almost mesmerized or tempted. That's how you control yourself. It is a democracy. Freedom of expression," he added.
Duterte has been called a sexist for his jokes and comments that were widely seen as demeaning to women.
During a campaign sortie in 2016, Duterte was heavily criticized for his remark about the rape and murder of an Australian missionary in Davao City in 1989.
Duterte, then the mayor of Davao City, said the missionary looked like an actress and as mayor "he should have been first." He justified his remark by saying he was just expressing his anger over the crime.
Last year, Duterte drew sharp rebuke for saying that if a soldier rapes three women, he would own up to it. Officials explained that Duterte was just emphasizing the fact that he would be responsible for the actions of the troops as their commander-in-chief.
Earlier this year, Duterte said he would use "virgins" to lure investors and tourists to mock the Islamist terrorists' belief that they would be rewarded with virgins if they die like a martyr.
Officials have denied that Duterte is sexist, citing his pro-woman programs when he was a mayor like the creation of a reproductive health center and his strong anti-criminality drive that made streets safer.