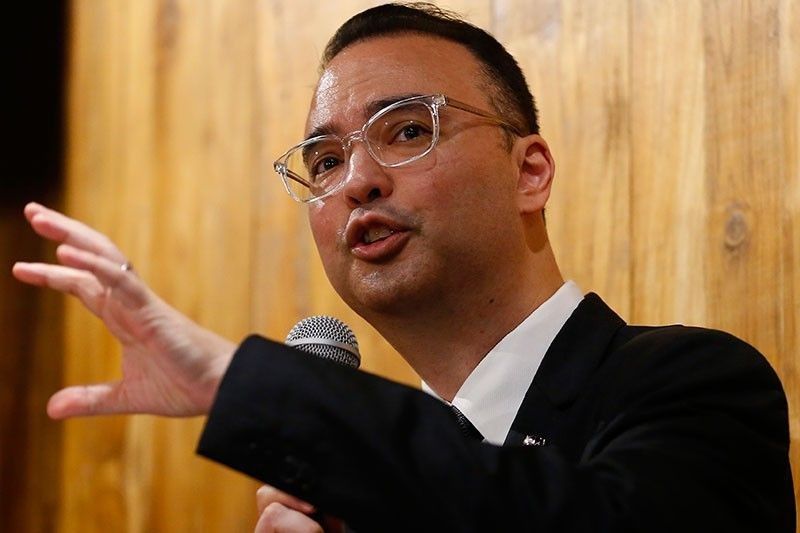 In this August 7 photo, Foreign Affairs Secretary Alan Peter Cayetano holds a press briefing in Taguig City.
AP/Bullit Marquez
Cayetano on 2019 SEA Games logo: It stands out
MANILA, Philippines — The logo of the Philippines' hosting of the 2019 Southeast Asian Games recently presented in Indonesia is not yet complete, Foreign Affairs Secretary Alan Peter Cayetano said.
The logo of 11 circles forming the map of the country reaped criticism on social media when Cayetano presented it during the 2019 SEA Games presentation to the Olympic Council of Asia in Jakarta, Indonesia a few weeks ago.
Cayetano explained that the logo presented in Jakarta was only 5 percent of the whole campaign, which would be launched in the future.
"The one in Jakarta, that's not complete. There are a lot of proposals to use. The animals. You know, when you compare all the logos of the Asian Games, the Southeast Asian Games, etcetera, my question to you is, do you wanna be the same or do you wanna stand out?" Cayetano told reporters on Wednesday.
The DFA chief assured the public that the government is working with professionals on its campaign for the upcoming sports event and that they will listen to public opinion despite negative feedback.
'It worked'
Despite drawing flak, Cayetano said that the logo presented in Jakarta worked because the public, including companies, released advertisements based on the logo.
"In one sense, it worked by gaining interest. Having said that, just because we don't reply does not mean that we are not listening, reading," Cayetano said, reminiscent of Presidential Communications Assistant Secretary Margaux "Mocha" Uson's defense of a video that was quickly disavowed by proponents of the shift to federalism.
"What I am doing is to help, and what happened was federalism suddenly became the talk of the town. We have reached awareness," she said then.
Mascot, merchandise part of campaign too
Cayetano said the public would see the purpose of the logo once the whole campaign is launched. The DFA worked with four agencies in coming up with the campaign, according to the secretary.
The whole campaign will include the logo, mascot, countdown clock and merchandise, such as jackets and watches.
"It will be a whole campaign and when you see the whole campaign, to be fair, the four agencies that presented, their presentations were all good," he said.
The whole campaign will not only be about the Philippines but will also incorporate the SEA Games' theme "We win as one."
"We wanted something that shows that it's for all of us but at the same time, you know it's the Philippines. That's why the eleven circles but forming the country but you won't see it as just that. You will see it applied with different colors, different backgrounds, different merchandise items," Cayetano said.
Cayetano confirmed that the whole campaign will be launched by October or November.