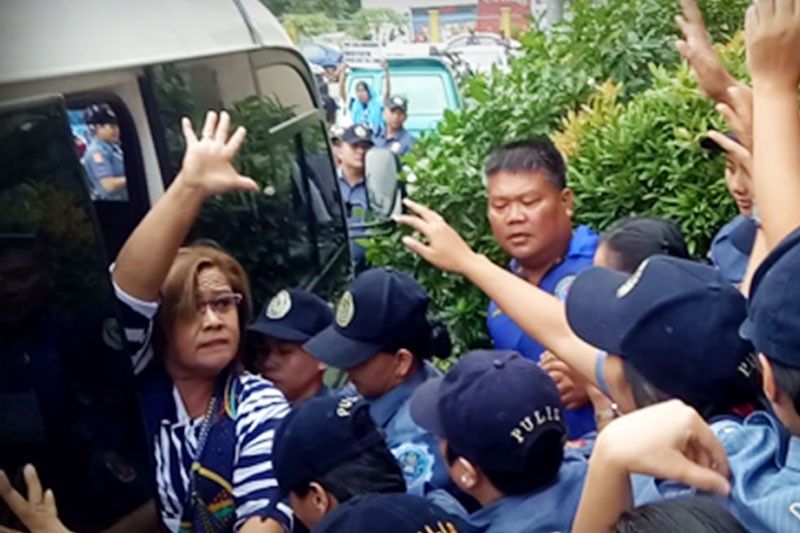 Sen. Leila de Lima recently celebrated her 59th birthday in detention.
File
Amnesty renews call to drop charges against De Lima
(Philstar.com) - August 27, 2018 - 11:42am
MANILA, Philippines — Human rights group Amnesty International stressed its call for the Philippine government to drop politically motivated charges against Sen. Leila de Lima.
Marking her second birthday in detention, the senator stressed her innocence despite what she called trumped-up charges against her.
De Lima was accused of being involved in the proliferation of illegal drugs at the New Bilibid Prison during her stint as justice secretary.
"Amnesty International considers the targeting of Senator de Lima by the authorities as a blatant attempt to silence one of the most prominent critics of the violent 'war on drugs' and bar her from participating in public life," the group said in a statement released Monday.
The group appealed to Philippine authorities to release De Lima and allow her to perform her duties as a senator.
De Lima has been detained for 18 months at the Philippine National Police custodial center in Camp Crame, Quezon City over alleged violation of the Comprehensive Dangerous Drugs Act of 2002.
Amnesty insisted that the charges against De Lima stemmed from her criticism of President Rodrigo Duterte's so-called war on drugs, which has resulted in extrajudicial killings of thousands of drug suspects, as well as other human rights violations.
"The political persecution of Senator de Lima contines in an increasingly dangerous context where human rights defenders and civil society organizations face intimidation and obstruction in their attempts to investigate and raise concerns about human rights in the country," the statement read.
The rights group also lamented the police's restrictions against the senator while in prison. The police has been randomly inspecting private correspondence to her and limiting visits.
The police denied requests of several groups of foreign dignitaries, such as European and ASEAN parliamentarians, to visit her in detention, the group noted.
"In light of the above, Amnesty International calls on the Philippine authorities to drop all charges against Senator de Lima and ensure she is released immediately and unconditionally as she is a prisoner of conscience solely detained for peacefully exercising her human rights," the group said.
De Lima, meanwhile, launched her second book titled "Fight for Freedom and Other Writings" as she celebrated her 59th birthday in detention.
In February, De Lima launched her first book to mark her first year in detention. Her second book will contain a collection of writings, speeches, letters and notes about her quest for freedom.
"To my oppressors, jailing me despite my innocence is your burden to keep. To the Filipino people: No matter the persecution, I will never stop fighting. [This book] is dedicated to family, friends, and supporters who cry out for my freedom," the senator said in the book's dedication. — Patricia Lourdes Viray